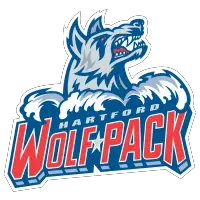 WOLF PACK GAME RECAP - Hartford Wolf Pack 5, Springfield Thunderbirds
December 12, 2017 - American Hockey League (AHL) - Hartford Wolf Pack News Release



Hartford, CT, December 10, 2017 - Vinni Lettieri had two goals and an assist Sunday at the XL Center, to lead the Hartford Wolf Pack to a 5-3 win over the Springfield Thunderbirds.
With the victory, the Wolf Pack are now 3-0-1-1 in their last five games, the team's longest streak without a regulation loss of the season.
Marek Mazanec made 17 saves in the game, in his Wolf Pack debut, while Springfield goaltender Evan Cowley had 28. The Wolf Pack outshot the Thunderbirds 33-20. Steven Fogarty scored a shorthanded goal for the Wolf Pack, and Dawson Leedahl and Scott Kosmachuk also scored. John Gilmour added two assists. Juho Lammikko had a goal and an assist for the Thunderbirds.
The Wolf Pack controlled play in the first period, outshooting Springfield 17-3 and not allowing a shot on Mazanec until the 11:33 mark. Meanwhile, Lettieri opened the scoring at 5:18 on the game's first power play, after a too-many-men-on-the-ice call against the Thunderbirds' bench at 3:32. Lettieri buried the rebound of a Peter Holland shot, and Anthony DeAngelo also assisted.
"He's a goal scorer," Fogarty said of Lettieri. "He makes stuff happen. It's nice to have him on our side."
Wolf Pack head coach Keith McCambridge added, "He (Lettieri) plays in all situations. He's playing some solid hockey"
Leedahl then scored his first career AHL goal with 2:47 left in the period, burying a rebound after a strong rush by Gilmour.
Early in the second, the Thunderbirds' Alexandre Grenier renewed the I-91 rivalry by instigating a fight with Brandon Crawley that resulted in Grenier receiving an instigating minor and a ten-minute misconduct. Later, in the third period, he picked up another misconduct for abuse of officials.
"When you play a team that many times, it's not going to be pretty every time," Lettieri later said. "I'm not going out there looking for fights, but you have to stand up for your teammates."
Still in the second, Springfield struck back with two goals of their own, from Henrik Haapala and Lammikko, which were power play and short-handed goals, respectively. Fogarty, however, countered with his own short-handed goal, with the Wolf Pack two men down. Leedahl was in the box for tripping and Lettieri for delay of game when Fogarty bested two defensemen and Cowley to score.
"It felt really good," Fogarty said. "I knew we needed that kill and I just got a lucky stick on it."
"I can't remember the last time I saw that," McCambridge added.
Springfield tried to battle back in the third period, cutting the lead to 4-3 with a goal by Anthony Greco at 5:56, but Lettieri struck again at 16:43. Joe Whitney and Adam Tambellini were credited with assists.
"It was a great team effort," Lettieri said of the Wolf Pack's win Sunday, and a 3-2 shootout triumph over Rochester on Saturday. "We have a little bit more swagger now."
The Wolf Pack are now off until this Friday, December 15, when they host the Wilkes-Barre/Scranton Penguins at the XL Center. Faceoff is 7:15 PM, and it's "'80's Night". Fans are encouraged to come dressed in their best '80's fashion and relive their favorite decade with '80's throwback music and promotions. Also, it being a Friday night, that game features $1 hot dogs and $2 beers through the start of the second period, presented by Dave & Buster's.
Tickets for all Wolf Pack 2017-18 home games are on sale now at the Agera Energy Ticket Office at the XL Center, on-line at www.hartfordwolfpack.com and by phone at (877) 522-8499.
Season ticket information for the Wolf Pack's 2017-18 AHL season can be found on-line at www.hartfordwolfpack.com. To speak with a representative about all of the Wolf Pack's many attractive ticketing options, call (855) 762-6451.
Springfield Thunderbirds 3 at Hartford Wolf Pack 5
Sunday, December 10, 2017 - XL Center
Springfield 0 2 1 - 3
Hartford 2 2 1 - 5
1st Period-1, Hartford, Lettieri 10 (Holland, DeAngelo), 5:18 (PP). 2, Hartford, Leedahl 1 (Gilmour, Lettieri), 17:13. Penalties-served by Hawryluk Spr (bench minor - too many men), 3:32.
2nd Period-3, Hartford, Kosmachuk 5 (Gilmour, Gropp), 3:54 (PP). 4, Springfield, Haapala 3 (Erixon, Byron), 6:23 (PP). 5, Springfield, Lammikko 4 (Farnham, Bystrom), 15:27 (SH). 6, Hartford, Fogarty 5 19:50 (SH). Penalties-Grenier Spr (instigating, fighting, misconduct - instigating), 1:09; Crawley Hfd (fighting), 1:09; Schemitsch Spr (tripping), 3:18; Turgeon Spr (fighting), 4:22; Graves Hfd (fighting), 4:22; Sproul Hfd (interference), 4:34; Kosmachuk Hfd (tripping), 11:29; MacKenzie Spr (cross-checking), 14:34; Leedahl Hfd (tripping), 18:21; Lettieri Hfd (delay of game), 19:05.
3rd Period-7, Springfield, Greco 9 (Lammikko, Schemitsch), 5:56. 8, Hartford, Lettieri 11 (Whitney, Tambellini), 16:43. Penalties-Gropp Hfd (slashing), 2:51; Grenier Spr (interference, unsportsmanlike conduct, misconduct - abuse of officials), 18:53; Farnham Spr (cross-checking), 19:48.
Shots on Goal-Springfield 3-7-10-20. Hartford 17-10-6-33.
Power Play Opportunities-Springfield 1 / 5; Hartford 2 / 6.
Goalies-Springfield, Cowley 1-1-0 (33 shots-28 saves). Hartford, Mazanec 1-0-0 (20 shots-17 saves).
A-2,145
Referees-Brandon Schrader (24), Cameron Voss (41).
Linesmen-Travis Gawryletz (67), Kevin Briganti (39).
BOB CRAWFORD
Director of Broadcasting & Public Relations
Hartford Wolf Pack
Spectra Venue Management
860.541.4791 M: 860.878.4863
Bob_Crawford@comcastspectacor.com
XLCenter.com | RentschlerField.com | HartfordWolfPack.com
www.SpectraExperiences.com
• Discuss this story on the American Hockey League message board...


American Hockey League Stories from December 12, 2017
The opinions expressed in this release are those of the organization issuing it, and do not necessarily reflect the thoughts or opinions of OurSports Central or its staff.