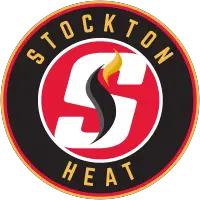 HEAT GAME RECAP: Third Period Comeback Earns Heat Point in Bakersfield
December 12, 2017 - American Hockey League (AHL) - Stockton Heat News Release



Bakersfield, Calif. - Tyler Wotherspoon scored and added an assist 13 seconds later to help tie the game in the third period, and even after Bakersfield retook the lead, the Heat came back for a second time in the game and force extra hockey, where the Heat would fall in the shootout 4-3. After the Condors controlled the first two periods, outshooting Stockton 22-13 and outscoring them 2-0, the Heat got on the board early in the third thanks to Wotherspoon's wrist shot that beat Eddie Pasquale over his left leg pad. On the ensuing faceoff, the Heat would march right back at the Condors netminder with Wotherspoon dishing to Joseph Cramarossa, who cranked a one-time slapshot past the netminder to tie the game up at 2-2. Patrick Russell would restore the lead for the Condors with a redirection past Eddie Lack but the Heat tied things up just before the midway mark of the third thanks to Morgan Klimchuk's one-timer on the hashmarks of the left circle. The Heat had to kill off two Condor power-play chances in overtime, which they did, but unfortunately in the shootout, the Condors were able to beat Lack twice while the Heat failed to score, ultimately earning one of the two points up for grabs against the Condors.
SCORING SUMMARY>
1st Period: Bakersfield Goal: D Ryan Mantha (1) turnover leads to pass to player in front of the net who finishes a backhand deke past goalie's right pad (Christoffer, Downing assists), 15:17. Shots: STK - 4 | BAK - 15.
2nd Period: Bakersfield Goal: F Zach O'Brien (2) centering feed to top of the crease is jammed high over goalie's glove hand (Malone, Simpson assists), 7:59. Shots: STK - 9 | BAK - 7.
3rd Period: HEAT GOAL: D Tyler Wotherspoon (2) shot from the rush in the high slot beat goalie above his left pad (Glass assist), 3:07 HEAT GOAL: F Joseph Cramarossa (3) ensuing faceoff is brought into offensive zone quickly with puck passed to the top of far circle and one-timed past goalie inside the far post (Wotherspoon, Poirier assists), 3:20 Bakersfield Goal: F Patrick Russell (5) shot from the right point is redirected through traffic past goaltender (Lowe, Downing assists), 4:21. HEAT GOAL: F Morgan Klimchuk (9) pass from right circle finds winger on left circle which is one-timed into the back door (Andersson, Hrivik assists), 9:38 Shots: STK - 7 | BAK - 6.
Overtime: No Goals.
Shots: STK - 1 | BAK - 3
Shootout: Joey Laleggia - GOAL.
Andrew Mangiapane - Miss Zach O'Brien - Miss. Spencer Foo - Miss. Ty Rattie - GOAL.
GOALIES W: Eddie Pasquale (21 shots, 18 saves) L: Eddie Lack (31 shots, 28 saves)
NOTABLE STATISTICS: Three Stars: 1- Joey Laleggia (BAK) (Shootout Game Winner) 2- Ryan Mantha (BAK) (1 goal) 3- Patrick Russell (BAK) (1 goal). Final Shots: STK - 21 | BAK - 31. Power Plays: STK - 0/4 | BAK - 0/7.
Tyler Wotherspoon (1 goal, 1 assist) records his third-multi-point game of the season. The Heat have earned points in two road games they trailed while heading into the third period this season.
Stockton was held to just four shots in the first period, tying the fewest shots in a single period this season for the third time and first since October 25 in San Diego. The Heat have points in 10-straight games against the Condors dating back to March 8, 2017 (9-0-0-1).
The Heat failed to score the first goal of the contest for just the fifth time this season, having scored first in 15 of 20 games this season and are now 2-1-0-2 when allowing the first goal including 2-0-0-2 in games they allow the first goal on the road.
It was the sixth win of the season over Bakersfield, improving the Heat's record against their rival to 16-13-1-0 all-time. In total, the Heat have won nine-straight games against the Condors dating back to March 8, 2017.
QUOTES: "We have been a good third period team this year and with the group of guys we have in the room, it just took us one to get us rolling. It is tough when you have first period like that, but I thought we really rallied as the game went on. Lack gave us a chance all night and he got us to the shootout so you have to give him props for that and it was good to get that extra point." - Morgan Klimchuk on the team's third period comeback.
"Jumping up in the rush like that is what we are looking for from those guys. When you can get contributions from the backend to tie the game up that is huge that is what you need and it is how you win games in this league. You need your best players to step up and he did that tonight." - Klimchuk on Wotherspoon's big offensive contribution.
"On that goal, I picked it up behind the net and saw I had a little bit of room and just tried to get a shot through and make things happen. On the next shift, I tried to create some offense and got lucky with a little bounce and gave it to Cramarossa who had a nice shot. Good couple of shifts there and it was good to come out with at least a point." - Tyler Wotherspoon on his two points in the span of 13 seconds.
"We were a pretty confident bunch on the bench. We had a lot of momentum on our side and we felt like it was a matter of time. We kept pushing and good things came." - Wotherspoon on the team staying confident even when trailing after Russell retook the lead for Bakersfield.
• Discuss this story on the American Hockey League message board...


American Hockey League Stories from December 12, 2017
The opinions expressed in this release are those of the organization issuing it, and do not necessarily reflect the thoughts or opinions of OurSports Central or its staff.