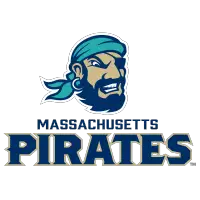 Pirates Sign Kicker Tyler Rausa for 2019 Season
February 14, 2019 - National Arena League (NAL) - Massachusetts Pirates News Release



The Massachusetts Pirates professional arena football team has signed former Boise State and Columbus Lions kicker Tyler Rausa for the 2019 season. In six games last season in the National Arena League Rausa made 89.7 percent of his extra points (26 of 29) and connected on 6 or 13 field goals for 46.2 percent. Both totals were best in the league. The kicker from Murrieta, CA now is looking forward to relocating and taking his shot with the Pirates.
"Anything I can do on the field to try and help the team is kind of the big thing for me. The least I can do is to be at least 70 to 80 percent in the arena league, which is very hard to do," he said.
Rausa exceeded those numbers while kicking in college for the Bronocs. He was a Lou Groza Award Semifinalist and watch list nominee while earning All-Mountain West First Team Honors. During his career he made 118 of 120 PAT's (98.3 percent) and 34 out of 43 field goals (79.1 percent.) Rausa also set the conference single-season record for points by a kicker with 134 in 2015.
Before getting into arena football last season he went to the spring league in Austin, Texas and had a workout with the Cleveland Browns. He then signed with the Columbus Lions. This past winter he signed with Salt Lake in the Alliance of American Football and was in camp there for about three weeks before signing with the Pirates. Now as he gets ready for his second arena season he reflected on some of the differences between kicking in the arena game as opposed to being outside.
"Besides the uprights being the complete opposite of what it is outdoors; having the uprights 15 feet high and nine feet wide? It's not going to intimidate me but it's different on the eyes. It's a different aiming point and doing it on that type of Astro-turf as well; you have to change up your mechanics. It's defiantly a different game. It's more challenging indoors than outdoors for sure. It's 100 percent harder," he said.
Pirates General Manager and Director of Player Personnel, Jawad Yatim, is happy to have Rausa in the fold.
"Tyler flashed tremendous ability last season especially playing against us. Every time he attempted a deuce you had a pretty good feeling it was going to be converted. He's accurate, has a powerful leg and has experience playing in our league with our specific set of rules and goal post dimensions. To be a former 1st-team All-Mountain west performer, as well as a Lou Groza semi-finalist is tremendous and speaks volumes to what kind of player he is. Certainly glad to have him on our side this season," Yatim said.
Rausa also feels the smaller rosters in arena football are also a factor when it comes to a kicker's consistency.
"You don't have a punter and traditionally your punter is your holder. Last year in Columbus, they experimented with holders and long snappers. You kind of didn't know what you were getting into. There's not a designated long snapper because there's so many positions where you could be assigned on the team, so you kind of have to make do with what you have and that also creates another sort of obstacle because you don't have those specialty positions on the team. You really have to work with the guys you have and try to build a trust with who you have on the field. Sometimes it may go your way, sometimes it may not," he added.
When Rausa came on to the scene he was put to the test immediately. His very first NAL game came down to a game winning kick against the Pirates in a 63-62 victory.
"I come in mid-season and I was in Georgia for five days before that and was trying to get stuff figured out. I was trying actually to figure out kickoffs most of the time. That's really what I was worried about. I was trying to figure out how the heck am I going to hit a kickoff through tiny uprights like that when it's hard enough just to do it on a field goal. So that's really what I was focused on. Going through the game I got into a rhythm. Things started clicking and I ended up with four "Duces," and two field goals with the final one being a game winner. I ended up with 21 points," he said with a laugh.
Long before he was a kicker, it looked like he might be a better at baseball as an infielder.
"I didn't play football growing up until high school. I was actually a better baseball player than I was at football at the time, but I stuck with it and then college came around and to have a free education with football was probably the better way to go."
Growing up he would watch Adam Vinatieri, David Akers and John Carnery. Today he keeps an eye on two who play in the AFC.
"My favorite guy to watch now is between (Stephen) Gostkowski and Justin Tucker. It's a fun game and a fun position to watch, but those guys in particular are my favorites."
So now, why come north to the Pirates?
"Actually I have family right around the corner in Holbrook, (MA). I don't really get to see them often. When they (the Pirates) called, it just seemed like the right fit; right for me and my family. The best games are when you can play in front of your family," Rausa said.
His expectations for his first year in Massachusetts are high, which should encourage Pirate fans.
"I would love to go out there and try to be the highest scorer on the team and in the league. I want to be the best for my team that I can be and try to lead the league in every statistical category that I can including "Duces." You had Craig Peterson (of Carolina) last year who set the record (27) and I'd love to give that a run for its money as well. There's a good squad that's coming back with the Massachusetts team and Quayvon Hicks is joining the group as well so it should be fun."
The Massachusetts Pirates are members of the National Arena League (NAL). The Pirates play all home games at the DCU Center located at 50 Foster St. Worcester, MA. 01608. Pirate Nation Season Ticket Memberships for the 2019 season will be on sale in September. Pirate Nation Memberships start as low as $199.00. To become a Pirate Nation Season Ticket member or for more information on the Massachusetts Pirates please call (508) 452-MASS (6277), email contact@masspiratesfootball.com or visit www.masspiratesfootball.com. Single game tickets are available online at ticketmaster.com or the DCU Center Box Office. For group outings please call 508-452-MASS (6277). Follow the Pirates on Facebook at Facebook.com/MAPirates on Instagram @mass.pirates, as well as Twitter @mass_pirates.
• Discuss this story on the National Arena League message board...


National Arena League Stories from February 14, 2019
The opinions expressed in this release are those of the organization issuing it, and do not necessarily reflect the thoughts or opinions of OurSports Central or its staff.