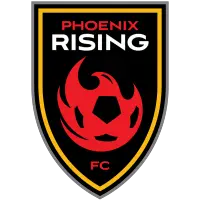 Phoenix Rising Game Notes
October 23, 2020 - United Soccer League Championship (USL) - Phoenix Rising FC News Release



Down 2-0 on the road last Saturday in Reno, this Rising team appeared to have finally succumbed to the adversity of 2020 - a season interrupted by COVID, matches without fans, the loss of a Golden Boot winner, missing a coach and finally, a goalkeeping miscue that led to Reno's first goal.
"I was so proud of Zac [Lubin]," said Rising head coach Rick Schantz. "He made a big mistake against Reno but he shrugged it off and kept going. He ended up making three of four massive saves on breakaways and then was the hero in the shootout."
Last week Lubin personified what Rising has been the best at in the league at this season - overcoming adversity.
"For them to get the victory after all the things they've been through," said Schantz. "From what I did and what Junior [Flemmings] did, those are not accurate representations of the other 23 players in that locker room. But for them to come together and play as well as they have in the last few victories... hats off to those boys."
In each of Rising's last three wins, the team outshot its opponent. That was certainly not the case the last time Phoenix hosted El Paso on August 1. Instead, Rising took its chances well, scoring three goals on just eight shots, all of which came in the first half. By the final whistle, Rising was outshot 23-8 and conceded the corner battle, 10-1. Lubin did not play a part in that match. Instead Eric Dick stood tall, making six saves, two of which were spectacular, in the 87th minute.
"Mark Lowery is one of the best coaches in the league," said Schantz. "El Paso is a team that likes to keep the ball. They've switched into a 4-3-3 with a bit of a false nine. Aaron Gomez, Dylan Mares and Leandro Carrijó are very good, very dangerous. They have experienced players. They're going to be a tough team to beat. Last time they were here they showed they can play extremely well against us. We got a few opportunities that game and took advantage, but I said it then, I knew we would see them again in the playoffs."
In that match, all three opportunities converted into goals by Rising had a dash of Junior Flemmings - a pass, a quick transition and the 2020 Golden Boot Winner's marquee goal of the season. Those three goals also accounted for three of the 14 goals El Paso gave up all season long (21%).
For Phoenix, the difference this time around must be the man who has more than admirably filled Flemming's place in the lineup. Santi Moar, who ironically was forced to sit out Rising's August 1 match vs. El Paso due to his own battle with adversity - a red card picked up on July 25 vs. Orange County - has had a hand in each Rising goal scored during the run of play this postseason.
Overcoming the adversity of waiting for his opportunity in 2020, Moar, more than anyone, personifies the transition Rising has made into a championship side this season.
"The grit and determination of this team far outweighs our ability to play pretty, attacking football in 2019," said Schantz. "This is the playoffs. We have to be mature and humble and recognize we're playing very, very good teams. This is what you need to do to win championships. It doesn't have to be pretty."
• Discuss this story on the United Soccer League Championship message board...


United Soccer League Championship Stories from October 23, 2020
The opinions expressed in this release are those of the organization issuing it, and do not necessarily reflect the thoughts or opinions of OurSports Central or its staff.