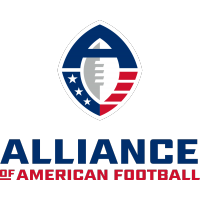 OSC Weekly Ratings Wrapup
by David Carlson
March 28, 2019 - Alliance of American Football (AAF)



Welcome to a new weekly article feature on OurSportsCentral. We will take a look every week at the TV ratings in the leagues that OurSportsCentral covers, and provide some analysis and a preview of the week ahead on TV for the leagues.
This first article is designed as an introduction to the new feature, and as a recap of some ratings across the board for various OSC leagues. New articles should hit the website every week on Tuesday evenings or sometime on Wednesday, depending on when the weekend cable ratings are announced. A holiday weekend will often delay that reporting by a day or two.
Before we get into our first review of the ratings, we want to give some definitions for the numbers you will be seeing in the articles every week. Ratings numbers are not as straightforward as they may seem.
Typically, we will be reporting a few numbers for every program, as reported in articles from the information they get from Nielsen, the main ratings service for television programs. The first number is what is called the "Demo" rating. This is the main "demographic" that TV advertisers care about. Unfortunately for all of you people over 50... you are too easy to get in front of on TV, and that makes your eyeballs worth practically nothing. In comparison, 18-49 year olds, and especially 18-35 year olds, watch much less TV, so getting their eyeballs is worth much more. The "Demo" rating is counting 18-49 year old viewers. A 1.0 rating means 1% of the 18-49 year old TV viewers (approximately 130 million at least count) watched the show, or 1.3 million.
The second number is a number like 340k. This is the raw number of total viewers, of any age, who watched the show, in thousands ("k"). We will also give the ranking for cable programs on the day (ie, the 35th most watched cable program that day).
What we are able to easily get from articles reporting from Nielsen on a daily basis are the following numbers:
All prime time sports programs on OTA ("over-the-air") networks (CBS, ABC, NBC, Fox).
The top 150 cable programs each day, based on the "demo" rating, NOT total number of viewers. So, a sports program could have been in the top 150 in total viewers for the day, but, that won't be reported in the daily listing... remember, the 18-49 year olds drive everything.
We get our ratings from showbuzzdaily.com which reports daily cable ratings as well as weekly sports ratings of any show with over 300,000 total viewers. While they will accommodate special requests outside of that scope for non-sports programming, per the website: "We treat sporting events somewhat differently, because there are so many of them. We don't provide ratings for sports programming that's both too low for our weekly Skedball post and also for the applicable night's Top 150."
Since this is our first article, we are going to start with a review of what has happened so far with the launch of the AAF across their various media platforms, along with a review of the first few weeks of MLS TV results.
The "Alliance" launched the week after the Super Bowl, with a lot of fanfare around its first weekend. CBS's regional coverage with two games in Saturday Prime Time got a lot of attention for beating ABC's NBA game in week 1. The AAF and NBA tied in the 18-49 demo at a 0.9 rating, but the AAF had 3.2 million total viewers, to the NBA's 2.66 million. NFL Network also started out strong with a 0.29 demo rating and 640k total viewers for its Sunday night debut.
The league would impress again with their game on TNT in week 2, with a 0.37 demo rating and over 1 million total viewers. NFL Network held their ratings pretty well, getting around 425,000 viewers for both their Saturday and Sunday night games.
As the season has worn on, the audience sizes have gone down though, and the start of "March Madness" has had a predictable effect on the ratings for the AAF, especially considering the history lessons of the original XFL and AFL on NBC, who both also had ratings go down considerably once the calendar turned to March.
The following is a full review of the total viewers viewership across NFL Network (and TNT) for this season so far:
NFL Network Ratings Review (raw viewers in k.. Sat/Sun):
Week 1 - na/640
Week 2 - 424/425 (TNT: 1,018)
Week 3 - 491/515
Week 4 - 409/450
Week 5 - 277/300 (TNT: 457)
Week 6 - 354/234
Week 7 - 237/255 (TNT: 340)
Another thing to note with the ratings, even as they have fallen 50-60% from the initial weeks, is that they are every week the highest rated shows on NFL Network and TNT by far for the days they are on. No other program for either network (other than other live sports like the NBA and College Basketball tournament) comes in the Top 150 programs for the day. So, even if the ratings are falling, they are still better than the alternative programming both networks typically show during the weekends.
The AAF originally only had one regular season TNT broadcast and one CBS broadcast scheduled, but, because of the early ratings, TNT has added more games, as seen above. CBS is also adding on a Memphis vs. San Antonio matchup in week 9. TNT has added Orlando at Memphis game this Saturday. Obviously, one factor for both of those as well is the recent addition of Johnny Manziel to the Memphis roster. We will see if the ratings spike at all in the coming weeks for those games.
Major League Soccer has also started this season at the beginning of March, and a few games have been on national cable TV. The league kicked off with a double header on March 3 on ESPN that garnered 0.16 rating and 361k viewers for the first game, and 0.15 and 394k viewers for the second game. The next week, an Atlanta @ Cincinnati game featuring two of the leagues newer teams held its ratings with a 0.14/354k. Those numbers are up a little from the ESPN average last year of 250-275k viewers. The next ESPN game is this Sunday on ESPN2, with the L.A. Galaxy vs. Portland. FS1 also has a game on Sunday.
Below are the ratings for MLS so far on ESPN and FS1:
Date Time Network Ratings
3/03 6:00p ESPN 0.15/394k
3/03 8:30p ESPN 0.16/361k
3/10 5:00p ESPN 0.14/354k
3/10 7:30p FS1 0.11/221k
3/17 3:00p FS1 Not in top 150 shows
3/17 5:00p FS1 0.06/178k
Edited July 15, 2019 to include Showbuzzdaily's ratings criteria.
• Discuss this story on the Alliance of American Football message board...


Alliance of American Football Stories from March 28, 2019
The opinions expressed in this article are those of the writer(s), and do not necessarily reflect the thoughts or opinions of OurSports Central or its staff.