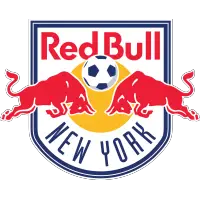 MetroStars Pre-Game Report @ Dallas Burn
September 24, 2004 - Major League Soccer (MLS) - New York Red Bulls News Release



Up Next, Dallas: On Saturday, September 25, the MetroStars travel to Dallas to take on their Western Conference foe the Burn at 8:30 p.m. ET (TV: MSG, Spanish Radio: WADO 1280 AM). The Metros and the Burn have faced each other twice this season, the Burn were victorious in both contests, 2-0 on June 5 and 1-0 on August 15.
The Metros will be returning to Giants Stadium the following weekend on Saturday, October 2 for a match-up with D.C. United. On Saturday, October 9, the Metros will host Eastern Conference leader Columbus in their final regular season home game at the Meadowlands. Both games will be televised by MSG and covered on WADO 1280 AM.
Tickets are available for all MetroStars home games at the Continental Airlines Arena box office and at all Ticketmaster outlets. Tickets will also be available through Ticketmaster by phone for callers in New Jersey (201-507-8900), New York (212-307-7171), and for Spanish-speaking customers throughout New York and New Jersey (212-307-4757).
MetroStars on TV:
Saturday: MetroStars vs. Dallas Burn – MSG, 8:30 p.m. ET
Metros Fall Back: With their 4-2 loss to the first place Columbus Crew last Saturday, the MetroStars have fallen farther from the division leader in the standings. Their 36 points are four behind the Crew's 40 with one more match between the two teams remaining this season. Behind the Metros in the division stands D.C. United with 33, the Chicago Fire with 29 and the New England Revolution with 27.
Possible Playoff Clinch: The MetroStars have a chance to clinch a possible Eastern Conference playoff spot this weekend. If the Metros are victorious over the Burn or are able to obtain a tie they will solidify a position in the playoffs. The MetroStars are seeking to qualify for their fourth postseason appearance in the last five years (the team missed out in 2002).
No Place Like Home: The MetroStars play at home continues to be strong. With their September 11 win in their last game at home, they now have a record of 7-3-3 in Giants Stadium. They have won seven times (April 17, 2004 3-2 vs. D.C. United; May 30, 2004 1-0 vs. Kansas City Wizards; June 19, 2004 2-1 vs. L.A. Galaxy; July 10, 2004 2-0 vs. San Jose Earthquakes; July 24, 2004 2-1 vs. Chicago Fire; August 8, 2004 3-0 vs. L.A. Galaxy; September 11, 2004 3-2 vs. New England Revolution), tied three times (April 25, 2004 1-1 vs. New England Revolution; May 15, 2004 1-1 vs. Chicago Fire; August 29, 2004 vs. Columbus Crew) and lost three times (June 5, 2004 2-0 vs. Dallas Burn; June 30, 2004 3-2 vs. Colorado Rapids; August 15, 2004 1-0 vs. Dallas Burn).
Parke and Guevara on Caution Warning: Metros Midfielder Amado Guevara will have to be on his best behavior as he is still on caution point accumulation warning. If he receives an infraction of three or more points in any of the Metros remaining games, he will have to serve a one-game suspension. Defender Jeff Parke will also have to avoid receiving a caution as he has amassed 19 caution points thus far. If Parke receives a penalty of two or more points throughout the rest of the season, he will also be forced to serve a one game suspension.
"Red and Black" Ironmen: MetroStars forward John Wolyniec is the only player to have appeared in each of the Metros' 26 games this season. Additionally, MetroStars Chris Leitch (25 games) is the only player who has played every minute of every game he has appeared in.
Firing Away: The MetroStars are not afraid of shooting the ball. The team leads the league for most shots overall with 407. The Colorado Rapids rank second in the league with 361. In addition, the MetroStars also lead the league in shots on goal with 174 strikes – six more than D.C. United. Last season, the MetroStars had 399 shots and 191 shots on goal.
Taking Their Chances: The high-powered MetroStars offense has been productive this year, scoring 42 goals – which is three ahead of the Los Angeles Galaxy for most in the league. The MetroStars have surpassed their goals scored mark from 2003 by two with four more games to play in the regular season.
The MetroStars are also not afraid of going for goal when they are playing away from Giants Stadium. The MetroStars lead the league in scoring away from home, earning 21 tallies in 13 games. With an average of 1.62 goals per away game, the MetroStars are ahead of the New England Revolution (1.38 average).
MetroStars Scoring Leaders: The MetroStars trio of Amado Guevara, John Wolyniec and Eddie Gaven each added to their season point totals in Saturday's game versus Columbus. Wolyniec's unassisted goal in the 7th minute increased his season tally to eight, giving him 19 points, good for 14th on the Budweiser Scoring Leaders list. Eddie Gaven still remains one place ahead of Wolyniec on the scoring list, as he was able to add a goal in the 49th minute, giving him seven goals and six assists this season. With Guevara's assist on the Gaven goal, he was able to maintain his first place position amongst the league's leading scorers. Guevara now has ten goals and nine assists, good for 29 points and a share of the lead with Pat Noonan of the Revolution. Also, with 29 points in 21 games played, Guevara ranks second in the league in points per game with 1.38, which is just behind LA Galaxy's Carlos Ruiz, who has a 1.41 point per game average.
Bonseu Injured: During Saturday's game, MetroStars defender Tenywa Bonseu partially tore his left Achilles tendon. Tenywa underwent a MRI on Tuesday, which revealed the partial tear. He will be out for the next 4-6 weeks.
White Out: The MetroStars' white kits have become a bad omen this season, as the team is 1-6-2 when donning them. Conversely, they are 9-4-4 when wearing their red and black-striped jerseys. The team usually wears their all-white uniforms for away games. In comparison, last season the MetroStars were 6-6-5 in their red and black uniforms and 5-4-4 in their white kits.
Ziadie turns 26: Metrostars defender Craig Ziadie turned 26 on Monday, September 20.
MetroStars Host Mexico vs. Ecuador: The MetroStars announced that they have partnered with Soccer United Marketing to host an international match between the National Teams of Mexico and Ecuador at Giants Stadium on Wednesday, October 27 at 8:00 p.m. ET. The game, presented by The Home Depot, is part of the 2004 "Coca-Cola Presents Real Mexican Soccer" Tour and it will mark the sole appearance of both Mexico and Ecuador in the New York City area this year. Tickets for the match will start at just $20, and went on sale to the public on Friday, September 17.
Future MetroStars Game to Feature on HDNet: The October 9 game versus Columbus will be featured on HDNet.
• Discuss this story on the Major League Soccer message board...


Major League Soccer Stories from September 24, 2004
The opinions expressed in this release are those of the organization issuing it, and do not necessarily reflect the thoughts or opinions of OurSports Central or its staff.