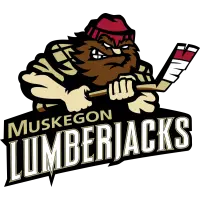 Lumberjacks to Face off with Team USA U17 and Madison During Thanksgiving Week
November 23, 2021 - United States Hockey League (USHL) - Muskegon Lumberjacks News Release



MUSKEGON, Mich. - The Muskegon Lumberjacks will travel to Plymouth, Mich. for a single-game matchup against the United States National Team Development Program (USNTDP) U17 team on Wednesday, Nov. 24 before welcoming the Madison Capitols to Mercy Health Arena on Friday and Saturday, Nov. 26 and 27, respectively. Wednesday's game will start at 3:00 pm EST from USA Hockey Arena with Friday's and Saturday's games starting at 7:10 pm EST in downtown Muskegon. Wednesday's matchup will mark the first time Team USA U17 and Muskegon have met this season, with the Lumberjacks having already played the U18 squad one previous time this year. The weekend battle between Madison will become the second time these two teams share the same ice, with the Capitols sweeping the Jacks in the most recent outing back on Oct. 22-23.
Scouting the Red, White, and Blue
Team USA U17 comes into this week having won their last six contests, including a gold medal in the 2021 Four Nations Tournament held in Vaasa, Finland after dispatching team Czech Republic with a final score of 2-to-1. In their most recent USHL outing, the U17's were swept by the Madison Capitols back on Oct. 15-16. In fact, the U17's have not won a single game against USHL opponents this season. Leading the way for Team USA U17 is forward Gabe Perreault who currently leads the team in points with a stat line of five goals and 15 assists for 20 points. Will Smith is another player to watch out for Team USA, as he leads the team in goals with nine to go along with 15 assists for 20 points. The Lexington, Mass. native is committed to Boston College. In goal, Trey Augustine has had the hot hand as of late as Team USA's number one goaltender. Augustine has a 5-4-2 record through 13 games played, with a 3.65 GAA and a .891 save percentage. The South Lyon, Mich. native is committed to playing at the University of Michigan.
Scouting the Capitols
The Madison Capitols will arrive in Muskegon after a Wednesday matchup against the Waterloo Black Hawks. Currently, the Caps are the second-best team in the Eastern Conference with an overall record of 10-5-1-0, good for 21 standings points. Last weekend, Madison went winless, striking out against the Youngstown Phantoms by a final score of 4-to-2 and the 6-to-2 thumping by the Chicago Steel. Like Muskegon, the Capitols house an NHL prospect on their roster, that being Kyle Kukkonen, who was selected by the Anaheim Ducks #162 overall in the sixth round of the 2021 NHL Draft. Leading the way for Madison is forward Tyler Haskins who currently leads the team in points with a stat line of five goals and 10 assists for 15 points. Jack Musa is the goal-scoring leader for the Caps, having scored eight goals and six assists for 14 points. For assists, Jack Horbach leads that category with 12 assists to go along with his three goals for 15 points. On defense, Luke Mittekstadt leads team defensemen in goals and assists, having matched Haskins' stat line with five goals and 10 assists for 15 points in 16 games played this year. In goal, Simon Latkoczy dominates the blue paint as Madison's ace. In 12 appearances this season, Latkoczy has a 9-3-0 record, with a 2.97 GAA and a .897 save percentage. A Clark Cup champion with Chicago last year, the Trencin, Slovakia native is committed to playing at Nebraska-Omaha.
About Last Weekend
For the first time this season, the Lumberjacks took out the brooms and swept an opponent as Muskegon is currently riding a three-game winning streak after dispatching the Dubuque Fighting Saints. Friday's matchup with Dubuque was a seesaw battle, with Lumberjack goals coming from Phil Tresca (twice), Joey Larson (twice), Quinn Hutson, Ethan Williams and Jack Williams in the 7-to-5 win. The following night saw another multi-goal effort from Larson and Jake Braccini popping off for two lamplighters, in addition to Ben Strinden and Ethan Whitcomb in the 6-to-3 win. With the series sweep, the Lumberjacks deposited four points on the weekend and continue their accession in the Eastern Conference standings, climbing up to sixth place with a record of 5-7-1-2 on the year and 13 standings points.
And the award goes to...
Muskegon Lumberjacks forward Jake Braccini has been named USHL Forward of the Week for Week 9 of the 2021-22 USHL regular season. With a high-scoring, five-point weekend, Braccini doubled his point total this season en route to picking up his first USHL Forward of the Week award in his USHL career. The Hanover, Min. native recorded a pair of assists Friday night in an eventual 7-5 win over the Dubuque Fighting Saints. The next night, Braccini picked up his third assist of the weekend before scoring a pair of goals in the second period of a 6-3 win. Braccini's five-point weekend (2-3-5) doubled his point total this season to 10 points (5-5-10) through 14 combined games with the Lumberjacks and Fargo Force. The second-year forward was acquired by the Lumberjacks after two games with the Force this season after a combined 56 games with Fargo where he picked up 28 points (13-15-28). Braccini's three-point Saturday night (2-1-3) was the first three-point night of his career and the multiple-point games on both Friday and Saturday night were the second and third of his career. Braccini becomes the second Lumberjack this season to win a weekly award after defenseman Jacob Guevin was tabbed USHL Defenseman of the Week after his stellar performance in Week 6.
100 wins for Mike Hamilton
On Friday, Nov. 19, Lumberjacks Head Coach Mike Hamilton became the first bench boss in member club history to hit triple digits in the win column by earning his 100th victory after a 7-to-5 triumph over the Dubuque Fighting Saints. Last season, Hamilton became the winningest head coach in team history, which then led to him being named USHL Coach of the Year in 2021 and subsequently gifted a four-year contract extension. After the weekend sweep over Dubuque, the River Rouge, Mich. native now has a combined regular season record 101-63-11-5.
From Russia, with love
The Muskegon Lumberjacks announced the addition of Russian-born goaltender Alexander Kuleshov from Tolpar Ufa in the MHL. Kuleshov, the 6-foot, 198-pound netminder appeared in 26 games with Tolpar Ufa during the 2020-21 regular season with a record of 14-8-4, putting up a 2.25 GAA and a .923 save percentage. In eleven playoff games last season, the Ufa, Russia native was 6-3-1 with a 2.54 GAA and a .923 save percentage. With the addition of Kuleshov, Muskegon now has a pair of Russian-born goaltenders. Most recently, the Lumberjacks acquired goaltender Platon Zadorozhnyy, a native of Moscow, Russia. Muskegon has also become a Russian pipeline, importing players such as Andrei Svechnikov, Egor Afanasyev, Daniil Gushchin, Alex Yakovenko, and Igor Larionov Jr. from Eastern Europe.
Upcoming Theme Nights - Flaunt Your Flannel & Saturday Night Fever
On Friday, Nov. 26, rock your favorite flannel and show your Lumberjack Pride because it's time to FLANNEL OUT at Mercy Health Arena for Flaunt Your Flannel! The following night on Saturday, Nov. 27, it's time to throw on your bell bottoms and jumpsuits! Mercy Health Arena is transforming into the disco as we get our boogie on to some groovy throwbacks! It's Saturday Night Fever baby! For more information, call the Muskegon Lumberjacks Business office at (231)-799-7000 or email afranczek@muskegonlumberjacks.com.
Over the Airwaves
For live video streams, all Muskegon Lumberjacks games will be broadcast on HockeyTV (Video). Additionally, all home games and select away games will be streamed on Mixlr (Audio) for free.
NHL Central Scouting Watch List
On Tuesday, Oct. 19, National Hockey League (NHL) Central Scouting released their preliminary watch list for the upcoming 2022 NHL Entry Draft. In all, six current and three future Jacks made the list. Current Lumberjacks include defensemen Tyler Dunbar, Jacob Guevin, and Jeremiah Slavin; forwards Owen Mehlenbacher and Ethan Whitcomb; and goaltender Cameron Korpi. In addition to the original six, three affiliates were named to the watch list, those being Michael Callow, Matthew Morden, and George Fegaras. The Lumberjacks also boast 12 players eligible to be selected in this year's NHL Entry Draft which will take place from July 7 through July 9 at the Bell Centre in Montreal, Quebec.
Jacks in the NHL Draft
The Jacks boast an NHL draft pick to the roster with defenseman Noah Ellis. Committed to play at the University of Massachusetts at Amherst, Ellis was selected by the Vegas Golden Knights No. 184 overall in the sixth round of the 2020 NHL Draft. The Urbandale, Iowa native appeared in 40 games with the USHL's Des Moines Buccaneers during the fi2020-21 season, totaling five goals and 12 assists for 17 points.
• Discuss this story on the United States Hockey League message board...


United States Hockey League Stories from November 23, 2021
The opinions expressed in this release are those of the organization issuing it, and do not necessarily reflect the thoughts or opinions of OurSports Central or its staff.