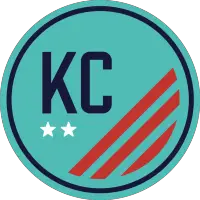 Kansas City Earns Sixth Straight Result at Home with 3-0 Victory over Houston Dash
October 14, 2021 - National Women's Soccer League (NWSL) - Kansas City News Release



KANSAS CITY - Kansas City NWSL earned its sixth-straight positive result at home with a dominant 3-0 win over the Houston Dash. Forward Darian Jenkins and Defender Elizabeth Ball each found the back of the net in the first half, then Midfielder Lo'eau LaBonta topped off the night with a penalty kick goal in extra time to clinch the 3-0 victory. The win marks the largest margin of victory, first three-goal-game, and Goalkeeper Adrianna Franch's third-straight clean sheet at home.
Head Coach Huw Williams was very happy with his team after the game. "Six games in a row that we have either won or tied at home. I think we have made playing Kansas City a tough challenge for anybody. They've kept on battling where a lot of teams would have switched off, based on where we are in the league. These guys have not. They have worked hard in every single practice and given everything a coach can ask for, so I'm very proud of our players."
Houston began the game looking to put the home side on the defensive. After Franch made a sprawling save in the fifth minute, Kansas City began to build pressure on their own. In the 18th minute, Jenkins blasted a shot from the corner of the penalty box that curled around Houston Goalkeeper Jane Campbell and into the far upper corner of the goal to put Kansas City up 1-0.
Kansas City was knocking on the door again in the 30th minute with back-to-back crossbar shots from defender Kiki Pickett and LaBonta that just missed going in the net by inches.
The door finally opened for Kansas City in the 37th minute when the team was awarded a free kick 30 yards out. Midfielder Katie Bowen stepped up for the kick and lobbed it straight to Ball's head. The fourth-year defender placed her headed shot to the far bottom corner and put Kansas City up 2-0.
Kansas City did not let up as the second half began. The team added six more shots in the period, giving them a 16-7 advantage on the night. Kansas City clinched the win in the final minutes of the game when Forward Jéssica Silva was brought on. Silva took the ball to the corner flag several times and in added time found herself one on one with Campbell. As she passed the Houston goalkeeper, Campbell reached out and tripped her, drawing a penalty kick. LaBonta stepped up to smash it into the net top off the win for Kansas City.
After the game, Jenkins noted that she thinks the team is finally at their clicking point. "I think, you know, with everything going on and everything from the league, it's just really made us come together and it's kind of us against everyone mentality. So, I think that just gave us the confidence tonight to play for ourselves, to play for each other, and take risks. We have got nothing to lose, and it really paid off. We've been having a lot of stepping stones throughout the year, and I think it's great to finally see that result on the pitch. I think it's just going to keep going up from here and I'm excited for what's to come."
Kansas City will now take the road to face off against the Chicago Red Stars at SeatGeek Stadium in Chicago, Illinois on Saturday, Oct. 16 at 7 p.m. CT. The game will broadcast locally on KCTV5 and stream nationally on Paramount+.
NWSL Match Report
Match: Kansas City NWSL vs Houston Dash
Date: October 13, 2021
Venue: Legends Field, Kansas City, Kansas
Kickoff: 7:08 p.m. CT, 8:08 p.m. ET
Weather: 68 degrees, fair
Discipline
87' KC - Pickett (Yellow)
90'+4 HOU - Spencer (Yellow)
Scoring
18' KC - Jenkins
37' KC - Ball (Bowen)
90' + 2' KC - LaBonta (PK)
Scoring Summary
Goals 1 2 F
Kansas City 2 1 3
Houston 0 0 0
Lineups:
Kansas City: Franch, Corsie©, Ball, Nolf (88' Mace), Pickett, K., Scott, McCain, Bowen (72' Del Fava), LaBonta, Jenkins (72' Hamilton), Larroquette (60' Silva)
Substitutes Not Used: Rowland, Leach, Maemone, Edmonds, Johnson
Houston: Campbell, Hanson (65' Latsko) Naughton, Dahlkemper, Chapman (65' Oyster), Schmidt (79' Gomera-Stevens), S., Mewis, Groom (59' Seiler), Prince, Visalli (59' Spencer), Daly©
Substitutes Not Used: Harris, Abam
• Discuss this story on the National Women's Soccer League message board...


National Women's Soccer League Stories from October 14, 2021
The opinions expressed in this release are those of the organization issuing it, and do not necessarily reflect the thoughts or opinions of OurSports Central or its staff.