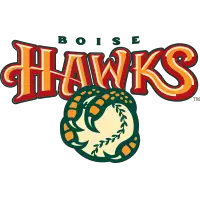 Interview with Director of Ticket Sales Nat Reynolds
January 25, 2005 - Northwest League (NWL1) - Boise Hawks News Release



Hawk Talk: Why baseball? How did you get in this business? Why did you get in this business? What's your background?
Nat Reynolds: My background is…well I did play-by-play when I was back east in upstate New York. I sold the radio time, got myself on it, just because I wanted to do play-by-play. But my wife wanted to come back west and there wasn't a lot of money to be made in radio back east where we were living.
So I took a job in Idaho, where my family's from, selling radio for the chance to get to do play-by-play on the radio – to do high school football and high school basketball. I wasn't getting as much air-time as I wanted. Selling radio was…I was good at it, but I just didn't find any satisfaction in it.
So, just by chance I met Dan Walker and told him about my background and he said, "What can we do for you? Would you like to be part of this team?" And I said, well yes if there's some radio involved. I really need to keep on the radio. So I came over to sell some sponsorships and tickets with a chance to do some games with our play-by-play guy Mike Safford – started doing that, did okay with it with sales and things of that sort. I went through the season doing middle innings with Mike on the radio.
I like doing play-by-play. Baseball's probably not where I want to be in play-by-play in the long term. Sales is kind of…I found a niche in it. I'm pretty good at it, so wherever that takes me. That's kind of how I ended up in baseball.
HT: You have kind of this eclectic background – with the Peace Corps, with all these different things you've done. Talk about that, how have those experiences shaped who you are and how does it help you in sales?
NR: I don't know. I don't know if it does or not. When I graduated from the University of Idaho, I got married shortly after. My wife and I went to the Peace Corps. It was something we wanted to do. I was an environmental science major. So that was my background, environmental water rights – things of that sort, more on the social science side. My thesis was on native American treaty rights and how it would affect the Snake River…I mean it was just a completely other side of where I was at. I really enjoyed what I was doing - I liked the writing, I liked doing that.
When I got in the Peace Corps, about 9 months into it, I was just looking at myself going, "Geez, do I really want to come back to the United States and do water law or do environmental policy? I mean is that really what I want to do the rest of my life?"
I'm a sports junkie. I'm a sports radio junkie. So when my wife got pregnant, when we were down there, it was kind of one of those things that we didn't really want to have the baby in the Peace Corps in Bolivia – health concerns things of that sort. So we came back to the United States, lived in my parents cabin in McCall, had the baby, I applied to grad schools, went back east to Syracuse – which is a great grad school for broadcast journalism. (Nat earned his master's degree in broadcast journalism from Syracuse.)
I was a little naïve to the competition and the pay and having a child, being married, not having the freedom to be able to travel and take those low paying jobs in radio, or TV, or media. It's impossible to live on $19,000 or less. A lot of times it's less, without having to do some sales involved and live on that. So, to make a long story short, when I thought about what I wanted to do with my life – I wanted to do sports. It's something I love. I've just built on that, one opportunity after another. It just seems like things kind of come up.
HT: The "director of ticket sales" thing is a relatively new role for you. How's it going? What challenges do you see? What's cool about it?
NR: What's cool about it is, there's a real satisfaction because it's a tangible number. You see growth. It's just numbers and you see what you're accomplishing. I didn't realize I was such a numbers person until I started doing this and looking at renewal rates, looking at the staff's goals and trying to influence things that way and setting deadlines – things of that sort.
So I didn't realize I was that kind of person. But it's really been a lot of fun to kind of manipulate the process to something where it's better business for us, but it's also better for the ticket-holder to be able to renew earlier, get them in the books. And then be able to help ourselves out by being able to go after new ticket-holders. And it makes a better environment for everybody. I find it's very rewarding to see those numbers.
Right now, ticket sales – you know, renewals was the easy part. January, it just doesn't seem like a lot of people are thinking baseball. But, we've still got to bang the phones and get out there, call people and talk to them. You've got to keep the word out about the Boise Hawks.
I expect sales to start going back up again and be at higher numbers than we've been at in the last 3 years - because that's where we've been. Our renewal rate was around 90%, which from what I've seen in past records, the records weren't great. But we haven't renewed that high in quite some time and all we can do is go up. I think we're really close, if not past, the number of season tickets, or season ticket holders that we sold all of last year – and it's January. We're doing okay.
HT: That's cool stuff! What's the best thing you see in 2005 for the Boise Hawks?
NR: I just think customer service is where our focus is as a staff. By doing things early we will avoid the potential snafus of double-ticketing a seat and leaving fans with a bad taste in their mouth.
We're really trying to build that up to where we're not affecting people in a negative way. We're trying to make a great environment for the fan and ticket-holder. We want them to come out, be able to have their tickets, be able to show up, have no problems, seats all fixed – ready to go, know where their seat's at – if they've had it 15 years, great. If they're a new season ticket holder, it's easy to find it. Good service, being greeted at the gate – that's our goal.
HT: What's the biggest challenge you see facing the Hawks in 2005?
NR: Getting the businesses back in the ballpark. We have a great base of ticket-holders that are loyal fans. They're baseball fans. They're our base. They're what makes the Hawks go and what has kept us going.
But we also can't forget that there's a business community that can use these tickets. And I think that they have been kind of forgotten, or maybe overlooked, or the relationship was strained, or they didn't know how to utilize the tickets from a corporate standpoint. So we really just need to get out there and get more corporate ticket holders to be able to use the tickets as sales tools, or to be used as benefits for the companies. Because I think there really is true benefit in that.
If you look across the nation, other baseball teams would love to have our base as far as personal ticket-holders. But they have a much larger corporate business or business-based ticket-holders. We're kind of the opposite. Which is, I don't know if it's good or bad or if that even matters. It's just different.
So I think there's a challenge to get out there and just get back in touch with some businesses too - to add that so that we have a better mix of ticket-holders.
HT: What have you learned by traveling around the country, going to Baseball's Winter Meetings, going to promotional seminars in Dallas? What's the coolest, most educational thing you've seen?
NR: Minor League Baseball is so cool because you can do anything. You can do anything you want to do as far as a promotion, or – you know, you can try new things. If it doesn't work, it's okay. You can do anything. You can get rock bands to perform before your game, you can bring out skateboarders, you can do anything as far as adding to that minor league feel or to the event for the fan.
At the major league level you don't get that as much. They're going out to watch the ballgame. In minor league baseball you can do anything you want. You can do traditional baseball. You can have organ music. You can have guys standing on the bleachers yelling out, "program!" - you can do it however you want.
And every night you can change it. It doesn't have to be the same theme throughout the year. And I think that is really cool – that your identity can be different, depending on the night. It adds flavor, it adds variety, it adds an experience for the fan. And once they get in their seats, if they don't like it, they don't have to pay attention to it, 'cause they can watch baseball. There are so many different things. I think that's the great thing about minor league baseball.
And I've learned about different promotions – teams doing spin-offs of different TV shows and doing "Survivor" in their cars at the stadium and locking people in for 5 days; to guys living on berms in outfields for the whole season – having the intern live out there. Teams are doing amazing things and it's a lot of fun to go to those meeting and find out what does and doesn't work and why.
One of the things I've learned from those national meetings, perhaps not on a positive note, is that everybody has a problem. Not everybody is making money hand-over-fist on the business side. There's not one program out there that is doing everything right. From that, you can look at the Hawks and say we are right there with them. We're one step away from being one of the better clubs in the nation. It's just the little things we need to focus on. Everybody can improve, nobody's perfect.
By meeting with these people you start to realize what you're doing right. They'll say, "well your fan base is so good, how does that work?" Well the answer is, we have true baseball fans and a lot of them. It' just a way to share ideas and you can learn a lot that way. Going to those meetings has helped me immensely.
HT: What am I not asking you about yourself or ticketing that I should be asking you?
NR: Well, there are some reasons why we've changed some of our ticketing plans. There's a reason why we've changed our mini-plan to be what it is. I think that's important for the fans to understand.
On those comment cards and those surveys that we have fans do, we have them grade the nights that they have the most fun. Or talk about the things that they like. And what we've found is that most people really love those promotional nights. They love the Fridays, the Saturday's, the theme nights, they love the give-away nights. And so by doing that, that's why we've changed our mini-plans to be on the weekends and kind of went away from the weekdays because we want our fans to have a good time when they come out to the ballpark.
We can always modify a plan to be a "weekday only" plan. But by offering the weekends, we're trying to insure that they'll have a good time on the nights they come out and they're going to get the best nights that we offer. That's the reason we do mini-plans the way we are now.
• Discuss this story on the Northwest League message board...


Northwest League Stories from January 25, 2005
The opinions expressed in this release are those of the organization issuing it, and do not necessarily reflect the thoughts or opinions of OurSports Central or its staff.