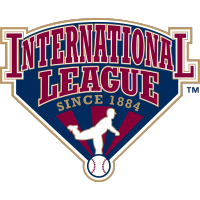 IL names players of the week
May 16, 2005 - International League (IL1) News Release



The International League announced today that Richmond's Bill McCarthy and Indianapolis pitcher Ian Snell have been named the League's Batter and Pitcher-of-the-Week for the period from May 9-15. McCarthy becomes the first member of the Richmond Braves to win an IL weekly award in 2005, while Snell wins his second Pitcher-of-the-Week award this year (April 25-May 1).
Indianapolis hurler IAN SNELL has earned his second IL Pitcher-of-the-Week award in the last three weeks. This week didn't start off the way Snell would have wanted. He entered his May 10 start having won his last four outings, and was looking good until the fifth inning. A rare wild spell, which included a pair of walks and a strike three wild pitch that should have ended the inning, led to a four-run inning for Richmond and Snell's early departure. But on May 15, Snell had a chance to redeem himself against the IL's most powerful offense, the Norfolk Tides. All he did was toss Indianapolis' first 9-inning no-hitter since 1974, and just the seventh in franchise history. One walk in the fifth inning was all that kept Snell from getting a perfect game, as he needed only 101 pitches to shutout the Tides. Ian notched a season-high 9 strikeouts, and was clocked as high as 97 miles per hour late in the afternoon. After this memorable outing, Snell credited his defense for making outstanding plays and his coaching staff for helping keep him calm as he finished the game. Ian improved his record to a League leading 6-0 mark. He also leads the IL with 51.2 innings pitched this season, and is second in strikeouts with 52.
The 23-year old Snell has been simply amazing in his first season at the Triple-A level. He was named the #4 prospect in the Pittsburgh organization by Baseball America, and appears on his way back to the Pirates where he pitched in three games late in the 2004 season.
Richmond's BILL MCCARTHY found his stroke this week in a big way. The 25-year-old outfielder has struggled through the first month and a half of the 2005 season, including a two-week stint on the disabled list, before finally putting it together this weekend. The Braves needed a lift after losing three of four in Indianapolis. Their series in Louisville opened on Friday, May 13, but it turned out to be Richmond's lucky day. A two-out RBI single from McCarthy in the 3rd put the Braves in front 4-0, and two innings later Bill tripled home two more runs to make it 6-0. A 9th inning double gave McCarthy a 3-4 evening with 3 RBI, and the Braves won 10-4. He followed up this performance the next evening with one of the greatest games ever by a member of the Richmond Braves. In a season-high 16-run night for Richmond, McCarthy went 6-6 with a homer, 2 2B, 4 RBI, and five runs scored. The game was highlighted by Richmond's 9-run 5th inning, which included a pair of run scoring doubles by McCarthy. Two innings later he hit his 2nd home run of the season. McCarthy's six hits tied a franchise record set by Jeff Geach in 1976. Then on Sunday afternoon McCarthy spoiled a wonderful pitching performance by Louisville's Randy Keisler when he hit a two-run single in the 9th inning to give the Braves a 2-1 victory. The win put Richmond into a tie for 2nd place in the International League South Division. In one week McCarthy raised his batting average from .234 to .343, which he accomplished by going 13-23 (.565). Before May 9, McCarthy had driven in only 3 runs in 47 AB, but managed to collect 10 RBI this week in only 23 AB.
McCarthy was a 6th round draft pick of Atlanta in 2001, now playing in his 5th professional season. He made his Triple-A debut last year with Richmond, hitting .354 in 54 games. He was named the IL Batter-of-the-Week last July, less than three weeks after his promotion. Before that, McCarthy had been named to the Carolina League All-Star team in 2002 and the Southern League All-Star team in 2003 and 2004.
'ÄĘ Discuss this story on the International League message board...


International League Stories from May 16, 2005
The opinions expressed in this release are those of the organization issuing it, and do not necessarily reflect the thoughts or opinions of OurSports Central or its staff.