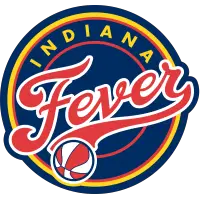 Fever Update
September 8, 2008 - Women's National Basketball Association (WNBA) - Indiana Fever News Release



NEWS & NOTES
- On Sunday, Sept. 7, the Fever clinched its fourth consecutive postseason appearance. The Fever will host Game 1 of the Eastern Conference Semifinals on either Thursday, Sept. 18, or Friday, Sept. 19. Tickets for the Fever's first home game of the playoffs are now on sale and can be purchased via the Conseco Fieldhouse box office, Feverbasketball.com, all Ticketmaster outlets or by calling (317) 239-5151.
- The Fever currently holds down fourth place in the Eastern Conference standings and trails third place New York by four games. In order to move up to third place, the Fever would have to win all of its remaining four games, while New York lost all of its last four games. That would scenario would leave the two teams tied with 18-16 records, but the Fever would have won the season series with New York (3-1) and the corresponding tiebreaker.
- At Detroit on Friday, Sept. 5, Ebony Hoffman collected a career-high tying seven offensive rebounds, giving her a career-best 85 for the season. That is one offensive rebound behind league-leader Rebekkah Brunson of Sacramento. Hoffman has posted seven offensive rebounds twice in the last three games. Against the Atlanta, August 30, Hoffman's seven offensive boards were part of a career-high 14 total rebounds.
- While scoring 11 points, Tully Bevilaqua handed out a team-high four assists and committed two turnovers. Those turnovers were her first miscues in her last five appearances and ended a run over than 147 consecutive minutes without a turnover.
- One of only two players in franchise history to ever score 20+ points in at least three consecutive games, Tamika Catchings ended the past week having done so in three in a row for the fifth time in her career. With a 20-point effort at Atlanta on Monday, Sept. 8, she will have hit that mark in four straight games for the third time in her career
- Fever fans can vote for their favorite Fever player to be the 2008 WNBA MVP presented by T-Mobile by visiting WNBA.com/mvpvote. Voting ends September 14.
- Due to a conflict with 1070 The Fan's coverage of the Indianapolis Colts' game at Minnesota on Sunday, September 14, the Fever's game vs. Phoenix that day will be broadcast on WXLW 950 AM.
RECENT TRANSACTIONS INJURY REPORT
9/4 Signed Doneeka Lewis for the remainder of the season Player Injury Status
8/14 Signed Doneeka Lewis to a seven-day contract Sherill Baker bruised right wrist questionable
7/4 Acquired Kristen Mann from Atlanta in exchange for Alison Bales Tammy Sutton-Brown left quad contusion probable
5/24 Signed Bernadette Ngoyisa
COMMUNITY CORNER
- Fans can show their appreciation for injured Indianapolis Metro Police Officer, Jason Fishburn, at the Fever vs. New York game on Thursday, September 11 when he will be honored as part of a Hero Presentation at halftime. Seven dollars of every $12 ticket purchased through this offer will benefit the Jason Fishburn Fund. Show your support for Officer Fishburn, and enjoy the Fever vs. Liberty game by calling Alice, at 317-917-2824 or visit FeverBasektball.com and click the Jason Fishburn Night link.
- Pet Supplies Plus and the Fever are giving fans a chance to adopt a dog or cat when it hosts the New York Liberty on September 11. Fans that arrive early can check out the pets and receive a pet goodie bag courtesy of Pet Supplies Plus. All the pets have their shots, are spayed or neutered, microchipped, and available for adoption that night for only $60. Anyone that adopts a pet that night will receive a Fever pet adoption prize pack with things they will need for the new addition to their family, courtesy of Pet Supplies Plus. Visit FeverBasketball.com for more information and photos of some of the pets up for adoption the week before the game.
- Every time the Indiana Fever's Tammy Sutton-Brown grabs a rebound this season, she will be doing more than just helping the her team. She will also be supporting Athletes for Africa. The two-time WNBA All-Star will be making a $10 donation for every rebound she collects in 2008, and she will be encouraging WNBA fans everywhere to also lend their support. Athletes for Africa is a charitable organization that has focused its efforts on building a global network of people committed to promoting and protecting human rights, and providing education and opportunities that empower youth in Africa. Athletes for Africa's mission is to leverage the positive behaviors and profile of sport to engage youth and educate them about issues facing the people of Africa; partner with, and fundraise for organizations that foster local empowerment in Africa; and advocate to ensure that human rights are remembered and protected. For more information log on to www.athletesforafrica.com.
UPCOMING PROMOTIONS
- Thursday, September 11 is College Night when the Fever hosts the New York Liberty. Students with a valid college I.D. can purchase a $17 ticket and a College Night t-shirt for just $10. Tickets can be purchased at the Conseco Fieldhouse box office or via Feverbasketball.com.
- Join the Fever this season for Lucas Oil Family Nights presented by The Indianapolis Star. The last Lucas Oil Family Night of the season will be when the Fever hosts the Phoenix Mercury on Sunday, September 14. Each Lucas Oil Family Night package includes four tickets to the game, four vouchers for free hot dogs, chips, drink and four free t-shirts. Packages are sold in multiples of four and are available via FeverBasketball.com or the Conseco Fieldhouse Box Office
ON THE WEB
- Fever players Tully Bevilaqua and Tamika Catchings, as well as the team's Media Relations Director, Kevin Messenger, will be blogging frequently throughout the 2008 WNBA season. Those blogs can be found at FeverBasketball.com.
- Fever news, notes and features - as well as rosters, statistics and game reports - can be found on FeverBasketball.com. Updated and archived news releases and news clippings can be found in the Fever Central Media Center.
• Discuss this story on the Women's National Basketball Association message board...


Women's National Basketball Association Stories from September 8, 2008
The opinions expressed in this release are those of the organization issuing it, and do not necessarily reflect the thoughts or opinions of OurSports Central or its staff.