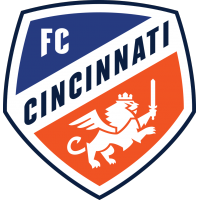 Evan Louro Feels he Owes FC Cincinnati his Best After Taking a Chance on Him
November 16, 2023 - Major League Soccer (MLS) - FC Cincinnati News Release



Before he came to FC Cincinnati just over a year ago, Evan Louro was looking for any opportunity to prove himself. Recovering from a full ACL tear, the 26-year-old was without a club and needing a chance to restart his career.
Now, just over a year later, the goalkeeper and energizer bunny of FCC has run with his chance and signed a three-year contract extension with the club to keep him with The Orange and Blue through 2025.
In his short time with the club, Louro has become an essential stitch in the fabric of what FC Cincinnati does. He's praised by goalkeepers and outfield players alike for his work ethic, being the first to arrive to workout every morning and staying on the training pitch late to help shot takers have someone to shoot on. He does all of that with a smile on his face and usually with a laugh to join it.
Louro is often described as the "Vibes Guy" around the club. It's not totally unfitting. When the group needs a laugh, he's usually there to provide one. When it needs more energy, he gives it. Intensity, he brings it. When FC Cincinnati needs the "vibe" raised, Evan is there to provide the lift.
But the nickname is one that Luoro shrugs off and doesn't think much of. Sure, he does all of those things, but it is not as if he wakes up every morning and strategizes how he can pump up the group.
"This is just kind of how I am," Louro told FCCincinnati.com. "Some days, training is a little harder and it starts to get quiet. For me, I like to have fun so if I'm not having fun, chances are no one else is having fun. So I'm going to try to toss some fun in there somewhere. ... I just don't like coming into work walking on eggshells."
Top of mind for the keeper, though, is the chance the club took on him. After tearing his ACL in a winning effort in the Eastern Conference Final for USL Championship side Tampa Bay Rowdies in 2021, Louro was left without a club, injured to recover on his own, and with a new family to support that included a baby on the way. Louro recalls hunting the depths of job boards like LinkedIn and Indeed for any soccer career he could find to stay in the game and support his family while keeping the dream alive.
"I owe a lot to this team because I was just trying to get insurance," Louro remembers. I was having a baby. We were six months pregnant and pregnancies are expensive. So I owe a lot to this team.
"So that's why I feel a sense of obligation. I owe them kind of. That's why I approach everything the way I do."
The options were limited, but he explored everything. With two years left on his degree at the University of Michigan, Louro explored everything from going back to school to finish his degree to coaching or playing at any level that could have him.
"I don't know what I would have done, that's why the trust that people like Chris Albright, (FCC goalkeeper coach) Paul Rogers and Pat Noonan have shown me means so much. Without them, I don't know what I would do," Luoro said.
Now, not only has he received his 'second chance,' he's earned the trust of club leadership to warrant being part of the organization for the long term.
"We're excited to re-sign Evan," said Albright in a release. "He's an invaluable character within our group, and a strong goalkeeper who makes his teammates better each day. We're proud to keep him in Cincinnati."
"It'd be very easy for them to just be like, 'Alright, yeah, thanks for your year and a half, time to go on your way. You've been great but you know, see later.'" Louro says, "It's amazing to know that they trust me enough to continue doing what I'm doing. I came here with no promises ... but now to have the stability is amazing, especially at this point in my life with my son and I'm married. I want to make sure I continue to prove that trust and make their faith pay off.
"It's a big league, it's a big world and it's a big time team. It would have been very easy to go get someone else who was ready right then, but they saw that in me and like I said, I owe them everything."
"The Room"
The goalkeeper's room is a tight-knit community. The most specialized position on the pitch can be a lonely profession for some; they wear special equipment, train individually, and are usually target practice for outfield players to try and score on, doing so dozens of times per day based on the nature of the training being done.
Thus the need for a tight-knit group. FC Cincinnati have four first team goalkeepers and a fifth signed to the second team that move together like a pride. Much like Louro, they are first to go out for training together every morning (9 a.m. sharp, most days), depart together, eat together and spend most minutes in between as a singler group.
Louro is, in many ways, the lifeblood of that group, according to his fellow goalkeepers. The "vibes guy" as previously mentioned, rejects that idea; he believes that everyone brings an important trait to the room, and to the club, that makes them invaluable. What he does believe though is that in his role, as a self-designated third keeper on the depth chart and someone who does not get a ton of minutes in matches, keeping a positive and supportive environment among keepers is vital for success.
"People always ask me if it's hard to be in the position that I'm in and do I ever hope others fail so I get my shot? And I'm always like 'No!'" Louro said emphatically. "That's not how I am. I don't think that's how this group is; if I'm not playing, I don't want the guy in front of me to mess up. I want the guy in front of me to do as well as they can, because that's going to better everyone. I just want to push everybody so we get better, ultimately the team's better and then we win more.
"I trust myself enough that if my time comes, I trust that I've put in the work and that I'll be fine. And if it doesn't, I'm just gonna still keep doing what I'm doing. This is a privilege, but I'm playing with house money right now. That's how I look at it. So when my time comes, I back myself, I've always backed myself, but I'm not gonna come to work and throw my hands up and complain because I'm not playing right now."
Still, that attitude resonates with his keepers and makes the New Jersey native's outlook on life infectious to the club.
"Evan is a guy with a ton of energy to burn. There are days when we may not be firing on all cylinders, but Evan is always buzzing, ready to train, always willing to do extra work, and it's invaluable to have a guy like that in your goalkeeper group," goalkeeper Alec Kann said of his teammate.
"He's the heart of the team," former FCC Academy player and now rookie first team keeper Paul Walters said of Louro. "If we didn't have him we'd be a very quiet goalkeeper group ... he can go forever. It's good to have a guy like that."
The core of the goalkeepers room is vital to the health of the position and the performance on the field. A thought shared among all FCC goalkeepers is that while only one man can stand on guard between the metal at a time, the collective helps support and develop each individual's performances leading to better results on the pitch for whoever is tabbed to play that matchday.
"Everyone needs an Evan,'" Roman Celentano said of Louro. "He is unbelievable. He's the first one to the facility, getting his work in everyday. When I'm still walking in, I see him in the gym with (Head of Sports Science and Nutrition Phil Keehne) absolutely bumping the EDM tunes and just having a time.
"He's just full of energy the whole time. It's just so much fun going out there every day. We get the work in and we work hard. But we also like to have a laugh, and he brings energy every day and pushes us to be better."
What may go misunderstood about the New Jersey native is just how talented and respected he is as a keeper. While a member of the Tampa Bay Rowdies, Louro earned the second most clean sheets in league history with 14. He also set the record for most consecutive games with a clean sheet, going eight straight matches and a record 891 minutes without conceding a goal.
Louro won the Golden Glove that season before suffering an injury and departing for FCC at the conclusion of the year. Now, other goalkeepers, who only disclosed the following compliments on the condition of anonymity, praise Louro for a skill set that is unique to him in the goalkeeper room. One keeper praised Louro for his skills on the ball, both in terms of playing the ball with his feet and his decision-making skills, describing his talents as "nice with it;" another keeper praised his reaction and diving skills in drills, but everyone agrees that publicly the Michigan alum doesn't fully get his due for his soccer skills because of how larger than life his personality is.
"People don't give him enough credit because he's just out there doing his thing," a goalkeeper confessed. "It's not gonna get recognized but he's, he's unbelievable."
Part of the Club, Part of the Community
Now that Louro can settle down in one place for a little while, after years of going spot to spot and being unsure of what the next season brings, he couldn't be happier with the culture he's found in Cincinnati.
With a deal running through 2025, plans are in place to move into a more accommodating home for him and his young family. Specifically, moving into a neighborhood that is closer to his teammates and their families as he and his wife, Morgan, have forged deep friendships with his fellow Orange and Blue teammates.
"It's more comfortable for us," Louro said. "It'll be cool. When we first moved here, we didn't know anything or any of the neighborhoods so now we will be closer to my teammates. My wife has friends here now with all the other team wives and that just makes everything better.
"That's something the team does a really good job with. I've been to a lot of places and you don't always get that; sometimes you're kind of on your island, but they do a good job of making this a real family kind of culture. ... We have alot of all-stars on this team, big-time players, but they make me feel like an all-star and that's something really special about our club. There's no 'Oh, that guy's bottom of the barrel. We're not going to talk to him' or anything like that. That's just not how it is here."bidden.
• Discuss this story on the Major League Soccer message board...


Major League Soccer Stories from November 16, 2023
The opinions expressed in this release are those of the organization issuing it, and do not necessarily reflect the thoughts or opinions of OurSports Central or its staff.