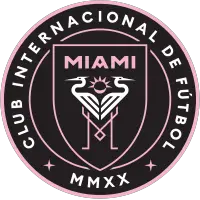 Director of Player Development Darren Powell Provides Updates on Inter Miami CF Academy
May 29, 2020 - Major League Soccer (MLS) - Inter Miami CF News Release



The Inter Miami CF Academy, like the First Team, has been on hiatus throughout the COVID-19 pandemic. The time period has also seen the Academy undergo changes to its competitive structure following the dissolution of the U.S. Soccer Development Academy and subsequent formation of MLS' new elite player development platform.
Inter Miami CF Director of Player Development Darren Powell has been instrumental to shaping the Academy throughout the process of these changes, overseeing the integration into the new system. For the upcoming season, the Academy U-12 team will continue to compete in Florida state league while the U-13, 14, 15, and 17 teams will compete in the MLS development platform.
"We're super excited to be a part of the inaugural season coming up with the MLS elite player development platform," he said. "The details still need to be finalized, but at this time it's the most competitive platform available in the country for youth soccer. We want to make sure we're competing against the best teams week in and week out and we are excited that we'll get to do that both in the local and national markets."
The level of competition was of paramount importance to Powell and the entire Inter Miami CF Academy structure as it looks to foster the development of South Florida's premier youth talent.
"These times are very exciting," said Powell. "The league is going to make sure it's as competitive as possible for our players and Inter Miami will certainly be challenging our players to make sure they play their best in games and in training."
"It will provide competitive and meaningful games with MLS teams against each other and also games across the Florida region. I think the most important thing for all of our players to understand is we want to make sure they're getting pushed to be their best in games but also in training so that we continue to get better and improve the player pool," he added. "The collaboration of the clubs in Florida has been really good in wanting to be part of the competitive MLS platform. We want to continue to drive the quality of soccer both in terms of training and games in South Florida as a Club and an organization."
Much like the Inter Miami First Team, the Academy has also aimed to maintain connection and sharpness throughout the ongoing stoppage in play. Weekly video calls, workout routines, technical challenges and tactical film work have been the foundation the Academy teams have built their training regimens on throughout the break. This has helped maintain the levels of everyone involved, including both players and staff.
"The staff have done a wonderful job," stated Powell. "One of the most important things we wanted to do early on in the stoppage was make sure we got our teams engaged and all our coaches have certainly managed to do that and continued to keep the players engaged and focused throughout this time. We wanted people to be creative in their ideas, but the idea behind everything was to make sure there was a technical, tactical and physical component. Our fitness coaches have devised zoom calls so we can keep the team together and also do some fitness programs together as a team. They would do those once or twice a week with each age group at different times."
"For the technical component we had different challenges along the way, including competitions each week for certain age groups. The technical challenges were fun to see. There were also personal technical workouts two or three times a week that players were required to do on their own. They could do them either in their respective houses or even outside depending on the space available."
"The coaches also engaged the players tactically. Players would obviously look at their own personal games and our IMCF game model and what it means positionally, and what it means as a team. There are lots of different ways of engaging a player and that also included having them look at the First Team and see different players that may play in their role. They would learn how they were implementing Club philosophy and game model from a tactical perspective. The coaches really did a terrific job of making sure everyone was committed and staying focused and engaged during this time. It's been really neat to see and really encouraging to see how the players and coaches have been interacting."
Powell has also kept his eye on a return to action for each Academy team, but prioritized the health and safety of everybody involved above all else.
"We're governed not only by Florida health & safety, but also MLS. We're looking at different plans to bring the players back safely and discussing the dates to do so."
• Discuss this story on the Major League Soccer message board...


Major League Soccer Stories from May 29, 2020
The opinions expressed in this release are those of the organization issuing it, and do not necessarily reflect the thoughts or opinions of OurSports Central or its staff.