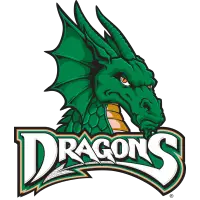 Dayton Dragons 2018 Preview: Part 6-Outfielders
March 20, 2018 - Midwest League (MWL) - Dayton Dragons News Release



It would be difficult to improve on the Dragons 2017 outfield group, which would rank among the very best in Dragons history. The 2017 Dragons featured Jose Siri, the top all-around player in the league over the full-season, as well as Taylor Trammell, a top-50 prospect in all of baseball in the eyes of many. In the first half, the outfield also included T.J. Friedl, who earned a spot in the Midwest League All-Star Game, though he did not play in the game due to a promotion to Daytona just a few days before the mid-summer classic. That outfield would rival the inaugural Dragons outfield of 2000 for greatest in team history. The 2000 outfield consisted of Adam Dunn, Austin Kearns, and a rotation of Serafin Rodriguez, Fernando Rios, and Blane Layton.
But the projected 2018 Dragons outfield is also very impressive. One scout we spoke with was asked about the potential Dragons outfield trio of Andy Sugilio, Stuart Fairchild, and Miles Gordon and simply stated, "it doesn't get much better than that." Let's take a look at this group, all of whom hit at least .300 in the Reds organization in 2017.
Outfielders
This is part six of an eight-part series previewing the 2018 Dragons. Players listed here are candidates for positions on the 25-man Dragons season-opening roster.
This preview is an unofficial projection of possible roster candidates. Minor League rosters are not established until April 2. Spring training variables including performance, injuries, trades, and additional player acquisitions will impact the roster accordingly.
Click links on each name for career stats and player information.
Candidates: Andy Sugilio, Stuart Fairchild, Miles Gordon, Reshard Munroe, Raul Wallace, Satchel McElroy, and J.D. Salmon-Williams.
Andy Sugilio (pronounced sue-HEE-lee-oh) is projected to be the Dragons left fielder this season, the same position he played for the team one level below the Dragons on the Reds Minor League chain in 2017, the Billings Mustangs. Sugilio possesses tremendous speed. Doug Gray of the web site RedsMinorLeagues.com, had these comments about Sugilio as a runner:
"You could make the argument that Andy Sugilio is the fastest runner in the Cincinnati Reds farm system. I was able to get a time from home-to-first on him from the left side of 3.87. That's not quite Billy Hamilton fast, but it's about as close as you can get."
Sugilio led the Billings team in batting average last season at .345 (tied for sixth best in the Pioneer League), and he stole 20 bases in 62 games. He had 20 extra base hits including three home runs. He made good contact with just 33 strikeouts in 235 at-bats.
Sugilio is a 21-year-old switch-hitter from the Dominican Republic. His manager in Billings last season placed him in various spots throughout the batting order, but interestingly, he hit in the cleanup spot the most, followed by the fifth spot. Sugilio was at his best in the most important moments of games. He hit .456 with runners in scoring position, going 31 for 68 with only five strikeouts. He was almost equally strong when batting left-handed or right-handed.
When you bring up Sugilio's name to some scouts, a comparison is sometimes made to former Dragons star Jose Siri, though Sugilio does not have Siri's home run power. The follow-up comment often made by the scout is that like Siri, Sugilio might need a season of adjustment time in Dayton. You might recall that Siri first joined the Dragons in 2016, when he struggled mightily. This part of the comparison does not quite seem to stand up to the facts. Let's take a closer look.
When Siri made the Dragons opening day roster in 2016, he was not coming off a big year in Billings like Sugilio. In fact, Siri was not coming off any kind of season in Billings. He had played one level below Billings in 2015, with the AZL Reds, and he had not even played particularly well there. Siri had hit .246 with the AZL Reds with 64 strikeouts in 43 games in 2015. He jumped to Dayton in 2016, skipping the Billings team, and he was completely overmatched. He hit just .145 in 27 games with the Dragons and was sent back to extended spring training. He then reported to Billings in June for their 2016 season and had a great year, batting .320 with 10 home runs in 59 games. In 2017, he returned to Dayton and had a season that would be in the conversation for the greatest year in Dragons history. Siri did start slowly in 2017, but he turned the corner in mid-May and the rest is part of Dragons history.
Sugilio, on the other hand, is coming off a huge season in Billings. Perhaps the comparisons to Siri's necessary transition time are in reference more to the first six weeks of Siri's 2017 season in Dayton, not to his overmatched 2016 season. That would make a lot more sense.
Stuart Fairchild was the center fielder in Billings last season after being drafted by the Reds in the second round last June out of Wake Forest. Fairchild had a great junior year at Wake Forest in the spring of 2017 when he was named First Team All-American by Baseball America and numerous other publications. In 63 games at Wake Forest in 2017, Fairchild hit .360 with 17 home runs and 21 stolen bases. He led one of the top conferences in college baseball, the Atlantic Coast Conference, in hits and total bases. He also managed to make it through the season without committing a single error. Fairchild's great junior year at Wake Forest in 2017 was not a fluke. He was also an All-ACC pick in both his freshman and sophomore years and was a First Team Freshman All-American in 2015 when he batted .349. The biggest improvement in his game over the course of his three-year college career came in his ability to hit the long ball. After hitting five home runs in each of his first two seasons at Wake Forest, he hit 17 in his third year.
The Reds took Fairchild with the 38th overall pick of the 2017 draft. It was the second pick of the second round, the Reds third pick of the draft (after Hunter Greene and Jeter Downs). Fairchild was assigned to Billings, where he became the Mustangs everyday center fielder and slotted in to the #3 spot in the batting order, where managers usually put their best hitter. He got off to a bit of a slow start and was hitting just .250 after 15 games, but he batted .326 the rest of the way to finish at .304 with three home runs and 12 stolen bases in 56 games.
Following the season, Baseball America named Fairchild as the best defensive outfielder in the entire Reds farm system. Now, we saw Siri's defense in Dayton in 2017. If Fairchild is better defensively than Siri...well, as Sparky Anderson said of Brooks Robinson after the 1970 World Series, if you could find someone better than him at third base, you wouldn't need a shortstop. It could be that Baseball America had Siri as the best in the Reds system in so many other categories (which they did) that they decided to share the wealth a bit with this ranking. But whatever the case, obviously, Fairchild is very highly-regarded as a defender. He should be fun to watch at Fifth Third Field.
Miles Gordon was the right fielder at Billings in 2017. As an all-around hitter, Gordon was actually the best on the Billings team. His .530 slugging percentage led the team. He batted .319 with eight home runs and 28 extra base hits in 61 games. He mostly hit second in the batting order for the Mustangs.
Gordon, a native of Canada, was a hockey player until he was drafted by the Reds in the fourth round in 2015. He reached Billings in 2016, but suffered a shoulder injury that ended his season after just 22 games. He returned to Billings in 2017 and had his best professional season. Gordon was actually in Dayton and on the Dragons active roster for the final playoff game of 2017 after an injury to Michael Beltre, but Gordon did not see action that night. Gordon is a left-handed hitter with the speed to play center field, though he was mostly stationed in right in Billings due to the presence of Fairchild. Interestingly, in the first spring game of the year last week, Gordon started in center with Fairchild in right. More recently, in Monday's game, Fairchild was in center with Gordon back in right.
Reshard Munroe, a native of the Bahamas, could be the Dragons fourth outfielder and see time as a designated hitter. He spent last season with the AZL Reds, so he would have to skip over the Billings club to open the year with Dayton. With the AZL Reds in 2017, Munroe hit .290 with three home runs in 36 games, posting a strong slugging percentage of .419 with an OPS of .820. Reports on him as an emerging under-the-radar prospect are good.
Raul Wallace is another young outfield prospect who could start in Dayton in 2018. Wallace, from the Dominican Republic, was a teammate of Munroe with the AZL Reds in 2017, where he batted .281 and was 9 for 9 as a base stealer. He moved up to Billings for the final days of the season and got into 11 games, batting .286 with his only home run of the year and adding two more stolen bases.
Satchel McElroy and J.D. Salmon-Williams also saw time in the outfield at Billings in 2017. McElroy, the son of former Major League pitcher Chuck McElroy, hit .237 with two home runs in 29 games. Salmon-Williams hit .224 with four homers in 35 games.
Next up: Starting pitchers
The Dragons are in the midst of a 14-game Arizona-based spring schedule that will conclude on March 30. Following the completion of the spring training game schedule, rosters will be assigned for each of the Reds four full-season affiliates (Dayton, Daytona, Pensacola, and Louisville) and the 25 Dragons players will arrive in Dayton on April 1. They will open the Midwest League season on Thursday, April 5th in Bowling Green, Kentucky against the Bowling Green Hot Rods. The Dragons home opener is Saturday, April 7 when they host Bowling Green at Fifth Third Field at 7:00 p.m.
Single-game ticket sales for 2018 Dragons games are underway. Go to daytondragons.com for details. For Dragons 2018 season ticket information, call (937) 228-2287.
By Tom Nichols
Images from this story
• Discuss this story on the Midwest League message board...


Midwest League Stories from March 20, 2018
The opinions expressed in this release are those of the organization issuing it, and do not necessarily reflect the thoughts or opinions of OurSports Central or its staff.