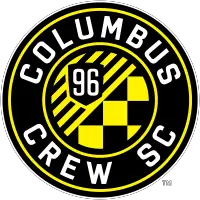 Crew home opener: 24 days and coming
March 10, 2004 - Major League Soccer (MLS) - Columbus Crew SC News Release



COLUMBUS, Ohio (Wednesday, March 10) - Twenty-four days from now the Columbus Crew will kick off year No. 9 of Major League Soccer when the Black & Gold take on the MetroStars on Saturday, April 3, at 7:30 p.m. at Columbus Crew Stadium.
Each day, from now until the home opener, an interesting fact or tidbit about The Crew, Major League Soccer or U.S. Soccer will be released that will correspond with the number of days left until the start of the 2004 season.
50: Length of Crew Stadium's lease that was signed in 1999 (25 years, plus a 25-year option).
49: Total number of games Crew defender Eric Denton has played for Columbus in two seasons. Denton was last year's Crew Defender of the Year.
48: Assists The Crew tallied last year, the third most of any team.
47: Career games started by Crew veteran Duncan Oughton.
46: Career wins by recently retired Crew goalkeeper Tom Presthus. The 46 wins ranks tied for eighth on the all-time MLS wins list.
45: Career assists for former Crew star Brian McBride. McBride ended his career as Columbus' all-time leading scorer with 169 points (62 goals, 45 assists). The 45 assists rank second all- time on The Crew assist list, trailing only current Crew assistant coach Robert Warzycha's 61. The Dallas Burn are also breaking ground today on the third Major League soccer-specific stadium in the United States. The stadium, being built in Frisco, Tex., will be a 20,000-seat stadium and entertainment complex in north Dallas.
44: "The Stern Turn" - The phrase that Crew beat writer Craig Merz dubbed when John would receive a pass and immediately turn and fire on goal, and score goals is what he did. Forty-four are the career goals scored by former Crew star Stern John, one of the most prolific goal scorers in Crew and MLS history. John scored his 44 goals in 55 games.
43: "The Doc is in the house," Doctor Khumalo that is. Forty-three are the career games played by South African midfielder Theophilus "Doctor" Khumalo. He was The Crew's first allocated player and first player ever.
42: Goals allowed by former Crew goalkeeper and current Blackburn star Brad Friedel during his Crew career. His 42 goals allowed in 38 career matches is the lowest goals against average in Crew history (1.11/game).
41: The number of points (12 goals, 17 assists) that Kansas City's Preki scored last season to lead MLS.
40: "The ageless wonder" - The age of Kansas City's Preki, last year 's MLS MVP.
39: Career assists for Crew forward Jeff Cunningham. Cunningham ranks second all-time on the Crew scoring list with 145 points (53 goals, 39 assists).
38: Career games played for the Crew by goalkeeper Jon Busch.
37: Career assists for Brian Maisonneuve, which ranks fourth all-time on the Columbus assist list.
36: Points scored by Los Angeles last season who qualified for the playoffs in the Western Conference. It was two points less than The Crew had on the year.
35: Games started by Crew midfielder Kyle Martino in his first two seasons with Columbus. Martino was the 2002 MLS Rookie of the Year.
34: In 2003, Taylor Twellman of New England had 34 points on 15 goals and four assists in 22 games, making him the league leader in points per game at 1.55.
33: Career game-winning assists by former MLS and Colombian great Carlos Valderrama. His 114 assists and his 33 game-winning assists are still currently MLS records.
32: Goals scored at home by New England and Kansas City in 2003, MLS season highs.
31: Career games started by former Crew midfielder Marcelo "The Maestro" Carrera. Carrera has done Crew Spanish Radio the past two seasons.
30: Minute that former Crew midfielder Freddy Garcia scored to give The Crew a 1-0 victory over Los Angeles in the 2002 U.S. Open Cup Final at Crew Stadium.
29: Most games played by a Crew player last season. Eight-year MLS veteran Mike Clark appeared in 29 out of the 30 games.
28: Game-winning goals scored by Jason Kreis over the course of his eight-year career with Dallas. The 28 game-winning goals are an MLS record.
27: Temperature at kickoff of the February 28, 2001 CONCACAF World Cup Qualifier at Columbus Crew Stadium between the U.S. and Mexico. The U.S. toppled Mexico 2-0 before an overflow pro-American crowd of 24,624. Also, the amount of points scored last season by former Crew star Brian McBride, a team high and tied for ninth in MLS.
26: On February 26, 2002, the Los Angeles Galaxy broke ground on The Home Depot Center, the second Major League stadium built specifically for soccer in the United States.
25: The number of players who saw action for The Crew in league play in 2003.
24: On October 24, 2002, The Crew captured the 2002 U.S. Open Cup championship. Columbus downed the L.A. Galaxy 1-0 at Columbus Crew Stadium. Also the date in July of the 2004 Sierra Mist MLS All-Star Game.
• Discuss this story on the Major League Soccer message board...


Major League Soccer Stories from March 10, 2004
The opinions expressed in this release are those of the organization issuing it, and do not necessarily reflect the thoughts or opinions of OurSports Central or its staff.