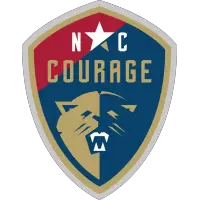 Courage Fall to League-Leading Wave FC
May 22, 2022 - National Women's Soccer League (NWSL) - North Carolina Courage News Release



CARY, NC - The North Carolina Courage fell to the San Diego Wave on Sunday afternoon, as the league newcomers relied on a goal from Alex Morgan to secure the result. Despite a valiant push for an equalizer throughout the second half, the North Carolina side were unable to erase the deficit as the final whistle blew. The squad will look to have another opportunity to add to the win column as they travel to face the Houston Dash for the first time this season on May 29.
"I wanted to see the willingness to get behind a little bit more," said Head Coach Sean Nahas following the match. "I wanted to see a little bit of bite. There were moments where we were fine, where we did exactly what was needed and asked of us, but when the ball is on one side and we're so distant from each other, we don't have a second line, we don't have a second opportunity to stretch the backline. We wanted to sort of open up by swinging it and going through Merritt and Carson, and when we did that I think we found a lot of success. But we just didn't do it consistently enough, we kept it on one side. That's okay, we'll get better. You know, it's all part of the journey. It's all part of the process."
"We wanted in the first half, we picked it up a little bit in the second half," said Merritt Mathias when asked for overall thoughts on the game. "Getting back, we're having some missing pieces, and people have been playing a lot of minutes in a short amount of time, but it's no excuse. The team's good, we've stuck together, there are some really brilliant things."
San Diego struck first in Sunday afternoon's match, the scoring play beginning as Kornieck sent a driven ball upfield, splitting the Courage defense to connect with Morgan. Taking the ball in stride, Morgan cut the ball to her left foot, entering the eighteen and firing off a shot to give the Wave a 1-0 edge in the 42nd minute. The goal was Morgan's sixth of the season and places her four goals ahead of the competition for the Golden Boot Award.
Up Next: The North Carolina Courage hit the road again as they travel to take on the Houston Dash on Sunday, May 29, at 7 p.m. ET. The match will be streamed live on Paramount+ and Twitch.
Match Notes:
Sunday marked the first-ever meeting between the North Carolina Courage and San Diego Wave FC.
The Courage ruled possession throughout the match, finishing with 55.6% of control. North Carolina also outshot San Diego 14-8, but matched in goals on target with two apiece.
Box Score:
NC (4-5-1): Casey Murphy, Kaleigh Kurtz, Carson Pickett, Abby Erceg, Merritt Mathias, Malia Berkely, Denise O'Sullivan, Debinha, Meredith Speck (Jorian Baucom - 76'), Diana Ordoñez (Rylee Baisden - 59'), Jaelene Daniels (Brianna Pinto - 65')
Subs Not Used: Katelyn Rowland, Ryan Williams, Katie Bowen, Haleigh Stackpole, Brittany Ratcliffe, Tess Boade
SD (5-4-1): Kailen Sheridan, Christen Westphal (Mia Gyau - 59'), Naomi Girma, Kaleigh Riehl, Tegan McGrady (Sofia Jakobssen - 59'), Kristen McNabb, Emily Van Egmond, Taylor Kornieck (Katie Johnson - 74'), Belle Briede, Jodie Taylor (Amirah Ali - 74'), Alex Morgan (Makenzy Doniak - 87')
Subs Not Used: Marleen Schimmer, Sydney Pulver, Melissa Lowder
Score:
NC: 0
SD: 1
Goals:
NC: -
SD: Alex Morgan (Taylor Kornieck) - 42'
Cautions:
NC: Kaleigh Kurtz - 90+2'
SD: Emily van Egmond - 49', Kaleigh Riehl - 75'
Ejections:
NC: -
SD: -
• Discuss this story on the National Women's Soccer League message board...


National Women's Soccer League Stories from May 22, 2022
The opinions expressed in this release are those of the organization issuing it, and do not necessarily reflect the thoughts or opinions of OurSports Central or its staff.
Other Recent North Carolina Courage Stories