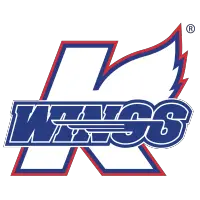 Countdown to Face-Off
May 6, 2011 - ECHL (ECHL) - Kalamazoo Wings News Release



It's a pivotal game four in the Eastern Conference Finals as the Kalamazoo Wings and Wheeling Nailers meet tonight at WesBanco Arena. Wheeling defeated Kalamazoo 5-3 on Thursday night in game three and now leads the series two games to one.
In game three, the K-Wings were outscored for the first time in the Kelly Cup playoffs in the opening 20 minutes, surrendering two first period goals. Kalamazoo stormed back in the second period lighting the lamp three times, including two from assistant captain Sam Ftorek.
After starting the Eastern Conference Finals going 0-for-10 on the power-play, Wheeling's Paul Crowder scored a man-advantage tally for the Nailers in their lone power-play chance in game three. Wheeling's two goal victory in game three was their largest margin of victory to date in the Kelly Cup playoffs.
Playoff Team Leaders: Kalamazoo Wings Wheeling Nailers
Goals: Justin Taylor (8 Goals) Joey Haddad (6 Goals)
Assists: Trent Daavettila (12 Assists) Paul Crowder (10 Assists)
Points: Trent Daavettila (16 Points) Paul Crowder, Joey Haddad (14 Points)
+/-: Kory Karlander (+5) Dan Henningson (+6)
Penalty Minutes: Darryl Lloyd (29 Minutes) Joey Haddad (38 Minutes)
Power Play Goals: Five Players Tied (2 Goals) Paul Crowder (3 Goals)
Short Handed Goals: Kory Karlander (1 Goal) Joey Haddad, Tyler Murovich (1 Goal)
Game Winning Goals: Darryl Lloyd (2 GW) Brandon DeFazio (2 GW)
Shots: Brandon Svendsen (42 Shots) Alex Grant (38 Shots)
Shooting Percentage: Corey Syvret (50%) Tyler Murovich (18.8%)
Overtime Goals: Entire Team (0 Goals) Kyle Bushee, Brandon DeFazio,
Chris Kushneriuk,
Andrew Orpik (1 Goal)
Goals Against Average: Ryan Nie (3.00) Patrick Killeen (2.56)
Save Percentage: Ryan Nie (0.908) Peter Delmas (0.910)
All-Time/ Playoff Series
All-Time Playoff Series: K-Wings Trail All-Time Playoff Series: 1-2
Best-of-Seven Series: K-Wings Trail Best-of Seven Series Two Games to One
Last Meeting: K-Wings Lost 5-3 on May 5th @ WesBanco Arena in Wheeling, West Virginia
Next Meeting: Sunday, May 8th @ WesBanco Arena in Wheeling, West Virginia
Nearing a Milestone
Forward Kory Karlander is closing in on a personal milestone. Karlander needs one more point to reach 100 playoff points in his career.
Coming Out Strong
Kalamazoo's best period in the playoffs has been the first period. Entering tonight, the K-Wings have outscored their opponents 22-8 in opening 20 minutes of play.
On a Roll
Forwards Trent Daavettila and Dean Strong head into game four of the Eastern Conference Finals on impressive point streaks. Daavettila is on a 10-game point and a nine-game assist streak, while Strong is riding a four-game point streak.
Shots Equals Goals
Generating shots in the playoffs has led to goals for the K-Wings. Kalamazoo leads the Kelly Cup Playoffs in both shots on goal (averaging 35.36), and goals per game (averaging 4.18).
Tickets! Get Your Tickets!!
Tickets for all K-Wings home games are now on sale. Catch all the action as your K-Wings play the very best the ECHL has to offer. Tickets are on sale now by calling the Wings Stadium Ticket Office at (269) 345-5101.
Get On-Line
This season, the best way to keep track of the K-Wings is to log onto www.kwings.com . The site has player profiles, information about Wings Stadium events, and much, much more.
Clarke and Landry on the Radio
Join special guests Aaron Clarke and Jon Landry as they join Head Coach Nick Bootland and the "Voice of the K-Wings", Mike Modugno this Monday on "K-Wings Live" presented by Miller Lite. The show is on The Classic Hits Station WLKM (95.9 FM) and online through www.kwings.com from 7-8 p.m. at Old Burdick's Wings West on Sports Drive.
K-Wings on Radio
Catch all the K-Wings games, home and away, on the K-Wings Radio Network (95.9 FM WLKM & B-2 Networks on kwings.com). Join the "Voice of the K-Wings" Mike Modugno for all 72 regular season games plus the playoffs. Pre-game coverage begins with the Kalsee Credit Union Pre-Game Show 15 minutes prior to face-off. For the most complete coverage of the K-Wings from the opening face-off to the final buzzer, keep your radio tuned this season to the K-Wings Radio Network.
Upcoming Games
Sunday, May 8th @ Wheeling 5:05 PM (Eastern Conference Finals, Game Five)
*Tuesday, May 10th Vs Wheeling 7:00 PM (Eastern Conference Finals, Game Six)
*Wednesday, May 11th Vs Wheeling 7:00 PM (Eastern Conference Finals, Game Seven)
(* Denotes Games that Will Only Be Played If Necessary)
• Discuss this story on the ECHL message board...


ECHL Stories from May 6, 2011
The opinions expressed in this release are those of the organization issuing it, and do not necessarily reflect the thoughts or opinions of OurSports Central or its staff.