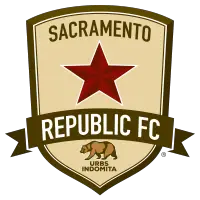 An Indomitable Spirit Is Always Worth Leaning On
October 9, 2020 - United Soccer League Championship (USL) - Sacramento Republic FC News Release



No song embodies the connection between the Indomitable Club and its fans more than the classic Bill Withers tune, especially now during these difficult times more than ever
After a resilient Republic FC team claimed a late 1-0 win over regional rival Reno 1868 FC on July 19, Mark Briggs' men huddled together facing the stands to serenade the would-be packed house of Papa Murphy's Park to Bill Withers' classic tune about the unapparelled power of togetherness.
"Lean on Me" has become a postgame tradition in Sacramento as there's no more appropriate time than now to stand alongside your fellow man and belt out a rallying cry for friendship, resilience and overcoming the most difficult of circumstances - with the loving help of others.
A unique and at times challenging USL Championship campaign has been held together - much like the team itself to one another and to the community as a whole - by the comforting and guiding words of "Lean on Me". It's becoming a driving force behind the strength that's propelled Mark Briggs' men into the 2020 postseason - strength players have had to find both on and off the pitch.
The Indomitable City has embodied its indomitable spirit more than ever over these last few months - whether it was a global pandemic or a regional and catastrophic wildfire - Sacramento's spirit has been unbreakable. But none of it would have been possible without finding the strength to lean on each other during the toughest of times. Even though the stands have lay barren for all but one competitive match in 2020, Mark Briggs' men still feel the love and support from Republic FC fans all over the world, and it's helped the carry the squad to a seventh consecutive trip to the postseason.
The entire Sacramento Republic FC team and coaching staff has rallied behind both the city's indomitable spirit and the uplifting 'Lean on Me' song that's become a staple in the SRFC postgame routine.
"I think it's very apparent that our cheering section, our fans that support the club, are a vital part of our organization and the amount of support that they give us is incomparable and undeniable," Republic FC midfielder Andrew Wheeler-Omiunu said. "We just want to make sure that they know that we are fully appreciate and very grateful and I think 'Lean on Me' - the purpose of it is to capture the importance and attitude that we have towards our fans in that they are there for us in our hardest times and that's why we've missed them so much in the stadium because when you do need a lift in the game, they are there for us to lean on. It sounds a bit cliché but there's real meaning behind the lyrics to that song and I think that they represent well the feelings that we have towards our supporters."
The man who wrote the original tune, Bill Withers who passed away in April, knows a little something about finding strength in difficult places having grown up as the youngest of six children in a West Virginia mining town. At 17, he joined the Navy for nearly a decade before he moved to Los Angeles where while working in an aircraft parts factory, Withers began recording demos after purchasing a guitar at a pawn shop. In 1971, Withers signed to Sussex Records where along with "Lean on Me", the talented musician also wrote "Ain't No Sunshine", "Lovely Day", and "Just the Two of Us" among many more.
But of all his memorable work, "Lean on Me" might arguably be his most famous and praiseworthy melody. Rolling Stone Magazine even described it as a "song for every crisis".
Withers wrote "Lean on Me" after he purchased a Wurlitzer piano and experimented for a bit with the instrument's keys. It's a simple and undeniably recognizable tune, but it's the encouraging and uplifting lyrics that set it aside as one of the most treasured tunes in American songwriting history. The message is simple, offering help, love and support to those in need and those who need help should be lifted up by the selfless strength of their neighbors, family, friends, teammates, or fellow man.
And it's a message that applies to so many different aspects of life. It applies to a defender leaning on his teammates to cover him if he's out of position. It applies to Republic FC leaning on its fans for support even though the two can't physically be together in times of a pandemic. It applies to the community leaning on each other to elevate awareness about social justice and create a better world for tomorrow - because as Withers said "sometimes in our life, we all have pain, we all have sorrow. But, if we are wise, we know that there's always tomorrow."
His inspiring words to overcome obstacles with an indomitable spirit is a perfectly fitting ballad for the Indomitable Club during these challenging times. By way of an unwavering level of love and support, there's no more humbling and greater joy than helping those in need.
Caring for the community is woven into the fabric of Sacramento Republic FC and an anthem such as "Lean on Me" is already woven into the identity of the club - it's a commitment to the Indomitable City that when times are tough, we'll stand tall and showcase our indomitable spirit, together.
"We're indomitable," Republic FC defender Jordan McCrary said. "With this city, with all that's going on, we still need to be close to each other. Be with each other. They're here for us and we're here for them. They help lead us to victory whenever we need the help. We need someone to lean on! For us, we have such a strong connection with the TBB, they cheer us on every single game. Just because they're not here right now, doesn't mean they're not here with us."
• Discuss this story on the United Soccer League Championship message board...


United Soccer League Championship Stories from October 9, 2020
The opinions expressed in this release are those of the organization issuing it, and do not necessarily reflect the thoughts or opinions of OurSports Central or its staff.