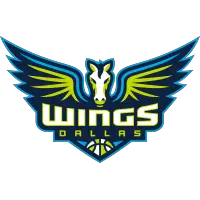 Wings Fall to Mystics, 87-77
July 28, 2022 - Women's National Basketball Association (WNBA) - Dallas Wings News Release



Arlington, Texas - The Dallas Wings (12-16) fell to the Washington Mystics (18-11), 87 - 77, at College Park Center, Thursday evening.
Center Teaira McCowan scored a career-high 27 points (9-11 FG, 81.9 FG%) and grabbed 11 rebounds to record her fifth double-double of the season. The Texas native has now scored double-figures in three-straight games and in 10 games this season. She was joined in double-figures by Arike Ogunbowale (19) and Allisha Gray (12).
Dallas hits the road to face the Atlanta Dream (12 - 17) on Saturday, July 30, at 6:30 p.m. CT on Bally Sports Southwest Extra and NBA TV.
Notables:
Allisha Gray made her 200th career three on a three at the 5:02 mark of the second quarter and finished with 12 points.
Center Teaira McCowan notched a career-high 27 points and grabbed 11 rebounds for her fifth double-double this season.
Arike Ogunbowale netted 19 points and grabbed six boards.
Dallas tied their season-high with 17 offensive rebounds.
The Wings have made at least 10 free throws in every game but two this season, including sinking 16 from the line tonight.
DALLAS WINGS HEAD COACH, VICKIE JOHNSON (THURSDAY, JUNE 28, 2022)
On closing games
"We still are a work in progress. Understanding that our strength tonight was putting the ball on the block to 'Big T' [Teaira McCowan]. I don't know in the last six minutes of the game how many times she touched the ball, but I don't think it was that many. That's something we have to learn, and you give up a good shot for a better shot because they had no answer [for her]. We kept preaching that [Shakira] Austin has four fouls with six minutes to go - let's put the ball on the block. We have to understand that shots weren't falling from the outside tonight. We needed to put the ball on the floor, make the extra basket, extra pass and we didn't do that. And that's part of maturity, sacrificing, and understanding how to win and close games, so we're still working on that as a whole. It'd be easier if it was one person, but when you have two or three people it's kind of difficult. We're still a very young team, so we're expecting them to do a lot on both sides of the basketball. Then being mentally sharp with the last five minutes of the game. That's what it's all about and doing the little things - putting the ball in the right spot, the right person's hands, boxing out, finishing plays. Take what the defense gives you but make sure it's what we want."
On her message to the team at halftime
"We have to play with a sense of urgency. My three words tonight were energy, effort, and focus. That's the only way you can beat this team, one of the top teams. I don't feel like we came ready to play tonight. We don't care if they don't have [Elena] Delle Donne. I don't care and my team shouldn't care. No one's going to feel sorry for us that Satou [Sabally] and 'K' [Awak Kuier] are out. We just need to play the game and play with the people we have on our team. I thought we as a whole did not come ready to play tonight. It didn't really click until the third quarter. Now we were down 20 at halftime, so we had a sense of urgency then. The third quarter was pretty good for us. And then the fourth quarter was pretty good as well. It was just the second quarter and the start of the game. We took quick shots, we missed easy shots, we didn't get back on defense. They killed us on the transition. But on the positive side, we had 17 offensive boards. We went to the free throw line 27 times. We took care of the basketball for the most part, but we cannot only have 14 assists. That's not a team that wants to play for something special, which is the playoffs or a championship. That's a team that's just trying to hit homeruns. When you're playing against a team like that that has good guards that can all defend at a high level - now we have to set screens, move the basketball. We have to make them make mistakes with less than 10 seconds on the shot clock. Then you can find yourself a wide open three or a layup or an easy post-up to [McCowan]. We just have to learn how to have patience and find that patience throughout the game.
On McCowan's performance
"I think she's becoming more comfortable with her role on this team and her teammates. She's a walking double-double even if we don't run any plays towards her. She demands a double team, and we need to understand that as a team and as individuals. It doesn't take anything away from our other great scorers, what it does is it helps. 'T' is an amazing, dominant post player. A Sylvia Fowles, or Liz Cambage, or Britney Griner, Kim Hampton - those type of players, when you threw the ball in they were going to work. She's not that type of post player. She has a patience about herself to say she's only four years in. She waits and she demands a triple-team not just a double-team, and because we have shooters around her it should be easy for us to knock down shots. But we need to put the ball into her because she's a great passer. She's not only a great passer, but she's a great passer for a shooter because the pass is on the mark. She's putting it on the target and now they just have to shoot the basketball, but we have to feel comfortable on the block knowing that it'll come back out. She has proven that. She had two assists tonight. They had no answer, Washington had no answer. The league doesn't have an answer for her. Now we just have to make sure we take advantage of that, and we didn't tonight."
On the shooting performance tonight
"It was bad. We had 73 attempts on their 55. Not taking anything from Washington, but I think our shooters - [Allisha] Gray, [Marina] Mabrey, Arike, Ty - are better shooters than Washington. But it's just more of a patience, consistency, and moving the basketball. They kind of had wide open threes and we're trying to hit homeruns. We didn't make the extra pass, we were trying to make tough shots, but that's a learning experience and something we have to grow from. We'll watch film tomorrow, come in, shoot free throws, and we're on our way to Atlanta. We have no time to dwell on the past, we're going to analyze this game and see where we can improve, but still want to be aggressive. We still want to push the ball in transition, get to the free-throw line. We want a consistency of moving the basketball and making the right play."
On her advice to young athletes
"I think it's important that young athletes understand the difference between coaching and criticism. I think a lot of the young generation, even including us, has been entitled for so long. AAU they're the best athlete, college they're the best athlete, and so they get away with certain things. I think it's key, if you're a young superstar, it's very important to understand the importance of your team and making your teammates better. You're only as good as your teammates and that's the biggest thing. Really understanding your teammates as individuals, and you're the star, you have to learn teammates' strengths and weaknesses, and 'How can I make my teammate better?'. I think that's the biggest thing. You have to put winning over anything else. Basketball is a team sport. You play to win. You don't play for any other reason. I think young players have to understand how to play the game together to be successful. At the end of the day, through all levels, you still have to play with a team. You have to look at yourself first. Players need to know I'm only as good as my teammates, and I can only win if my teammates win."
• Discuss this story on the Women's National Basketball Association message board...


Women's National Basketball Association Stories from July 28, 2022
The opinions expressed in this release are those of the organization issuing it, and do not necessarily reflect the thoughts or opinions of OurSports Central or its staff.