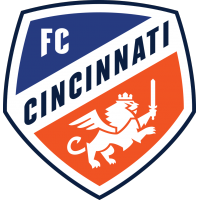 Unleashed in Nashville, Vazquez Looks to Continue Strong History against Miami
March 28, 2023 - Major League Soccer (MLS) - FC Cincinnati News Release



"Hopefully, I can score another two."
That, FCC fans, is about as brash and boastful as it gets from Brandon Vazquez. The Orange and Blue striker is a genuinely humble sort, particularly for an MLS Best XI selection and All-Star. Humble enough to sometimes make club publicists and media wish he'd be just a bit more of a loudmouth.
But we take what we can get from No. 19, and Vazquez's thoughts of "scoring two" against Inter Miami FC this Saturday at TQL Stadium are by no means an idle boast. Coming off his stellar goal last Saturday at Nashville -- a surgically sharp right-footed blast for a 1-nil win - Vazquez will face a Miami team that has seen him score twice in each of the last two meetings.
The earlier of those braces, on March 19 of last season, is perhaps the more significant. But the full story requires a little extra backtracking, to the night of still another two-score effort by Vazquez:
As day dawned on March 12, 2022, FC Cincinnati was not the vibrant and strongly contending outfit one sees on the pitch today. On the outside, the club seemed on their way to yet another tough campaign in MLS, having opened with 5-0 thrashing at the hands of Austin FC and a 1-0 home loss to lightly regarded D.C. United.
The assignment the evening of March 12 was to battle on the road against Orlando City - a 1-0-1 club with two clean sheets - and the match was barely on the radar of the larger MLS world. It would be three points for City, most everyone seemed to know, and back to the shadows for Cincy.
Enter, however, Vazquez. In the 13th minute at Exploria Stadium, he scored with his right foot for a 1-0 FCC lead. And in the 57th, he broke a 1-all tie with a header. Done. FCC win, 2-1. Rate that larger MLS world as quite puzzled.
And the next week at TQL -- against Miami -- Vazquez continued his one-man rampage against Florida MLS interests. After assisting on Ronald Matarrita's goal for a 1-0 lead in the 18th minute, he put in a header for a 2-0 edge in the 24th and sealed a 3-1 win with another header in the 82nd.
From there, under first-year head coach Pat Noonan, the Orange and Blue quickly solidified for the long run, posting a winning season record (12-9-13) good for fifth place in the Eastern Conference and logging a playoff victory at the Red Bulls.
And through five matches this season, the run continues at full tilt. FCC are the lone team in the East without a loss. Their 3-0-2 record nets 11 points, one behind New England (4-1-0) for the conference lead. Should results this weekend vault FCC into undisputed first place, it'll be the first time alone on top in franchise history.
So it's hard to understate the watershed nature of those matches on March 12 and 19 of last year.
"For sure it feels good to have been a part of that," Vazquez said. "To help give the team a boost of energy when it's really needed, that's kind of why we're out here. It was something we've been able to build on."
But wait, we've yet to cover the more recent of Vazquez's braces against Inter Miami. That one came last July 30 at Miami, when he used his right foot for scores in the 81st and 86th minutes. The goals lifted Cincinnati into a 3-3 tie and then a 4-3 lead, and though the match would end 4-4, it has acquired a significance beyond the result itself. It marks the start of Cincinnati's current streak of nine road games without a loss (4-0-5), the MLS's longest by far.
Vazquez recalls his second goal, the one for the 4-3 lead, with a particularly big smile.
"Álvaro (Barreal) gave me a perfect ball, a perfect cross, and I was able to finish it," Vazquez said. "Álvaro got wide, made a darting run, and then he just put the ball on a platter for me. I had to slide a little, but it wound up in the back of the net. It's one of my favorite goals, for sure."
Note the deference to a mate's contribution, a classic team-guy nod by the man whose game-winner last week at Nashville made him the first Orange and Blue player hit 25 in career non-penalty kick goals.
Quiet as he is in talking about himself, the 24-year-old from Chula Vista, Calif. was fiery and emotional as he reacted to his goal at GEODIS Stadium. It was his first of this season, after a handful of not-quite-finished chances that he said had left him "frustrated" and "angry" inside. Outside of course, he had remained a sunny and supportive teammate.
"Yeah, it was (big), you can feel it," head coach Noonan said after the win, Cincinnati's first in five meetings with Nashville. "If you saw just the reaction after the goal, that was important for him, and certainly it came at an important time for us in the game. Hopefully that is just the start of what I think Brandon himself and a lot of us expect in terms of finishing plays off. It's good to see him rewarded with the goal tonight because it's been coming, and he's been doing a lot of things well."
"Oh, man, it felt like a bunch of weight off my shoulders," Vazquez said after the match. " ... Putting one in the back of the net feels so, so good."
And maybe he'll get another brace against Miami this Saturday. It's not bragging to speculate about it when you've done it in each of the last two meetings.
• Discuss this story on the Major League Soccer message board...


Major League Soccer Stories from March 28, 2023
The opinions expressed in this release are those of the organization issuing it, and do not necessarily reflect the thoughts or opinions of OurSports Central or its staff.