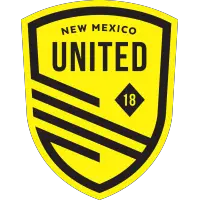 United Players Lead the Line against Mental Health Stigma, Bring Conversation and Fellowship to Community
November 25, 2021 - United Soccer League Championship (USL) - New Mexico United News Release



Daniel Bruce is a man of two worlds. Born and raised in Warrington, England - just three stops on the Picadilly line from Manchester, and another six from Liverpool - his footballing life took him across the Atlantic to UNC Charlotte for college soccer, and then to Albuquerque. Bruce trialed for United before the club ever kicked a ball, showing off the same Warrington grit and determination in that first tryout that New Mexico United fans have grown to love every Saturday night in the Duke City. But in Warrington and in Albuquerque - Brucey saw the same need.
The man of two worlds, geographically-speaking, also lives at the confluence of two seemingly disparate realms philosophically, as a pro athlete: "As a norm, physical health is very much highlighted in athletics, athletes, and teams as being the most important factor in our performance, and who we are as people," laments Bruce. "I don't necessarily agree with that, and I feel fortunate that the coaches I've played for have always encouraged me to take care of my mental and spiritual health, and to be there in that way for my teammates, which is always of the most paramount importance for my teammates."
As COVID restrictions began to fall away and people began peeking out from their homes and venturing out into a cold, unfamiliar world, Bruce and his teammates Kalen Ryden and Andrew Tinari worked to create a space to eschew those notions of traditional strength - of valuing physical prowess over mental health. Three world class athletes created something in Albuquerque that is for any who choose to participate.
"Good Blokes Jogging is about empowering healthy communities," says Bruce. "We get a group of folks together - age doesn't matter, gender doesn't matter, fitness level doesn't matter - and go out for a jog around Albuquerque. After that, we get together and support a local business hit hard by the pandemic, and talk about mental health."
"We chose the name 'Good Blokes Jogging' because the term 'jogging' encompasses whatever pace you'd want it to be. The primary goal is to see people take control of their own physical and mental health, to encourage others in theirs as well, and to see that more emphasized in today's society."
The idea came to Bruce from a few of his best mates in the UK. Matt Southworth, Daniel Lord, and John Chapple-Gill started the organization in London near the height of the pandemic. At the time residents in London were permitted to be outside of their homes for an hour per day, so long as they were engaging in some sort of physical movement. That movement started with just the three of them, but quickly expanded to several dozen Londoners jogging along the Thames and engaging in fellowship where previously there was only isolation. Now, the Albuquerque and London cohorts share a website where runs in both cities are recorded, and Burquenos and Londoners discuss the day's jog, mental health, and life in general.
"It's a really cool little thing, you know. You see from one community on one side of the world, to another community on the other side of the world," says Bruce. "No matter how the climate, or how many differences there are, there's still commitment to staying and remaining healthy people and having healthy relationships."
The group, he says, isn't about being as fit as a professional athlete. Instead, it's about supporting each other in our fitness and life goals. "You don't have to be the fittest or strongest to join," Bruce posits. "We simply want to be accessible to people that may be skeptical of working out in front of others. We want to remove those stigmas and pressures from the environment of exercise. If you want to walk, you can walk. If you want to jog, you can jog. Or, if you want to really get after it, you're more than welcome to do that too."
And in a time of isolation, othering, and judgement around the world, three good blokes in Albuquerque, and three more in London, have created something bigger than themselves or one community - providing a platform for people to become better versions of themselves and to take on that journey with friends at jogging alongside them. Making the disparate worlds of mental and physical health, of New Mexico and the UK, of pre and post-COVID, feel like one world where all are welcome.
To join Good Blokes Jogging and to learn more about the initiative, go to goodblokesjogging.com!
• Discuss this story on the United Soccer League Championship message board...


United Soccer League Championship Stories from November 25, 2021
The opinions expressed in this release are those of the organization issuing it, and do not necessarily reflect the thoughts or opinions of OurSports Central or its staff.