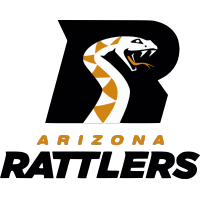 The OSC Interview: Former Arizona Rattler Calvin Schexnayder
by Fran Stuchbury
June 7, 2016 - Arena Football League (AFL) - Arizona Rattlers



OurSports Central contributor Fran Stuchbury recently interviewed former Arena Football League wide receiver Calvin "Shakes" Schexnayder. Schexnayder played 11 seasons in the AFL, Suiting up for the Arizona Rattlers from 1994-2001, Tampa Bay Storm in 2002 and San Jose SaberCats from 2004-06. During that time he won two ArenaBowls with the Rattlers in 1994 and 1997. In 1998 with the Rattlers he was named AFL Offensive Player of the Year. In 2001 he was named to the AFL 15-Year Anniversary Second Team. For his AFL career, Schexnayder finished with 625 receptions for 8,796 yards and 184 touchdowns. Schexnayder was on the practice squad with the San Diego Chargers in 2000 and in 2001 played in two games for the XFL San Francisco Demons.
Fran Stuchbury: Calvin, how did you get involved with playing for the Arizona Rattlers back in 1994?
Calvin Shexnayder: Before that I was playing in the CFL for the Sacramento Gold Miners in the 1993 season. I was looking for a spot to further my career. My college coach at Fresno City, Coach John Volek, turned me on to Pete Ketela who at the time helped the Arizona Rattlers bring in players for the team. He told me to give him a call, there was an opportunity to play and further your career. I talked to Pete Ketela and we had a nice chat. I ended up coming to the Rattlers for a workout.
FS: How did you like playing for Arizona Rattlers coach Danny White?
CS: Coach White is a fun guy to be around. He is a stand-up guy; he is one of the best coaches to coach this game. At the time you had Tim Marcum and other outstanding coaches as well. Coach White believed in me just like Pete Ketela did as well.
FS: In ArenaBowl VIII in the 1994 season against the Orlando Predators you caught the game-winning 24-yard touchdown pass from Sherdrick Bonner to give your team a 36-31 victory and the Rattlers their first AFL championship. How big of an accomplishment was that?
CS: That was a huge accomplishment. The team we brought in had a lot of rookies. That year Orlando beat us in our first AFL game that season 30-28. The second time we played them at Orlando on August 6th they blew us out 46-21. With the ArenaBowl I think a lot of players had mixed feelings, but we were there. I think the night before really set us into motion, being that everything was about Orlando. All the Awards - Ironman of the Year Predators WR/DB Barry Wagner, AFL Head coach of the Year Perry Moss, AFL First Team players QB Ben Bennett, FB/LB Paul McGowan, WR/DB Barry Wagner, OL/DL Webbie Burnett, DS Durwood Roquemore, K Jorge Cimadevilla. We barely got a spot during the ceremony.
The Predators finished the regular season 11-1 while we were 8-4. We barely got a spot during the ceremony. We built momentum the prior week in the semifinals, winning on the road against the Albany Firebirds 40-33. Rattlers team manager Bryan Colangelo said despite us being called the Washington Generals during the awards ceremony we are going go out there and play a game. Do the best that we can. The rest is history. It was a good game a total team effort.
FS: How did you like playing with Arizona Rattlers quarterback Sherdrick Bonner?
CS: All my career with the Rattlers I played with him. He is a terrific guy; he really knows the AFL game. He understands everything about it. He was just another coach on the field. He helped me my rookie year with the Rattlers. He was already playing with the Rattlers before I got there. He's an exceptional quarterback. He was always on point; he always did his best. I wish he could have played a little bit longer. When I went to the San Diego Chargers they had some interest in signing him. He's a good guy.
FS: In ArenaBowl XI in the 1997 season the Rattlers defeated the Iowa Barnstormers at home 55-33. You caught eight passes for 138 yards and two touchdowns. How big was that win, especially with Donnie Davis filling in for injured quarterback Sherdrick Bonner who didn't play due to a broken leg?
CS: It was huge because during the semifinal 49-46 overtime win Bonner broke his leg and Donnie Davis had to fill in. Davis didn't play that much and he had to put a lot of time in during practice to have chemistry with the team. Donnie Davis came up big. He had an exceptional game: 190 yards passing, three touchdown passes and one rushing touchdown. He did everything he was supposed to do. We had a lot of respect for Barnstormers quarterback Kurt Warner and their wide receivers. They were just as potent as we were; they scored fast. Kurt Warner knew how to throw the ball around to all the receivers. Everybody touched the ball. It was a real challenge when we knew we had to weather that storm.
FS: How did you get the nickname "Shakes?"
CS: Play on the field got me that name. The way I shake defensive backs.
FS: How did you like dealing with the Arizona Rattlers fans?
CS: Our fans are some of the best fans, hands down. The crowd was loud; the atmosphere was great. Anytime you came into "The Snake Pit," you knew you were going get the best from us. Coach White did a great job getting us prepared. All the coaches that were associated with us during that time did. We knew what was at stake. The atmosphere was phenomenal.
FS: In 2001 you signed with the XFL San Francisco Demons and played the first two games with them and had eight receptions for 111 yards and one touchdown. Then the Arizona Rattlers stopped you from playing with them. Why did that happen?
CS: That was an issue that happened with contract, so there are two sides to the story, a lot to get into. They ended up exercising a right to not play. I only ended up playing in two games, (15-13 win over the Los Angeles Xtreme and a 26-14 loss to the Orlando Rage). I set a good pace for receiving yardage and touchdowns, but that was an unfortunate happening.
FS: What NFL teams did you try out for or make the practice roster?
CS: For a number of reasons, and I can't say what everything is. I had a tryout for the Arizona Cardinals, and I did everything in it. They actually came back and their special teams coach said, "You caught the ball too hard." I was dumbfounded by that excuse, but I kept on working hard. I had a tryout with the Washington Redskins and a tryout with the St. Louis Rams when quarterback Kurt Warner was there. I thought that would have been a good fit for me since he knew all about me. I never got a chance to get on with them. Then the San Diego Chargers called, and this was just before the 2000 season. Chargers General Manager Bobby Beathard called me and said we want to give you a look and see how everything goes. I ended up making the practice squad. They told me to go out there and do my best. It was a great time to play with them. It was fun, and I had a great time playing with them. I was blessed to have the opportunity.
FS: You played college football at Washington State in 1991 and 1992. Are you happy Mike Leach has turned the program around and made them much more competitive, a fun exciting team to watch?
CS: Yes, most definitely because Washington State is a hard place to recruit. During the years that we played there, it's hard to get to. Pullman is very secluded; there is nothing around Pullman. Mike Leach brought fire and energy, and he's brought the talent. It's a win-win situation. Anytime you can win on the field in Washington State, it proves that you had done something. I think that coach Leach has done a remarkable job for us. I would like to see some better rankings. He has excited the alumni. We try to go back every year for the alumni game and support all the people up there. I see Washington State continuing to improve under Mike Leach.
FS: Since you retired from football in 2008 what have you been doing?
CS: I am a full-time teacher. I really didn't think teaching was my forte. I have been teaching physical education for the last five years. I have been working with the city for more than eight years. After I retired, I went to the city and got on with the parks and rec. That's a great job to have.
FS: What would you do to improve the current state of Arena Football to make it a better product?
CS: There are a number of things that I think could be done. Some of the things we did when I played back then, they need to institute and that would be the Ironman rule. I understand back when I played, we asked coach White if we should make the AFL game where it would feature more defense or an offensive game where you can substitute and he said that would never happen. Lo and behold John Elway's Colorado Crush group came into the league. A couple of other teams did come in like the New Orleans VooDoo, and it ended up changing to no longer having Ironman football. Personally, I thought that it was a good thing. The opportunity for players just to play one position and showcase their talent would help them get a better opportunity when NFL teams looked at them, but there have been some rule changes; there have been some things that have happened that made the game more focused on offense. Ironman is one.
The other thing at the time I thought personally. You have to have a more balanced payscale. I think that some of the players, I am taking nothing away from the quarterback, that's an important position, but there were some players getting paid a lot of money and then you had other players paid very low. If you balance that out I think that it would help attract more quality players. When I came into the league, the teams that were coming in were good competition. I think a lot of the blowouts, you didn't see a lot of that since you had good competition during that time. I think the teams need to elevate their status, their teams, all that. They need to better prepare themselves. Nobody likes to see a 50-20 blowout. You want to see good games.
FS: Would you have any interest in getting involved in the AFL in coaching?
CS: Most definitely, I think I have a lot to offer because I played in the AFL. I know offense and I take that from former Rattlers coach Danny White. The fact that his offense was simple, yet it was effective. The years that I played in Arena Football whether it was with the Arizona Rattlers, Tampa Bay Storm and San Jose SaberCats, I got to work under some of the best coaches that ever coached the game. I have a clear understanding of what it was like on the field, what I would want, and it would be a great opportunity to coach. Whether it be in Arena Football or the NFL, I know a lot about offense and schemes with it so I hope I get the chance.
FS: Would you like to see small market teams like the Albany Firebirds, Grand Rapids Rampage and others back in the AFL?
CS: Yes, I think that they worked. Albany was a small market, but they put a great product. The Milwaukee Mustangs were just as competitive. The guys had attitude that they wanted to go to the next level. San Jose at the time when they first came in, they had the pedigree but they were very competitive. All these teams were competitive whether they were small market or big market, they were competitive. I think some of the smaller markets did just as well as the bigger markets. It's been proven, its already been documented.
FS: What's your take on all eight AFL teams qualifying for the postseason? Does it take away from the regular season and make it meaningless?
CS: Yes and no, the league is where it is right now. Does it make the regular season meaningless? I don't think it does; you still have to play the games regardless of whether it's injuries, whether it's everybody makes the playoffs. You still want to be on top of your game. You want to be doing your best when it comes to the playoffs so if you have to play them so be it. You still have to go out there and play, put points on the board and make stops. Would you like to see more teams involved in Arena Football? Yes, but I don't think losing teams is a good thing for anybody, for any league. It doesn't bode well for the AFL. I don't think San Jose exiting like that was a good thing.
FS: For fans that haven't been to an Arena Football game, why should they attend?
CS: Excitement, it's one of the best games you can be associated with and the players, the coaches the fans are all on the same page. We understand that our fans are the lifeblood of the Arena Football League. They are loyal and they come out. Arizona always had a good market. You're going to have fun, you're going to enjoy the fast-paced game of Arena Football. We used to talk about this all the time: you go to the restroom and the score would change just like that by the time you got back. You were missing good plays. It's worth going to see a game live and in person.
Images from this story
• Discuss this story on the Arena Football League message board...


Arena Football League Stories from June 7, 2016
The opinions expressed in this article are those of the writer(s), and do not necessarily reflect the thoughts or opinions of OurSports Central or its staff.