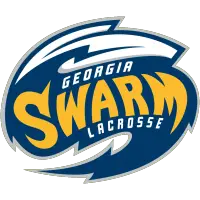 Swarm Solidify Defensive End with Trio of Signings
July 30, 2020 - National Lacrosse League (NLL) - Georgia Swarm News Release



ATLANTA - The Georgia Swarm today announced they have re-signed defensemen Connor Sellars, Chad Tutton, and Adam Wiedemann to two-year contracts.
Sellars, 26, wrapped up his fourth season in the NLL with three assists, 68 loose balls, and four caused turnovers in 12 games. The Belmont Abbey College alum also went 31-for-91 in the face-off circle.
"Connor had a great season in 2020 and became an anchor of our D," Swarm Head Coach Ed Comeau said. "He uses his size very well and gets after one of the other teams' top offensive threats. We look forward to Connor continuing to evolve into a top league defender over the next two years, while still using his skill to push the ball in transition."
Out of Brampton, Ontario, Sellars was drafted No. 10 overall by the Swarm in the 2016 NLL Entry Draft. He made an immediate impact on the Swarm's defense during his rookie campaign, helping the Swarm earn their first NLL Cup in franchise history.
Sellars has played in 64 regular season games in his four NLL seasons. He has 29 points (7G, 22A), 261 loose balls, 41 caused turnovers, and 148 face-off wins in 415 opportunities.
Listed at 6-foot-3 and 215 pounds, Sellars has seen time in six postseason contests. The right-handed shutdown defender dished out five assists in those games, complementing his 26 loose balls and caused turnover.
Tutton, 27, finished his fifth NLL season - all with the Swarm - with an assist, 65 loose balls, and a team-high 17 caused turnovers in 12 games. His 17 caused turnovers were tied for the fourth most in the NLL.
"Chad brings a ferocious streak to the Swarm back end," Comeau said. "He always gives 100% on every shift, and that energy is infectious for our bench. His physical game helps create key turnovers which lead to transition opportunities."
The University of North Carolina alum exploded onto the NLL scene as a rookie after being drafted No. 5 overall by the Swarm in the 2015 NLL Entry Draft. Tutton finished his freshman campaign in 2016 with a career-best 14 goals, eight assists, 22 points, 90 loose balls, and 24 caused turnovers. He was one of four Swarm players named to the 2016 NLL All-Rookie Team.
Listed at 6-foot-2 and 220 pounds, the Courtice, Ontario native has seen action in 76 regular season games. In those, he has 52 points (22G, 30A), 343 loose balls, and 89 caused turnovers. In four postseason contests, the left-hander has four points (1G, 3A), 16 loose balls, and three caused turnovers.
Wiedemann, 24, dressed for 11 games in 2019-20 and led the Swarm defenders in goals scored with four. He finished the season with six points (4G, 2A), 58 loose balls, and seven caused turnovers.
"Adam continues to grow at the pro level," Comeau said. "His instincts on defense and his relentless pursuit of ground balls are an important part of our D. As a young player, he will continue to progress and become an important part of our team on defense and in transition."
Drafted No. 8 overall by the Swarm in the 2018 NLL Entry Draft, the left-hander out of Caledon, Ontario made a quiet impact on the team in his rookie season, finishing third on the Swarm in loose balls with 91 and leading all defensemen in points with 13 (4G, 9A).
Wiedemann has played in 28 regular season games so far in his young career. In those games, he has 19 points (8G, 11A), 149 loose balls, and 17 caused turnovers. A graduate of Belmont Abbey College, Wiedemann played in the Swarm's lone game of the 2018-19 postseason, finishing with an assist and 10 loose balls. He is listed at 6-foot-2 and 175 pounds.
Images from this story
• Discuss this story on the National Lacrosse League message board...


National Lacrosse League Stories from July 30, 2020
The opinions expressed in this release are those of the organization issuing it, and do not necessarily reflect the thoughts or opinions of OurSports Central or its staff.