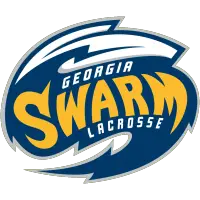 Swarm Select 10 in 2021 NLL Entry Draft, Including Premier Forward Ryan Lanchbury
August 31, 2021 - National Lacrosse League (NLL) - Georgia Swarm News Release



ATLANTA - The Georgia Swarm selected 10 players in the 2021 NLL Entry Draft this past Saturday night, including much-heralded RF Ryan Lanchbury with the No. 2 overall pick in the draft. Despite trading their second first round pick (#9 overall) to the San Diego Seals for a first rounder in next year's draft, the Swarm finished the night with ten selections.
"We couldn't be more excited with our selections in the 2021 NLL Entry Draft," Swarm Owner and GM John Arlotta said. "As is the Swarm's philosophy, we draft players who bring both talent and character, and this year is no exception. Ryan Lanchbury is a great example - he is a captain and leader on an NCAA playoff caliber team at the University of Richmond, and he has consistently been one of the top players in the Canadian Junior A and Senior box lacrosse leagues. We were also able to draft three young defensive players and a goalie from the Junior A ranks in Jordan Ackie, Will Cecile, Owen Russell, and Aden Walsh, who will create great competition on the defensive side of the ball. Finally, Thomas Semple is a great addition to the right side of our offense."
"We were very pleased to select Ryan Lanchbury with the 2nd overall pick in the draft," Swarm Head Coach Eddie Comeau said. "He is a gifted offensive player but also possesses great character, and in speaking with his past coaches, they all reiterated the quality of Ryan and as player and a person." Lanchbury, who plays collegiately at University of Richmond, became the first Spider in program history to be drafted into the National Lacrosse League. The Burlington, Ontario native recently announced he will return for his sixth year (COVID-19 year) with the Spiders in 2022. Lanchbury has played in 54 games in his Spider career, including 53 starts on attack. He enters the 2022 season second all-time in Richmond scoring history with 212 points, notching 122 goals and 90 assists. He ranks second in program history in both goals and assists and appears primed to set all three records in 2022. He became the first Spider in program history to be named the Southern Conference Offensive Player of the Year last season, earning All-America honors from both Inside Lacrosse and USILA. He was a Tewaaraton Award Watch List member for the second-straight season. He led the team and ranked second in the conference in scoring with 67 points in only 13 games. His 5.15 points per game average in 2021 set a new single-season program record, scoring 28 goals and adding 39 assists. Lanchbury owns the Richmond single-season records for points and goals, setting both in the 2019 season - his last full season not impacted by the COVID-19 pandemic. That year, he set the Richmond and Southern Conference records with 52 goals and set the program record with 72 points. Lanchbury has led the Spiders to two NCAA Tournaments in his career in 2018 and 2019.
The Swarm entered the evening with 12 selections, including 9 of the first 42 picks. After trading away first and fourth round draft choices, the Swarm finished the evening with 10 players among their 2021 draft class.
"The draft allowed us to select ten excellent young players, and just as importantly, quality people who would fit very well into the Swarm organization, Comeau said."
The Swarm took four players in the second round starting with RT Jordan Ackie, who was taken 24th overall. During the 2020 season with Maryville University, Ackie contributed to both of squad's only wins and played in four games overall while taking two shots. Ackie is a strong defender who plays a key role in transition and has been very effective lining up to take faceoffs. Georgia had back-to-back selections in the second round, drafting the 6'4" goaltender from Oakville Jr. A/Harford Community College, Aden Walsh. Walsh made 31 saves during the 2021 season producing a .646 save percentage with HCC. He totaled 160:46 minutes in net playing in seven games while totaling two wins.
With the 30th pick in the draft, the Swarm took RT Thomas Semple from Coquitlam/Young Harris College. During the shortened 2020 season, Semple notched 14 goals and five assists across six games with YHC. Semple transferred to Young Harris from Denver University after his freshman season.
The final second round selection was LT Will Cecile out of Burlington Jr. A. Cecile, an asset in transition due to his speed and creativity played in 11 games and scored two goals with the Burlington Chiefs in 2019. During the World Junior Lacrosse Championship in Winnipeg, Cecile scored three game-winning goals.
The Swarm drafted three players in the third round starting with RF Devin Pipher (Mimico Jr. A/Mercyhurst). Pipher, a right-handed forward, has started all 36 games he has played with the Lakers recording 68 goals, 101 assists, 69 ground balls and 14 caused turnovers. Pipher earned USILA and US Lacrosse Magazine Third Team All-America honors in 2021.
With the 41st pick in the draft the Swarm took the righty defender, Owen Russell from Victoria Jr. A. Since 2019, Russell has played in 34 games with the Victoria Shamrocks registering eight points and a .143 shooting percentage.
The Swarm had back-to-back picks once again and took T Morrison Mirer from the University of Notre Dame 42nd overall. Mirer, the 6'2" California native, has played in 33 games with the Fighting Irish totaling 24 goals, one assist, nine ground balls and a .587 shot on goal percentage. During the 2021 NCAA Tournament he notched two goals in a win over Drexel University.
Georgia's next selection was 71st overall where they went back to South Bend, selecting Notre Dame T Wheaton Jackoboice. Jackoboice has netted 44 shots with the Fighting Irish while recording 33 assists, 28 ground balls and a .565 shot on goal percentage. Jackoboice recorded three hat tricks during the 2021 season and led the squad in goals during the NCAA Tournament after netting seven.
The Swarm closed out the night drafting D Brad Apgar out of Salisbury University 85th overall. The 6'4" defender was named to the Inside Lacrosse Maverik All-America First Team in 2020 after starting all seven games with the squad while recording 16 ground balls and 10 caused turnovers. During the 2021 season he picked up 39 ground balls and caused 26 turnovers. As a Seagull, Apgar totaled 115 ground balls, 70 caused turnovers, and one goal.
• Discuss this story on the National Lacrosse League message board...


National Lacrosse League Stories from August 31, 2021
The opinions expressed in this release are those of the organization issuing it, and do not necessarily reflect the thoughts or opinions of OurSports Central or its staff.