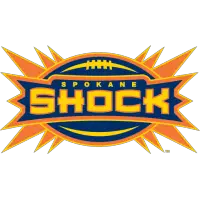 Spokane Shock Announce Updated 2021 Schedule
February 17, 2021 - Indoor Football League (IFL) - Spokane Shock News Release



SPOKANE, WASHINGTON - The Spokane Shock and the Indoor Football League today announced the Spokane Shock's new 14-game 2021 schedule. The Indoor Football League's Board of Directors, in an effort to provide each of its member teams the best possible opportunity for a successful 2021 season, announced that it has voted to push back the 2021 IFL Kickoff Weekend to the weekend of May 14, 2021. "We voted to push our season back as far out as possible to give us a good chance to play in front of fans at Deaf Valley," said team owner Sam Adams.
The Shock open the season at home versus the Tampa Bay Tornadoes in a preseason contest on May 8th at the Spokane Arena. On May 15th the Shock kickoff their regular season at home versus the Frisco Fighters led by AFL hall of famer Clint Dolezel.
While most IFL teams will start their seasons during the IFL Kickoff Weekend, a few teams have elected to begin their seasons the weekend of April 23. "In trying to best meet the varying needs of all of our member teams, we determined as a league that delaying the start of the season is in the best interest of the IFL," said league Commissioner Todd Tryon. "With a national footprint that stretches from the East Coast to the West Cost and from North Dakota all the way down to Texas, this year calls for us to be flexible and to consider the unique restrictions, or lack thereof, of each of our 12 markets.
"We view this as a positive step, as we have been able to put together a schedule that will allow each team the best opportunity for success in its own local market, while also allowing for additional time for our country as a whole to make greater strides in our collective efforts against the COVID pandemic. At the same time, we realize there will continue to be issues related to COVID and we have spent many hours developing plans on how we will deal with in-season situations that may arise."
The IFL has developed a comprehensive system of COVID protocols and procedures that places the safety of the league's fans, players, coaches, team and league staff, and partners at the forefront, including roster modifications, team testing procedures, limits on how teams interact within large group settings.
"The IFL is committed to delivering to our fans the best indoor football product in the world, and we look forward to kicking off our 13th season," Tryon added. "We have many more exciting announcements regarding national broadcasts and other national partners that we look forward to sharing in the coming weeks."
The IFL is America's longest consecutive-running indoor football league. For more information on the IFL and its member teams, please visit GoIFL.com.
Interesting facts about the 2021 schedule
- The Shock will play a 14-game regular season.
- The IFL will have 6 new teams kick off in 2021!
- The Shock will play home and away games with perennial World Champion franchises Sioux Falls Storm and the Arizona Rattlers.
- Coach Billy Back is 4-1 versus the Massachusetts Pirates.
- Coach Billy Back is one of the only coaches in the country to beat both Sioux Falls and Arizona in the same season.
Season tickets will go on sale in March. All season ticket holders from 2020 had their tickets rolled over and have their same seats for 2021.
Mini plans and single game tickets will go and sale by the end of March. Fans will be able to be purchase tickets at the team's website www.thespokaneshock.com.
DATE OPPONENT TIME (PST)
May 8 Tampa Bay Tornadoes (pre-season) 7:05 PM
May 15 Frisco Fighters 7:05 PM
May 22 at Massachusetts Pirates 4:05 PM
May 29 BYE WEEK
June 5 at Northern Arizona Wranglers 6:05 PM
June 12 at Sioux Falls Storm 5:05 PM
June 19 Northern Arizona Wranglers 7:05 PM
June 26 at Arizona Rattlers 6:05 PM
July 3 at Louisville Xtreme 1:05 PM
July 10 Sioux Falls Storm 7:05 PM
July 17 Tucson Sugar Skulls 7:05 PM
July 24 at Duke City Gladiators 4:05 PM
July 31 Massachusetts Pirates 7:05 PM
August 7 at Frisco Fighters 5:05 PM
August 13 Arizona Rattlers 7:05 PM
August 21 Louisville Xtreme 7:05 PM
About Indoor Football League The Indoor Football League will kick off its 13th season with a Hall of Fame Game on Sunday, March 26, 2021, featuring the defending United Bowl champion Sioux Falls Storm hosting the Green Bay Blizzard, the league announced on Tuesday. Adding to the excitement around the league's kickoff weekend is the induction of the newest members of the IFL Hall of Fame during halftime of the Hall of Fame Game.
• Discuss this story on the Indoor Football League message board...


Indoor Football League Stories from February 17, 2021
The opinions expressed in this release are those of the organization issuing it, and do not necessarily reflect the thoughts or opinions of OurSports Central or its staff.