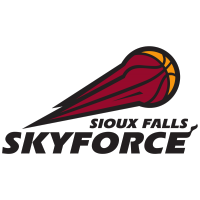 Skyforce Give Thanks at Union Gospel Mission
November 25, 2021 - NBA G League (G League) - Sioux Falls Skyforce News Release



For Skyforce basketball players, it was a Thanksgiving away from family and loved ones.
That did not stop the team from getting together and making an impact off the court.
"Thanksgiving is a time to help serve your community, be with family or friends and reflect on the things you are thankful for," Skyforce head coach Kasib Powell said. "It's all about reminding yourself of the great blessings in your life and how you can help those you love and in the community."
The team volunteered for those in need this holiday season at the Union Gospel Mission in downtown Sioux Falls.
"This is something we have been doing. It was tough last year not helping as a Skyforce family," Powell said. "It has become somewhat of a tradition now and it just feels great to be able to be back here doing this."
For those in need, the Mission offered a church service, a relaxing community area and a warm meal.
First year Communication and Marketing Development Director Elly Heckel lined up the event and was overwhelmed with support from the Sioux Falls community.
"Today just shows what this community can do and does," Heckel said. "We have had so many helpers behind the scenes and here today. It's the season of giving and I think it is amazing to see the amount of love and support in the Sioux Falls community.
We're trying to bring that awareness to the community how you can help at the Mission. You can come and just hang out, like today on Thanksgiving, with people. You can pass out pie and fill up drinks. You can help in the chapel service, and just be there for people. I think the biggest thing is when people are down and out and don't have a place to go, that they need something. Maybe they're not staying here, and they came in for the first time. We want to make sure that they're greeted there they're treated with respect and honor."
Skyforce players Dru Smith and Martin Krampelj spoke about how their time at the Union Gospel Mission and the impact it made on them.
"It was great to give back today and to help serve meals to those in need," Smith said. "It's something small that we can do as a team that hopefully has a big impact on the people that we have served this Thanksgiving."
"Helping people in need is always something I like to do," Krampelj said. "It just gives them what they need and sometimes it's a little spark that people could need, or a kind word, even a smile to make their Thanksgiving Day better."
The appearance of Skyforce players meant the world to the community members at the event, as well.
"For us to have a team that's really well known in the community here and involved means a lot to us," Heckel expressed. "Especially thinking about future things that we can partner together for the kids that we see around here.
We have kids of all ages that love basketball and sports. There are some of them that don't think reaching their dreams will ever happen to them. So, the fact that the team came here, took the time out of their day, it means so much to us. And even just the fans that are adults know the Skyforce team. They recognize the logo and the brand. The presence of the Skyforce is something we are very proud of."
As a coach who has been in the Sioux Falls community as a player, as well, Powell showed gratitude towards the effort and noted how participating in public appearances can lift players.
"It helps us out with the morale of having great energy," he said. "But I think it also helps with the community and the people that are here once they see us engaged and smiling. We are here for them. It's truly about those people and it makes just as big of an impact on us, too. It brings a big smile to my face seeing our guys doing things like this."
Thanksgiving means a lot and having Skyforce basketball back is just another thing we can all be thankful for.
"To me, Thanksgiving means taking a step back to appreciate all of the blessings that I have in my life," Smith said of the holiday. "It's also a time to spend with family and give back if you are able to."
• Discuss this story on the NBA G League message board...


NBA G League Stories from November 25, 2021
The opinions expressed in this release are those of the organization issuing it, and do not necessarily reflect the thoughts or opinions of OurSports Central or its staff.