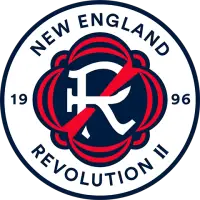 Revolution II Edges Forward Madison FC, 1-0
October 12, 2021 - United Soccer League One (USL1) - New England Revolution II News Release



FOXBOROUGH, Mass. - New England Revolution II (11-10-4, 37 pts.) defeated Forward Madison FC (6-6-11, 29 pts.) on Tuesday afternoon at Gillette Stadium, 1-0, in the final home match of the regular season. Justin Rennicks put New England in front with a ninth-minute flick over Madison goalkeeper Phil Breno, courtesy of Maciel's first career assist.
Maciel, playing in just his second game this season with Revolution II in addition to 17 appearances with New England's MLS side, broke the deadlock early in the match with a ball over the top to Justin Rennicks, who finished over the oncoming keeper and into an empty net for the early lead.
Revolution II had several chances to double the advantage, with Edward Kizza seeing close-range opportunities late in the first half and again midway through the second half. New England goalkeeper Joe Rice picked up his eighth clean sheet, five of which have come at home, making three saves.
Three Revolution Academy graduates started the contest for New England - Rennicks, Damian Rivera, and Meny Silva. In addition, five first-team players were named in Clint Peay's starting lineup: Rennicks, Rivera, Maciel, Collin Verfurth, and Kizza. Fellow Academy alumni Colby Quiñones and Noel Buck appeared off the bench, as did current Academy midfielder Esmir Bajraktarevic.
New England will embark on a three-game road swing to close the season, beginning on Saturday with a trip to face reigning USL League One champion Greenville Triumph SC. Kickoff is scheduled for 7:00 p.m. ET on ESPN+.
POSTGAME NOTES
New England Revolution II 1, Forward Madison FC 0
October 12, 2021 - Gillette Stadium (Foxborough, Mass.)
New England Revolution II defeated Forward Madison FC on Tuesday, 1-0, improving their record to 11-10-4 (37 points) and lifting them into fourth place in the USL League One table.
Revolution II closes its home slate for the 2021 regular season with an 8-4-2 mark at Gillette Stadium with a plus-five goal differential.
New England closes the season series with Madison taking three out of four matches from the Flamingos in 2021 and leveling the all-time series at 3-3-0.
Forward Justin Rennicks scored his fourth goal of the season early in the first half to give New England the lead. Rennicks also factored in defensively with two interceptions and six recoveries.
Goalkeeper Joe Rice recorded his eighth clean sheet of the season, making three saves to reach 100 stops for his career. In 26 games with New England, Rice has posted a 12-8-6 record with 11 clean sheets and a 1.03 goals against average.
Midfielder Maciel recorded his first professional assist on Rennicks' first-half tally, completing 45 of his 51 passes, including two key passes, along with a team-high eight recoveries.
Forward Edward Kizza registered a team-high three shots and added one key pass in a 90-minute shift.
Defender Ryan Spaulding won a team-best nine duels to go along with six recoveries, two interceptions, and two tackles.
Defender Pierre Cayet had team highs in blocked shots (2) and clearances (5) while adding six recoveries and six duels won.
Midfielder Jake Rozhansky won five tackles, a team high, and also had two chances created and seven duels won.
Forward Meny Silva made his first professional start on his 18th career appearance, completing all 13 of his passes while winning three of four duels.
Revolution II Head Coach Clint Peay made four changes to the Starting XI from New England's last match on Oct. 1 vs. Forward Madison FC, with Sean O'Hearn, Maciel, Meny Silva, and Edward Kizza all starting in place of Colby Quiñones, Tyler Freitas, Noel Buck, and Esmir Bajraktarevic, respectively.
GAME CAPSULE
Referee: Luis Arroyo.
Assistant Referees: Ian Mangione (AR1); Alexandru Focea (AR2).
Fourth Official: Andre Carr.
Weather: 71 degrees and mostly sunny.
Scoring Summary:
NE - Justin Rennicks 4 (Maciel 1) 9'
Misconduct Summary:
MAD - Derek Gebhard (Yellow Card - Bad Foul) 14'
NE - Joe Rice (Yellow Card - Time Wasting) 31'
MAD - Justin Sukow (Yellow Card - Bad Foul) 39'
NE - Jake Rozhansky (Yellow Card - Bad Foul) 42'
NE - Pierre Cayet (Yellow Card - Unsporting Behavior) 46'
NE - Sean O'Hearn (Yellow Card - Bad Foul) 58'
MAD - Tyler Allen (Yellow Card - Bad Foul) 77'
NE - Edward Kizza (Yellow Card - Persistent Infringement) 89'
New England Revolution II: Joe Rice; Ryan Spaulding, Collin Verfurth, Pierre Cayet, Sean O'Hearn (Colby Quiñones 82'); Maciel, Jake Rozhansky ©, Meny Silva (Noel Buck 45'); Damian Rivera (François Dulysse 90'+1), Justin Rennicks (Esmir Bajraktarevic 75'), Edward Kizza.
Substitutes Not Used: Yannik Oettl, Tyler Freitas, Hikaru Fujiwara.
Forward Madison FC: Phil Breno; Eric Leonard, Connor Tobin ©, Cyrus Rad (Josiah Trimmingham 87'); Derek Gebhard (Carlos Gómez 71'), Audi Jepson (Christian Enriquez 63'), Aaron Molloy, Justin Sukow (Jesús Pérez 87'), Tyler Allen; Ryan Sierakowski, Jake Keegan (Noah Fuson 63').
Substitutes Not Used: Aidan Hogan, Gustavo Fernandes.
New England Revolution II Team Statistics Forward Madison FC
11 (3) Shots (on Target) 16 (3)
0 Blocked Shots 6
3 Saves 2
4 Corner Kicks 4
1 Offsides 1
18 Fouls 16
421 (81.7%) Passes Attempted (% Completed) 503 (85.9%)
45.2% Possession 54.8%
POSTGAME QUOTES:
New England Revolution II 1 vs. Forward Madison FC 0
New England Revolution II Head Coach Clint Peay
On the importance of this match:
Coach Peay: "At this time of the year, with the standings the way they are, every game is important. So, maximum amount of urgency was put on the game."
On the challenge of having to play Forward Madison FC twice in 10 days:
Coach Peay: "Well, they're a difficult team to play against. They do a good job of keeping the ball and making things unpredictable. And defensively, they're sound. They're tough, but I think another factor was, it was a short week for us, in terms of a quick turnaround. And so, that part made it challenging as well, physically for us."
On the team's performance offensively:
Coach Peay: "Well, I thought we created a number of good chances and that was a positive in a tough game. So, all I can say is, you know, in games like that, you want to try to put those chances away and make it a bit more comfortable down the end of the game."
On how the team has improved and evolved when it comes to closing out games:
Coach Peay: "I just think there's a sense of understanding of what the moment means. There's a little bit more discipline within the group, as we progress through the season. Some guys who were a little bit more offensive minded, now have better qualities about them defensively and do the work. So, that's been hugely important."
On the performance of Maciel and his steadying presence:
Coach Peay: "I think he's calm. He's intelligent about how he moves defensively, how he moves offensively. So, he just adds a bit of composure about our team and experience that is important."
On carrying the success at home into the final three road games of the season:
Coach Peay: "They'll all be difficult. I mean, I think we know that the challenges ahead of us are difficult, but we feel like we'll be up to the task."
New England Revolution II Goalkeeper Joe Rice
On the challenge of defending Forward Madison FC under immense pressure throughout the game:
Joe Rice: "I think, for the past month or so, it's been a bend-but-not-break mentality. As long as we can get through these mistakes or just those rough patches in the game, I think it's just about learning in the game and just again, bend not break and just doing the best we can after we make those mistakes."
On the key to defending leads better than they did earlier in the season:
Joe Rice: "I think we're just coming together as a team. Everyone is, at this point in the season, knowing everyone's attributes, as a team altogether, we're just trying to be as compact as we can. And everyone here has the same goal. We want to make playoffs and I just think once the team comes together under a unified goal, I think that's what really makes us just a team."
On recording more clean sheets this season:
Joe Rice: "I would say it's just putting high standards on yourself, but realizing you know you can't control everything. I think for me, as a mentality, it's just been, as a goalkeeper, it's kind of easy - keep the ball out of the net. And I have to give a shout out to the guys in front of me, because they've been helping me out along the way. It's not just me. It is all 10 people in front of me as well."
On how to carry the recent momentum into these final road games:
Joe Rice: "I think we know the importance of these last few games. It was huge of us to get points here at home. That was big from us, but we know the next game is at Greenville and we'll start preparing for that. Like I said, we have the goal in mind to make playoffs and we want to win every game leading into it."
• Discuss this story on the United Soccer League One message board...


United Soccer League One Stories from October 12, 2021
The opinions expressed in this release are those of the organization issuing it, and do not necessarily reflect the thoughts or opinions of OurSports Central or its staff.
Other Recent New England Revolution II Stories