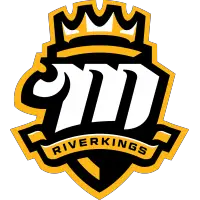 Q&A with Mark Richards
June 23, 2004 - Central Hockey League (CHL) - Mississippi RiverKings News Release



Entering his first full season as Head Coach of the RiverKings, Mark Richards is attempting to bring Memphis back to championship status. A former goaltender for the RiverKings that won two President's Cups in 2001-02 and 2002-03, Richards knows what it takes to win from a player's perspective. We had a chance to chat with him about a variety of topics, discussing everything from recent rules changes in the Central Hockey League to his vision for the RiverKings roster for the upcoming season. We now present Part One of our question and answer session with head coach Mark Richards:
RK: Let's start off by talking about rules changes. Last year, the Central Hockey League put in several changes that affected the way the game was played, such as no-touch icing and touch-up offsides. What did you think of those changes?
MR: I'm not a big fan of the no-touch icing, personally. I think it can take away some exciting plays that can happen over the course of a year. A lot of people think that icing is a boring play, but there are a lot of times where you'll see a footrace to the puck, with two guys trying to beat each other out to get there first. Sometimes you see a defenseman lose his (skating) edge, and that can lead to some excitement. Plus, you've got to take into consideration that in a close race for the puck, the goalie is going to come out and play the puck to keep the play going. Being a former goalie myself, I know I didn't always handle the puck perfectly in those situations. All those elements can lead to some dramatic changes in certain games. It's one of those rules that they've switched to in the interests of protecting players so that they don't get hurt. I totally understand it, but I'm not a fan of it.
I like the touch-up offside rule. It keeps the game going, and gives your team a chance to get the puck back into the zone and start your attack without the referee blowing his whistle all the time.
RK: The CHL made a few changes this year as well, but the changes affect things like roster size and types of players. What are your initial thoughts on those changes?
MR: Well, I think the league is trying to move in a certain direction, not just for this year but for the future. They want to keep things competitive while bringing the costs for each team down, which I think is understandable. That's why you see the new rule that allows teams only four veterans on their roster instead of five. That change doesn't bother me very much at all.
What do you think of the new "developmental" rule, which requires each team to have at least five players with 128 games of experience or less on their roster?
MR: I like that rule. If you're a guy who's played two full years in this league on a 64-game schedule, you'd still be eligible to be a developmental player, which should help teams with consistency on their rosters. That being said, I don't think it changes anything for us. We've got guys that have a lot of experience but still fit into that category. For instance, Riley Cote has only played two years, and he'll fit into the developmental category.
We've already met our quota for developmental players, and we'll probably have a couple more before it's all said and done. It hasn't yet affected anything that I'm trying to do with our roster.
RK: In that same vein, another one of the new rules changes for this year alters the number of players on the active roster for any given night. Instead of having 18 players available every night, you'll have 17 players available, and one player that will be considered "active" but not eligible to play. How do you see that change affecting things?
MR: I personally love that change, because in a perfect world and a perfect setting, without any injuries throughout the year, you get a chance with that rule to control your team a little better. Under this rule, you have to sit a healthy player every game, which means more competition in practice, more competition in games...it will make people more accountable for their actions on the ice. If someone's struggling or having a bad time of it over a stretch of time, I can just sit that player and bring in whoever was sitting before.
Plus, the change will help with injured reserve status. If we have someone who has a nagging toe injury, for instance, and might have to miss a game, then we can just sit him for a game instead of having to put him on the 14-day IR. I think it's one of the better changes that they've made.
RK: What are your thoughts on the reduction of games, from 64 to 60?
MR: That's the one rules change that concerns me. I thought 64 games was the absolute lowest we could go, but now we're playing 60 games. I'd rather see us go to 70 games or more, honestly. There are other "double-A" leagues that are playing 76 games or more, and for me and other coaches in this league, it's hard to compete against those teams in recruiting. When a league is playing 16 or 20 more games, that means a few more weeks of paychecks, and a few more weeks of exposure for the players. That can be hard to overcome when you're telling a guy why he should come play for you.
• Discuss this story on the Central Hockey League message board...


Central Hockey League Stories from June 23, 2004
The opinions expressed in this release are those of the organization issuing it, and do not necessarily reflect the thoughts or opinions of OurSports Central or its staff.
Other Recent Mississippi RiverKings Stories