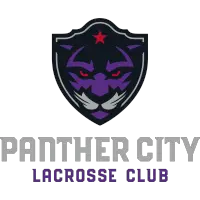 Panther City Lacrosse Club Falls 12-11 to Wings in Franchise Opener
December 4, 2021 - National Lacrosse League (NLL) - Panther City Lacrosse Club News Release



The Panther City Lacrosse Club (0-1) fell to the Philadelphia Wings (1-0), 12-11, in overtime Saturday night.
Panther City's offense was led by Patrick Dodds and Phil Caputo, who both tallied five points on the night. Dodds scored his first career goal 6:57 into the final period and added four assists. Caputo tallied a team-high tying two goals and three assists.
Rookie Nathan Grenon also tallied the first goal of his career with 12:15 to go in the third period and an assist. Travis Cornwall scored the first goal in Panther City franchise history, and the first goal of the game, 1:06 seconds into the first quarter.
Kevin Orleman tallied 35 saves in his first game minding the net for Panther City.
The Panther City Lacrosse Club next plays the team's inaugural home game at Dickies Arena in Fort Worth against the Vancouver Warriors (1-0) on Friday, December 10. Face-off is set for 7:30 p.m. CT and the game will be broadcast on KTXA 21.
Quotes-
Travis Cornwall (Transition, #90):
On the rookies play tonight-
The effort and we had a lot of rookies stepping up and the three goals from rookies today and that show that these guys are stepping into big roles, and they are ready for it.
It's nice and the rookies are just taking in everything they can. This was their first game, so I am excited to see what they are putting together for next week. They bring a lot of energy, they are ready to go, they are jumping around in the locker room, acting crazy before games. I like watching it and it gets my energy up before I hit the floor.
What does it mean to score the first goal in Panther City Lacrosse Club history?
It's exciting and when you are running the floor as much as I want to be running the floor this year I am expecting to get a lot of opportunities on net and it feels good to put the first one in.
What did you talk to the team about before the game?
I talked to the line mates before the game and talked about trust on the defensive end a lot and I think that comes from communication. If I know the guys there where he is supposed to be because he is talking to me then I can trust that we are going to be in the right spot to make the play.
How do you feel about playing your first home game at Dickies next week?
After having to play in front of the Philly fans, we are really looking forward to playing in front of a friendly crowd. Put the energy on the floor and then let them pick us up.
Ryan Benesch (Forward, #17):
What were the positives from tonight?
I thought all in all there were a lot of positives we could take out of that loss. It was great to see the guys not hang their heads when we were down. We battled back. Obviously, we had a couple mistakes that we need to clean up. That comes with time. We have a lot of youth. A lot of new guys playing - couple games under their belt and those little mistakes will be cleaned up and I think the outcome will be different.
What did you think of the team's poise tonight?
There is no quit. There is no quit in this team. That is something we want to see. We could've easily hung our head, but guys battled back and I am proud of the effort everyone gave tonight.
What was it like playing the first game in Panther City Lacrosse Club history?
It was incredible - it really was. I am happy for this franchise. We are taking strides in the right direction. It was obviously something that you want to see. Like I said there are little things we have to clean up and that comes with time. We are moving the right way.
What were you most proud of?
The compete level like you said. I thought everyone battled. Our defense played great. Orly [Goalie Kevin Orleman] played great in net. He gave us a chance to win that game obviously a couple bounces our way and it is a different outcome. That is part of the game.
How do you feel about playing your first home game at Dickies next week?
We are already chomping at the bit. We talked about it in the locker room. Getting to Dickies Arena and showing the fans exactly what this team is made of. I am excited to get there. I am excited for the fans to see the product we put on the floor.
• Discuss this story on the National Lacrosse League message board...


National Lacrosse League Stories from December 4, 2021
The opinions expressed in this release are those of the organization issuing it, and do not necessarily reflect the thoughts or opinions of OurSports Central or its staff.