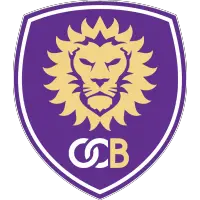 Orlando City B Falls to Toronto FC II
September 18, 2022 - MLS NEXT Pro (MLS NEXT Pro) - Orlando City B News Release



KISSIMMEE, Fla. - Orlando City B (6-13-5, 25 points) fell 2-1 to Toronto FC II (12-9-3, 41 points) in a hard fought match at Osceola Heritage Park on Sunday afternoon in what served as the Lions' 2022 MLS NEXT Pro season finale.
The Lions played to an even nil-nil draw going into the half, with both teams holding strong defensively, allowing only a handful of chances in the first 45 minutes.
After the break, the Lions came out strong scoring first in the 55th minute. OCB managed to hold Toronto off with some strong defensive efforts, including some key saves from Orlando City First Team goalkeeper Mason Stajduhar. Toronto however continued to press and found the back of the net twice within the last five minutes of the match to give them the victory on Decision Day.
Orlando City B Head Coach Martín Perelman:
"[We're] upset. I think we did a good job being limited with our amount of players, but even with that I think we played a great game. We controlled the game, we should have won, but we lost on two mistakes."
Scoring Summary:
55' Moises Tablante (Victor Yan) - OCB 1, TOR 0
The Lions got on the board with Victor Yan picking up a turnover in the attacking third and driving into the box before sending the ball across the front of the net to a wide open Moises Tablante for the tap-in finish.
86' Reshaun Walkes (Markus Cimermancic) - OCB 1 - TOR 1
Toronto pulled level with some tight passes inside the box to a wide open Reshaun Walkes, who was able to take a shot inside the box, taking a deflection before going into the back of the net.
90' Kobe Franklin OCB 1 - TOR 2
TFC II secured the go-ahead goal following a corner kick. After an initial clearance, Kobe Franklin took the ball off the half volley at the edge of the area to smash it into the back of the net.
Match Notes:
Moises Tablante netted his sixth goal of the campaign to match Favian Loyola for second on the Lions this campaign.
Victor Yan added his third assist in 2022.
Midfielder Jared Romero made his second-consecutive start in as many appearances for the Lions.
Head Coach Martín Perelman made six changes to his starting lineup from the Lions' last match, with First Team players Mason Stajduhar and Mikey Halliday getting the nod, as well as Erick Gunera, Diego Pareja, Moises Tablante and Tyler Prebenda.
Teams 1 2 F
Orlando City B 0 1 1
Toronto FC II 0 2 2
Scoring Summary:
OCB - Moises Tablante (Victor Yan) 55'
TOR - Reshaun Walkes (Markus Cimermancic) 86'
TOR - Kobe Franklin 90'
Misconduct Summary:
OCB - Alejandro Granados (Yellow Card) 9'
TOR - Rohan Goulbourne (Yellow Card) 41'
OCB - Erick Gunera (Yellow Card) 60'
TOR - Antony Curic (Yellow Card) 62'
TOR - Julian Altobelli (Yellow Card) 67'
OCB - Victor Yan (Yellow Card) 69'
OCB - Ignacio Galván (Yellow Card) 72'
OCB - Andrew Forth (Yellow Card) 75'
TOR - Kobe Franklin (Yellow Card) 90+1'
Lineups/Substitutions:
Orlando City B - GK Mason Stajduhar ©; D Ignacio Galván (Brandon Hackenberg 81'), Tahir Reid-Brown, Andrew Forth, Mikey Halliday; M Diego Pareja (Tyler Prebenda 81'), Jared Romero, Alejandro Granados; F Moises Tablante, Erick Gunera, Victor Yan
Substitutes Not Used: GK Javier Otero; M Zakaria Taifi
Toronto FC II - GK Luka Gavran; D Themi Antonoglou, Rohan Goulbourne, Antony Curic (Antonio Carlini 82'), Adam Pearlman, Kobe Franklin; M Jordan Perruzza (Julian Altobelli 62'), Steffen Yeates (Marcus Cimermancic 62'), Alonso Coello ©; F Hugo Mbongue (Reshaun Walkes 70'), Paul Rothrock (Alec Diaz 82')
Substitutes Not Used: GK Andrew Romano; D K Chung, Klaidi Cela, Joshua Gordon; M Antonio Carlini
Details of the Game:
Time: 3 p.m. ET
Weather: Clear
Date: Sept. 18, 2022
Stats:
Possession:
OCB - 57.3%
TOR - 42.7%
Shots:
OCB - 4
TOR - 11
Saves:
OCB - 6
TOR - 1
Fouls:
OCB - 19
TOR - 13
Corners:
OCB - 7
TOR - 2
• Discuss this story on the MLS NEXT Pro message board...


MLS NEXT Pro Stories from September 18, 2022
The opinions expressed in this release are those of the organization issuing it, and do not necessarily reflect the thoughts or opinions of OurSports Central or its staff.