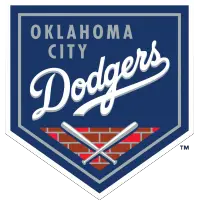 OKC Dodgers Game Notes - August 3, 2022
August 3, 2022 - Pacific Coast League (PCL) - Oklahoma City Dodgers News Release



Oklahoma City Dodgers (60-40) at Salt Lake Bees (48-52)
Game #101 of 150/Road #47 of 75
Pitching Probables: OKC-RHP Dustin May (0-0, 1.80) vs. SL-LHP Adam Seminaris (NR, -.--)
Wednesday, August 3, 2022 | Smith's Ballpark | Salt Lake City, Utah | 7:35 p.m. CT
Radio: KGHM-AM 1340 The Game, 1340thegame.com, iHeartRadio; Video: MiLB.tv
Today's Game: The Oklahoma City Dodgers seek a third straight win when they continue their road series against the Salt Lake Bees at 7:35 p.m. CT at Smith's Ballpark. The Dodgers have won back-to-back games as well as eight of 10 games following the All-Star Break. They have also won nine of their last 12 games...OKC will look to open a fourth straight series with a 2-0 record tonight.
Last Game: Tomás Telis hit a two-run homer in the second inning, providing all the offense necessary for the Oklahoma City Dodgers pitching staff in a 2-1 victory Tuesday night over the Salt Lake Bees at Smith's Ballpark. Starting pitcher Andre Jackson tied his career high by striking out 10 batters over five scoreless innings. Robbie Erlin completed the next 2.2 innings, allowing one run, before Daniel Zamora recorded the final four outs to secure the win. Telis delivered his first home run of the season with two outs in the second inning, sending a fly ball to the left field berm for a 2-0 lead. Jackson stranded eight runners over his five innings and Erlin pitched a scoreless sixth inning before Salt Lake scored on a fielder's choice in the seventh inning. The Bees had two runners on with two outs in the eighth inning when Zamora came in and struck out Kyle Kasser. Zamora then retired the side in order in the ninth inning to wrap-up the game.
Today's Probable Pitcher: Dustin May (0-0) continues a Major League Rehab Assignment and makes his third appearance with OKC tonight...May started and pitched 3.0 innings July 28 at Chickasaw Bricktown Ballpark against Sugar Land, allowing no runs and two hits. He retired nine of the 12 batters he faced and notched six strikeouts. He threw 46 pitches (32 strikes)...In his first rehab appearance in OKC, May started and pitched 2.0 innings July 22 against Sacramento, allowing one run and three hits, with three walks and three strikeouts. He faced 12 batters and threw 49 pitches (24 strikes)...May underwent Tommy John surgery in May 2021. He made his first outing of this rehab assignment July 16 with the Arizona Complex League Dodgers against the ACL White Sox, pitching 2.0 scoreless and hitless innings during his first game action in more than 14 months...He started five games for the Los Angeles Dodgers last season before tearing his right ulnar collateral ligament May 1 at Milwaukee and undergoing Tommy John surgery 10 days later. In five starts prior to the injury, May went 1-1 and posted a 2.74 ERA with six walks and 35 strikeouts over 23.0 innings and held opponents to a .186 average...Since making his ML debut in 2019, May has made 31 appearances (19 starts) for the LA Dodgers and has a 2.93 ERA, 1.06 WHIP and .222 BAA...He pitched in seven playoff games in 2020 as the Dodgers went on to win the World Series...The right-handed pitcher from Justin, Texas was selected by Los Angeles in the 3rd round (101st overall) of the 2016 MLB Draft out of Northwest High School.
Against the Bees: 2022: 3-1 2021: 7-5 All-time: 62-56 At SL: 29-29 The Dodgers and Bees are meeting for the second of three series in 2022 and their first at Smith's Ballpark...The teams met at Chickasaw Bricktown Ballpark for a three-game set June 10-12, with OKC taking the final two games to win the series. Twice in the series, the Dodgers rallied to tie the game or take the lead in the eighth inning or later. Jake Lamb had five hits and Drew Avans collected five RBI...The Dodgers won last season's series, 7-5, including wins in five of the last six meetings. The road team went 9-3 during the season series and the Bees won four of six in Oklahoma City for their first series win against OKC since 2013...In 2021, the Dodgers outscored Salt Lake, 77-62, and outhit the Bees, 119-110...The Dodgers have won or split the last seven season series with the Bees, posting a 6-0-1 record during that time...Since OKC became affiliated with the Dodgers, the team owns a 23-11 advantage against the Bees in the Triple-A version of the Freeway Series, but are 9-7 at home compared to 14-4 in Salt Lake...Going back to last season, the Dodgers have won eight of the last 10 games against the Bees and six of the last seven games at Smith's Ballpark.
Life At The Top: The Dodgers reached the 100-game mark of the season last night and notched their 60th win of 2022. The Dodgers have their best record through 100 games since the 2015 season when the team went 62-38. The Dodgers lead the PCL with a 60-40 record and have a 5.0-game lead ahead of second-place El Paso...The Dodgers are a season-best 20 games above .500 and are 20 games above .500 for the first time since closing out the 2016 season with an 81-60 record...OKC went 7-2 during their last homestand and own the league's best home record at 34-20 at Chickasaw Bricktown Ballpark this season. The Dodgers are 26-20 on the road and have the second-fewest road losses this season behind Reno's 18 road losses...After a season-high five-game losing streak July 1-5, the Dodgers have gone 13-7 since.
Jackpot: Starting pitcher Andre Jackson matched his career high with 10 strikeouts over 5.0 scoreless innings Tuesday night, recording his third career double-digit strikeout game and his first since June 10, 2019 with High-A Rancho Cucamonga against Inland Empire. Jackson gave up four hits and three walks, but held Salt Lake 0-for-6 with six strikeouts with runners in scoring position. He threw a career-high 98 pitches and became the second OKC pitcher this season with 10 strikeouts in one game, along with Ryan Pepiot June 21 against Round Rock...Between Jackson, Robbie Erlin and Daniel Zamora, the Dodgers pitching staff combined for 15 strikeouts, marking the team's third game with 15 or more strikeouts this season. They held Salt Lake without an extra-base hit and 0-for-8 with runners in scoring position. Although it's ninth time this season the Dodgers did not allow an extra-base hit, it's the first time it happened since June 22 vs. Round Rock...OKC is now 26-2 when allowing two or fewer runs this season.
On the Mend: Los Angeles Dodgers infielder Edwin Ríos continued his Major League Rehab Assignment Tuesday and played in his fourth game with OKC. He went 2-for-4 with a double and played seven innings at third base. He is now 3-for-11 with two doubles during the rehab assignment. Ríos was placed on the Injured List June 3 with a right hamstring injury and was transferred to the 60-day IL June 22...Los Angeles Dodgers outfielder Chris Taylor opened a Major League Rehab Assignment last night with OKC, going 0-for-3 with a hit by a pitch and played six innings in left field. Taylor was placed on the Injured List July 6 with a left foot fracture.
Drew Point: Drew Avans collected a bunt single in the seventh inning last night as he extended his on-base streak to 39 games for the longest on-base streak by a PCL player since Las Vegas' Beau Taylor reached base in 39 straight games April 6-July 3, 2019. It is also the longest active on-base streak in the Minors and the longest on-base streak by an OKC Dodgers player since Alex Verdugo reached base in 41 consecutive games June 4-July 25, 2017. The last PCL player with an on-base streak longer than 39 games was Nashville's Nick Martini, who reached base in 66 straight games during the 2018 season (April 14-Sept. 1). Avans has one of seven on-base streaks of at least 39 games recorded this season in the Minors. Avans has also reached base in 53 of his last 54 games and hit safely in 22 of the last 26 games. He has also hit safely in 16 of the last 19 games, batting .321 (26x81)...From the start of the season through May 31 (31 games), Avans batted .235 (20x85) with seven extra-base hits, eight RBI and 15 runs scored. Since June 1 (48 games), Avans is batting .316 (59x187) with 12 doubles, four triples, three homers, 20 RBI, 22 walks and 39 runs scored. During that span he ranks third in the PCL with 59 hits, tied for fourth with 15 stolen bases, tied for fifth with 39 runs and four triples, sixth in AVG and 10th with a .397 OBP.
Nothing But 10's: Over his last 10 games, Jason Martin has 10 hits (10x34, 3 HR, 2B), 10 RBI, 10 runs scored and 10 walks. He's also reached base in 10 straight games...Martin's 76 RBI this season are second-most in the PCL, while his 22 home runs are tied for second. Martin also ranks among the league's top six players in extra-base hits (4th, 44), total bases (5th, 183), runs scored (5th, 73), OPS (5th, .955), triples (T-5th, 5) and SLG (6th, .577)...Martin has surpassed his former single-season career-high mark of 75 RBI set during the 2016 season with High-A Lancaster (Astros) and is one home run shy of tying his career high of 23, also set in 2016...Over his last 16 games, Martin is batting .304 (17x56) with five homers and 19 RBI. He's picked up at least one RBI in nine of the 16 games and has seven multi-RBI games during the stretch.
Buschwacked: Michael Busch went 0-for-5 last night, snapping a five-game hitting streak during which he was 8-for-20. Including last night, Busch is 14-for-38 (.368) over his last 10 games with six extra-base hits, five multi-hit games and six walks. He led the Dodgers with 30 hits in 24 games during the month of July, including a team-best nine doubles. He also hit four home runs, scored 16 runs and finished the month with 14 RBI...Busch ranks third among Dodgers minor leaguers with 23 total home runs this season including his time with Double-A Tulsa.
Missing Miggy: The Los Angeles Dodgers selected the contract of Miguel Vargas Tuesday, and when he makes his ML debut, he will be the third OKC player to do so this season. At the time of his call-up, Vargas paced the PCL with 109 hits and 81 runs scored. He also ranked among the league's top-five players in doubles (T-2nd, 24), total bases (3rd, 186), walks (T-3rd, 54), RBI (4th, 72) and extra-base hits (5th, 43)...Over his last 33 games, Vargas batted .326 (43x132) with 13 doubles, five homers, 28 RBI and 27 runs scored...In the six games Vargas has not played with OKC this season, the Dodgers are 3-3 and have batted .235 (48x204) with 25 runs scored.
One-Run Wonders: Including last night, four of the Dodgers' last five wins have been by one run. The team is now 17-9 in one-run games, which is second-best in the PCL behind Reno at 21-13. During last year's 129-game schedule, the Dodgers were 13-22 in one-run games and had the league's worst record in such contests.
Around the Horn: Tomás Telis went 2-for-3 with a home run, single and walk Tuesday. He hit his first home run since Oct. 3, 2021 with Triple-A St. Paul and plated the team's only two runs of the game. He has now hit safely in four of his last five games, going 6-for-15...Jake Amaya reached base all four times he came to the plate Tuesday night, collecting two hits and two walks. Since joining OKC June 14, he's batting .373 on the road compared to .114 at home...The Dodgers have homered in nine of the last 10 games (15 HR), but Tuesday was just the second time in the last 10 games OKC did not surrender a homer (15 HR)...The Dodgers drew six more walks last night and continue to lead Triple-A with 481 walks this season...The Dodgers have won 16 of their last 17 games when allowing four or fewer runs.
• Discuss this story on the Pacific Coast League message board...


Pacific Coast League Stories from August 3, 2022
The opinions expressed in this release are those of the organization issuing it, and do not necessarily reflect the thoughts or opinions of OurSports Central or its staff.