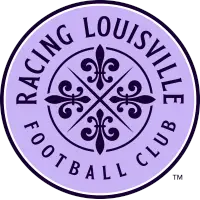 Nadim Injured Early as Racing Falls to the Orlando Pride
September 11, 2021 - National Women's Soccer League (NWSL) - Racing Louisville FC News Release



Racing Louisville FC fell by a 3-1 score Saturday against the Orlando Pride in a defeat that could reverberate beyond the scoreline.
That's because just 13 minutes in at Exploria Stadium, an Orlando challenge for a 50/50 ball cut across the legs of Racing forward Nadia Nadim. The contact led to extended medial attention for Nadim, a star striker who was eventually stretchered off the pitch.
Named to the NWSL's Team of the Month for August, Nadim has already tallied three goals and an assist in lavender since joining the club earlier this summer.
"We'll have to get her evaluated and go from there and hope for the best, obviously," said Racing's interim coach, Mario Sanchez. "She's not only an important soccer player but an important human being for us - a great leader. We'll have to wait for the evaluation."
Even after Nadim exited, Racing could claim the better of the game's opening minutes. A 17th-minute Cece Kizer shot required a pride defender to clear it off the line; Emily Fox's laser of a chance in the 19th minute was also turned away; and Jorian Baucom dangerously hit side netting in the 26th minute.
Then momentum shifted in the home side's favor on an efficient night for U.S. international forward Sydney Leroux.
"I'm really happy with the start - the aggressiveness," Sanchez said. "It kind of took me by surprise when they got the goal."
With a major individual effort, Leroux opened scoring in the 30th minute, getting her own rebound before firing in a second-chance opportunity from the top of the box. Leroux also fed Marta for a 34th-minute strike and set up Alex Morgan - another U.S. star making her first NWSL appearance since the Tokyo Olympics - for a 65th-minute exclamation point.
In the end, Orlando scored on half of six shots tried. Racing did, however, manage a bit of an answer from its 12 attempts.
Yuki Nagasato crossed to Cece Kizer for a 51st-minute goal marking Kizer's third goal on the season. That halved the lead until Morgan scored only four minutes after subbing on.
"Both halves, we kind of let in a goal and it deflated us," Kizer said. "That's a mentality we need to continue to develop - not allow a goal to defeat us and make us feel like we're out of the game.
"I think for us," Kizer added, "losing Nadia at the beginning was a huge game changer just because she's Nadia. She's the one who's the heart and soul and really brings a good energy for us. After that, it was hard for us to gain our composure back, and in the second half I said, 'We've got to play for Nadia the rest of this game and do it for her.'"
A defeat dropped Racing to 4-9-5 in its inaugural season, with 17 points six short of the current playoff cut line in sixth place. The club has six games to go, returning home Sept. 26 after an international break for a 3 p.m. kickoff against the Houston Dash at Lynn Family Stadium.
"One thing I can promise you: They said after the game they're not done," Sanchez said. "There's still the motivation there - still a lot of points. We keep going and plug away and keep fighting to get to that playoff spot."
Should Racing make it to the postseason, that would be a first for an NWSL expansion side in its opening year.
Game Summary: Orlando Pride vs. Racing Louisville FC
Venue: Exploria Stadium
Kickoff: 7 p.m.
Weather: 81 degrees, light rain
Player of the Match: Cece Kizer
Scoring
Orlando Pride (2, 1, 3)
Racing Louisville FC (0, 1, 1)
Goals
Orlando Pride:
30' Sydney Leroux
34' Marta
65' Alex Morgan (Sydney Leroux)
Racing Louisville
51' Cece Kizer (Yuki Nagasato assist)
Stats Summary: Orlando Pride / Racing Louisville FC
Shots: 6 / 12
Shots on Goal: 4 / 4
Fouls: 10 / 8
Offside: 1 / 1
Corner Kicks: 2 / 5
Saves: 3 / 1
Lineups
Orlando Pride: 1- Erin McLeod, 4 - Amy Turner, 7 - Ali Riley, 11 - Ali Krieger, 21 - Phoebe McClernon (60' 13 - Alex Morgan), 8 - Gunny Jonsdottir, 2 - Sydney Leroux, 22 - Taylor Kornieck (79' 14 - Marisa Viggiano), 10 - Marta (90'+ 20 - Parker Roberts), 28 - Meggie Dougherty Howard (60' 17 - Courtney Petersen), 9 - Jodie Taylor (79' 15 - Erika Tymrak)
Subs not used: 3 - Toni Pressley, 23 - Kylie Strom, 30 - Brittany Wilson, 26 - Ally Haran
Racing Louisville FC: 1 - Michelle Betos, 11 - Emily Fox, 14 - Nealy Martin (64' 3 - Erin Simon), 18 - Kaleigh Riehl, 4 - Gemma Bonner, 8 - Freja Olofsson, 7 - Savannah McCaskill, 5 - Cece Kizer (73' 20 - Cheyna Matthews), 2 - Lauren Milliet, 10 - Nadia Nadim (17' 17 - Yuki Nagasato), 33 - Jorian Baucom (64' 9 - Ebony Salmon)
Subs not used: 23 - Katie Lund, 15 - Brooke Hendrix, 12 - Sinclaire Miramontez, 22 - Katie McClure
Discipline Summary
No cards
Referee: Elton Garcia
Images from this story
• Discuss this story on the National Women's Soccer League message board...


National Women's Soccer League Stories from September 11, 2021
The opinions expressed in this release are those of the organization issuing it, and do not necessarily reflect the thoughts or opinions of OurSports Central or its staff.