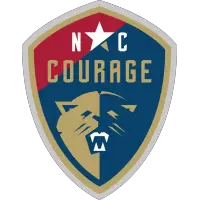 McDonald, Mewis Lift NC Courage to 2-1 Win over OL Reign
June 19, 2021 - National Women's Soccer League (NWSL) - North Carolina Courage News Release



CARY, NC - The North Carolina Courage added to the win column on Saturday afternoon, besting the OL Reign 2-1 behind a solid team performance and goals from Jessica McDonald and Sam Mewis in front of a crowd of 5,026. With the victory, head coach Paul Riley tallied his 75th career NWSL win and his 50th win with North Carolina.
Following a flurry of scoring chances throughout the first half, the Courage were able to capitalize in the 45th minute to gain the upper hand. Sparking the attack was Merritt Mathias, who lifted a cross into the OL Reign box, finding the head of McDonald. Beating a defender in an aerial duel, McDonald was able to bury the header past Reign goalkeeper Sarah Bouhaddi to give the Courage a 1-0 lead to conclude the first 45.
Casey Murphy kept the Courage in the game, executing a stellar diving save to deny Reign forward Sofia Huerta an equalizer in the 54th minute. Murphy posted four total saves throughout the contest, shutting down her former team to lift the Courage to their second victory of the season.
In the 78th minute, the Courage added a second goal, with Mewis scoring her first with the Courage this season since returning stateside from Manchester City in May. Lynn Williams tallied the assist, playing a quick give-and-go that allowed for Mewis to tap in the game-winner at close range. With the assist in today's match, Williams is now the NWSL's all-time assist leader.
Jessica Fishlock scored the lone goal for the OL Reign to cut into the Courage's lead in the 86th minute, but the visitors fell short as time expired, 2-1. Coming away with three points in tonight's match, the Courage will look to add to their season point total with a win on the road as they face Racing Louisville on Wednesday.
Ahead of today's match, both sides donned t-shirts reading "Believe Black Voices" to commemorate Juneteenth, a national holiday that celebrates the end of slavery in the United States. The shirts, which were available for pre-order during the match, have sold out in all sizes. 100% of the proceeds raised from this design will benefit Rebuilding Together, a local non-profit whose mission is to make safe homes and communities for everyone.
Postgame Quotes:
Jess McDonald:
On her goal:
"All the reps we've done in the past week, making runs in the box, pressing the defense, it all paid off today. In the case of my goal, I just read Merritt's body language and I was in the right place at the right time, she put in an impeccable cross and it found my noggin so I could put it in!"
On practice translating to game:
"We worked a lot on breaking lines from the forward line, I've caught myself coming back to the ball too much, but we worked on our runs getting in behind. We were able to replicate that well today, playing to our strengths, speed being one of them. Obviously many of the things we worked on throughout the week we applied today. I'm just very proud of our team that we did so."
On Juneteenth
"Today meant everything to me. I love the support we are starting to get globally - its now a national holiday. It's just a beautiful thing we were able to share this moment even with our "frenemies" by wearing the Juneteenth shirts all together. It's just overall so beautiful and we are celebrating a really joyful day today."
Paul Riley
On overall team performance
"To be honest Jess and Lynn were the focus today, we just wanted to break lines a bit quicker, we wanted to speed the tempo up, and overall I think we did it all really well. All that we worked on these past weeks translated into the game and it's really nice to see how that played out. We made some really good chances.
I thought the box played a lot better - Sully, Havana all had a really top, top game. We weren't playing the ball too early, we were connecting better with the 9 and 10s, not just going side to side. I liked what the backline did, I feel bad I thought they were so good, they deserved a clean sheet. But either way we deserved to win and I'm proud of the performance."
Up Next: The North Carolina Courage will travel to take on Racing Louisville FC for the second time this season on Wednesday, June 23 at 7:30 p.m. ET at Lynn Family Stadium in Louisville, Kentucky. Following a brief stint on the road, the Courage will return home to face the Portland Thorns and celebrate Pride Night on Saturday, June 26 at 7 p.m. ET. Tickets are available in limited quantities here.
Box Score:
NCC (4-4-2): Casey Murphy, Kaleigh Kurtz, Carson Pickett, Abby Erceg©, Merritt Mathias, Denise O'Sullivan (Cari Roccaro - 89'), Debinha (Hailie Mace - 79'), Havana Solaun (Ryan Williams - 89'), Lynn Williams, Jessica McDonald (Brittany Ratcliffe - 79'), Kristen Hamilton (Samantha Mewis - 66')
Subs Not Used: Katelyn Rowland, Taylor Smith, Diane Caldwell, Meredith Speck
RGN (4-5-1): Sarah Bouhaddi, Celia Delgado, Alana Cook, Sam Hiatt (Madison Hammond - 81'), Lauren Barnes (Quinn - 64'), Dani Weatherholt (Jessica Fishlock - 64'), Kristen McNabb, Dzenifer Marozsan, Sofia Huerta, Bethany Balcer (Leah Pruitt - 75'), Angelina (Tziarra King - 75')
Subs Not Used: Ella Dederick, Amber Brooks, Machaela George, Steph Cox
Score:
NCC: 2
RGN: 1
Goals:
NCC: Jessica McDonald - 45', Samantha Mewis - 77'
RGN: Jessica Fishlock - 86'
Cautions:
NCC: Samantha Mewis - 88'
RGN: Angelina - 17', Celia Delgado - 73'
Ejections:
NCC: --
RGN: --
• Discuss this story on the National Women's Soccer League message board...


National Women's Soccer League Stories from June 19, 2021
The opinions expressed in this release are those of the organization issuing it, and do not necessarily reflect the thoughts or opinions of OurSports Central or its staff.