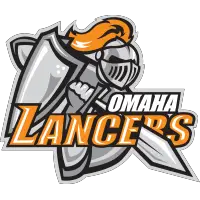 Lancers Honor End of the Season Award Winners
May 18, 2021 - United States Hockey League (USHL) - Omaha Lancers News Release



RALSTON, NE - The Omaha Lancers have announced the Annual End of Season Awards to eleven players from the 2020-21 season. The winners of each award were voted on by their teammates and were notified by General Manager and Head Coach David Wilkie.
Here is the complete list of each award and winner:
Heather Roberts Humanitarian Scholarship Award - Few people ever think the unexpected will actually happen to them, and we were no different. However, in April of 2008, the unexpected became our reality. Heather Roberts, was diagnosed with Stage 3: Anaplastic Astrocytoma brain cancer. On April 24, 2008, she had her first of two surgeries to retract her tumor; her second surgery was June 12, 2008. Even though both surgeries were considered successful, the entire tumor could not be retracted. She completed 6 weeks of radiation with low dose Temodar and then completed 11 months of high dose Temodar (chemo). After 11 months, her body said, "No more!" Her tumor remained "stable" until March 2014. After additional specialized radiation and another year of chemo, she was "stable" once again. It all sounds so easy, but it is not. Seizures, swelling, steroids, Avastin (which had to be stopped because of side-effects) followed her re-diagnosis. Heather remained a fighter as she took her last breath on November 8, 2016. She beat cancer on so many levels, just not the level she needed to remain with us. In the end, she knew how many people loved her and how many people she inspired to live a more meaningful life. So many were touched by her honesty, positive outlook on life, twisted sense of humor, and hope for a future. Her lessons remain in our hearts and give us a path to follow. The Lancers recognize Heather every year with the annual "Leap For A Cure" night. The player receiving this award is recognized for his countless hours of mentoring and advising students and youth hockey players in the Omaha Metro community. This year's recipient of the Heather Roberts Humanitarian Award is Tyler Carpenter.
Phil Todd Memorial Scholarship - On August 21, 2003, tragedy struck the Lancers family. While enjoying time with his friends, Lancers forward Phil Todd fell and stuck his head, suffering severe head injuries and five days later passed away. In his time with the lancers, Phill played in 39 games, which is coincidentally the jersey number he wore. He became a fan favorite known for his physical play, but he was also a skilled player who could score as well. He was "determined to succeed in every aspect" of the game, and he truly "loved being a Lancer." Beginning with the 2003-04 season, the Lancers Booster Club set up a $1,000 scholarship in Phil's honor to recipients that embody the same qualities Phil had. The recipients of this year's Phil Todd Memorial Scholarship are Ryan Lautenbach and Ryan Conroy.
Ted Baer Most Improved Award - Undoubtedly the backbone behind the Omaha Lancer's early success, Ted Baer and his family bought the Lancers in 1988 and owned the team until 2004. Ted took to heart the USHL's mission to develop players and hired the best personnel to mold Lancers players. He also recognized all aspects of the business from corporate partners, to fans, to being involved in the community, which was instrumental in its success. Ted and his wife Kathy continue to be great supporters of the Lancers today. Familiar names such as Matt Thurber, Andrew Conboy, Mike Chiasson, and Thatcher Demko have been awarded the Ted Baer Most Improved Player of the Year Award. The most improved player in this season is Cam Mitchell.
Mike Hastings Rookie of the Year - There were many candidates for the Rookie of the Year Award. This player stayed true to the systems and qualities of what it means to play like and be an Omaha Lancer. This year's Rookie of the Year is Aiden Dubinsky.
Luc Robitaille Forward of the Year - Luc Robitaille is the highest-scoring left wing in NHL history with 668 goals, and is a member of the NHL Hall of Fame. An eight-time All-Star, Robitaille spent the majority of his playing days with the Los Angeles Kings, with stints in between in Pittsburgh, New York, and Detroit where he was a member of the 2002 Stanley Cup Championship team, before returning to the Kings for his final two seasons. Past recipients of the Luc Robitaille Forward of the Year Award were Louis Leblanc, Matt White, Nick Oddo, Jimmy Murray, and Jakob Forsbacka-Karlsson. The Luc Robitaille Forward of the Year is Ayrton Martino.
Jake Forbes Defenseman of the Year - The Jake Forbes Defenseman of the Year Award is named after the former Omaha Knights defenseman who played in more games than any other Knight, and who finished his career second in franchise history in assists and fourth in points. Forbes was instrumental in establishing youth hockey in Omaha and is a member of the Omaha Hockey Hall of Fame. Former winners of this award include Keith Ballard, Matt Carle, and Nick Petrecki. This year's Defensemen of the Year was awarded to TJ Schweighardt and Matt Basgall.
Jed Ortmeyer Unsung Hero Award - Named after one of the most well-known hockey players in Omaha and Ex-Lancer, The Jed Ortmeyer Unsung Hero Award, brings to light a person who makes a substantial yet, unrecognized contribution to the teams overall success. This year's Unsung Hero was awarded to Liam Devlin.
E.H. Motto McLean Leadership Award - Better known as Omaha's "Mr. Hockey," Motto McLean is also the Honorary General Manager of the Omaha Lancers and a member of the Omaha Hockey Hall of Fame. He has been recognized at the National level for his devotion to ice hockey, as the William Thayer Tutt Award recipient. This award is given annually by USA Hockey to a volunteer who has displayed a selfless dedication to the enhancement of the sport at the grassroots level in America. Recent recipients of the Motto McLean Leadership Award are familiar names that include Chris Hepp, Matt White, Casey Bailey, and Jack Randl. The Lancers who best exemplify both on and off the ice, the qualities of dedication and leadership to his team, the club, and to the community is Nolan Renwick.
Eddie Bruneteau Most Valuable Player - Eddie Bruneteau played for seven seasons with the Detroit Red Wings and four seasons with the Omaha Knights before hanging up his skates as a player. He ended his NHL career tied atop the goal scorer category with 98 in the Knights' record books. He was instrumental in the growth of hockey in Omaha and the early development of the Omaha Lancers. Recent winners of the Eddie Bruneteau Most Valuable Player Award include Drew Palmisano, Louis Leblanc, Matt White, and Seth Ambroz. The winner of the most valuable player on the Omaha Lancers this season is Jakub Dobes.
• Discuss this story on the United States Hockey League message board...


United States Hockey League Stories from May 18, 2021
The opinions expressed in this release are those of the organization issuing it, and do not necessarily reflect the thoughts or opinions of OurSports Central or its staff.