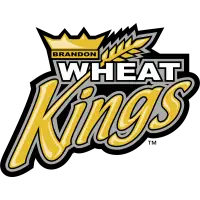 Kruger Ready to Take on Top Job
November 3, 2020 - Western Hockey League (WHL) - Brandon Wheat Kings News Release



Ethan Kruger is certainly ready to take over the top job in net for the Brandon Wheat Kings this season.
The 19-year-old goaltender from Sherwood Park, Alta., was the understudy to Jiri Patera for the past two seasons, but briefly took over the top job last season when the Czech netminder underwent ankle surgery in October.
"After seeing what I did last year when I had the ball in my hands, I've definitely been waiting for this moment," Kruger said. "It sucks to see that it keeps getting postponed but I'm definitely ready to go when the season starts. I've been super motivated throughout the summer. This is a big year for us as the Wheat Kings and for myself as well. I'm super excited."
In 24 appearances in the 2019-20 campaign, Kruger posted a 2.81 goals-against average and a .912 save percentage, not appreciably different than Patera's 2.55 gaa and .921 save percentage.
Kruger partnered with Patera for both of his WHL seasons, and the pair became very close, even rooming together on the road.
"Automatically, right when we met each other, we became best friends," Kruger said. "I haven't ever been super, super close to another goaltending partner but we just made each other better each day. We wanted to see each other succeed, and that was crucial in both of our years in Brandon. We pushed each other in practice and I learned things from Jiri, and Jiri probably learned things from me. It was so nice to go into the hotel room at the end of the night and chat about whatever you want. It was just awesome to have a best friend like that."
Unfortunately for Kruger, Patera's injury came at a tough time in Brandon's schedule, with the team's West Coast trip pitting it against all five U.S. Division foes and a pair of games on the way back.
In all, it was seven games in 11 nights.
"It was definitely unfortunate for Jiri to go down but I took that opportunity and ran with it," Kruger said. "It gave some good momentum and I learned a lot of things. It was during the U.S. trip so we played a crazy amount of games in a few days, so I went from playing a game every one or two weeks to playing seven in 11 days. It showed me how much you need to take care of your body in between and be on your game every time because you're going the next night."
With Patera on the mend, the Wheat Kings called up Connor Ungar, who will likely be Kruger's goaltending partner this season. While the two have spent time together at training camps and during other trips when Patera was out of action, it gave them a good chance to bond.
"He's a super great guy," Kruger said. "We roomed together throughout the U.S. trip and that was great. I talked to him throughout the summer. He's down in Calgary working on his game and working out. Hopefully this upcoming season I'm working with him. I think it will be a great duo."
That will be music to the ears of Wheat Kings fans, some of whom have pointed to the 2020-21 team for the last few years as the next group with the potential to have a long playoff run. That's certainly the expectation in the dressing room.
"Looking at the roster, I see a lot of depth through every position," Kruger said. "I think the goal is to win a WHL championship."
The Wheat Kings will certainly be looking to build on a tremendous second half of the 2019-20 season, which was the first under new head coach Dave Lowry. A team that was 15-17-1-2 on Dec. 28 finished the season 35-22-4-2, a 20-5-3-1 run.
"Throughout the year, we had a really close-knit group," Kruger said. "I split it up because I believe before Christmas break we were .500, and after, we went on a 10-game win streak.
"Before December, we were trying to find our identity and how we wanted to play. After we took some time off in December (at Christmas), we came back ready to win and that definitely helped. Having such a good group of guys together wanting to play for each other and hanging out together outside the rink definitely helped."
Unfortunately for the Wheat Kings, that made it even tougher when the season was first paused and later cancelled in March. Brandon last participated in the post-season in 2018, prior to Kruger's arrival.
"It definitely sucked because my first year we missed out on playoffs as well so I never really got a taste of it," Kruger said. "It is what it is. It's a crazy world we live in right now, and a lot of stuff is out of our control. I think we were definitely super excited heading into the playoffs and we had so much momentum but unfortunately it didn't happen. It just lit a spark in a lot of guys in the off-season to put in some work, and I think we're super motivated for the upcoming season."
After the season was paused, Kruger returned home to Sherwood Park. While he took some time off, he also found plenty of ways to stay busy.
"It was nice to see my family again," Kruger said. "I started doing some Zoom workouts with my trainer because we didn't know if the season was coming back or not, so I had to stay sharp somehow. We pretty quickly found it was cancelled so I took some time off and pretty much just hung around with my family and watched Netflix to try to keep busy until the world opened."
He did yoga, stretching, cardio workouts on a bike and juggling, which helped maintain his hand-eye co-ordination. Kruger returned to the gym in late April, grateful to finally be out of the house.
"It was nice being back in the gym and talking to humans in person," Kruger said. "Then probably two weeks later rinks started opening."
Goaltending has a specialized set of skills that are hard to replicate without actually stopping pucks. He got into some goalie sessions immediately to rediscover his game after the longest time he's had off the ice in many years, and found the time away actually helped.
"I was super excited and motivated to get back on the ice," Kruger said. "Maybe moving forward I'll take more time off in the off-season. I think going straight to goalie sessions was nice as well because I was working on things I wanted to and trying to critique my game and get better for next season."
He also discovered that any losses he expected to find in his game failed to materialize. In fact, the opposite was true, despite his time off the ice.
"In my first ice session back, I felt as sharp as I ever did," Kruger said. "The next one was a bit rougher but I was probably a little bit sore. After that it didn't take very long. I thought it was going to take a lot longer but it was pretty good. Everything I was doing off the ice, stretching and working on my hand-eye and doing workouts, translated back on the ice."
Kruger briefly returned to Brandon this summer, helping at Tyler Plante's annual goaltending school for five days.
Now he's eager for the time to come when he's playing again. With a big season ahead of him, he can't wait to get back at it.
"Throughout the past six months, everything has been unpredictable," Kruger said. "You have to go in with an open mindset and just take whatever gets thrown at you. I think no matter what happens, as long as we're back to playing hockey and around the guys, everyone is going to be happy.
"It sucks being away from the game and all the boys for this long, so if there's no fans or whatever happens, I think we're going to be super happy and motivated to get the ball rolling again."
• Discuss this story on the Western Hockey League message board...


Western Hockey League Stories from November 3, 2020
The opinions expressed in this release are those of the organization issuing it, and do not necessarily reflect the thoughts or opinions of OurSports Central or its staff.
Other Recent Brandon Wheat Kings Stories