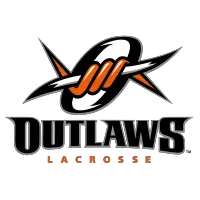 John Grant Jr. Joins Johns Hopkins
September 24, 2020 - Major League Lacrosse (MLL) - Denver Outlaws News Release



John Grant Jr. is a six-time Major League Lacrosse (MLL) champion and one of the most prolific lacrosse players to have ever picked up a stick. His presence on the field, the sideline and in the stands garners respect from teammates, opponents, coaches and fans alike. At the conclusion of 2019, his potential penultimate season playing for MLL, Grant Jr. set the all-time MLL points record with his 598th career point. In May of 2020, just two months before he would play in MLL's 20th Anniversary season, Grant Jr. was announced as the new offensive coordinator for Johns Hopkins.
The hire sent shockwaves through many collegiate and professional lacrosse fans. One of the sport's flashiest and most modern style players would be joining one of the oldest and most traditional collegiate lacrosse programs.
"I was surprised when I heard [about the hire]," said Hopkins alum and ESPN broadcaster Quint Kessnich, who has been calling MLL games since 2001. "I felt that it was a refreshing hire from outside the pool of typical candidates. I liked it."
Similarly, Johns Hopkins players did not foresee the Ontario-born lacrosse legend joining the coaching staff.
"We were all pretty excited when Coach Milliman told us he'd [Grant Jr.] would be joining the staff," said Johns Hopkins attackman Cole Williams, who'll be entering his fifth season this spring. "We didn't expect it or even know that he was on the radar, but when we did hear it was him, we were excited about all the creativity that he'll bring to our offense."
The hire came after Peter Milliman, Johns Hopkins head coach and fellow MLL alum, and Grant Jr. were discussing potential draft picks prior to the 2020 MLL draft. The two talked for three hours, Grant Jr. said, and Milliman reached out a couple days later asking if Grant Jr. would be interested in talking about a job.
"It caught me completely off guard," Grant Jr., the offensive coordinator for the Denver Outlaws, told Michael Spencer of CBS4 in May. "I said 'sure.'"
The excitement was instant for Grant Jr., with him calling it a "dream come true." Johns Hopkins' players also felt the buzz.
"We're all excited to have Coach Grant," Johns Hopkins co-captain and attackman Joey Epstein said. "From a player development standpoint and wanting to reach your personal best as an offensive player, it's exciting to get to learn from someone who's shown that he can do it. He's one of the greatest players to ever touch a stick."
After a disappointing past couple of seasons for the Blue Jays, with the team going 2-4 in 2020 and 8-8 in 2019, Grant Jr. is not the only new face on the Johns Hopkins coaching staff. In fact, the entire coaching staff is made up of new hires. Milliman, defensive coordinator Jamison Koesterer, volunteer assistant coach Dan Annino and former Denver Outlaws general manager Jon Cohen steps in as director of lacrosse operations.
"It will definitely be a process for the whole team, the new coaches and us, to adapt and mold together as a new team and find the right form that helps us win best." said Epstein. "Our goal is to win a national championship."
Unfortunately, Johns Hopkins students are taking classes remotely this fall, and therefore have lost the opportunity for teams to practice together thus far. Kessnich acknowledged this challenge, pointing out that this means missing out on some crucial in-person coaching, teaching and relationship building.
However, Kessnich also recognized Grant Jr.'s strengths as a coach and a teacher.
"What I've seen from him at the professional level and at Air Force as a coach is the willingness to share ideas, to listen to players, to discuss, to assess their abilities and then try to put them in a position to have success," Kessnich said. "He's inquisitive, he's always looking for new ideas, he's always watching other games and trying to see what works and what doesn't work."
Those same qualities are echoed by anybody who has coached or played with Grant Jr., and are part of what excites Johns Hopkins players.
"Everything I've heard about Coach Grant Jr. is that not only is he a great coach, but he's the best teammate," Williams said. "A lot of my friends who've played with him in box lacrosse or in MLL have said that he is literally the best teammate that they've ever had. I hope that comradery that he had with teammates will go into his coaching style and rub off on us."
As the season gets closer, the anticipation grows for analysts, athletes and lacrosse fans everywhere to see if Grant Jr. and the rest of the new Johns Hopkins coaching staff will be the beginning of a new era for the program.
"I think the fact that he really loves lacrosse is a good fit for Hopkins," said Kessnich. "Because he's going to be around people that take lacrosse seriously and they care about it. I think he's going to be energized because of that."
John Grant Jr. Instagram: @jr24lax
John Grant Jr. Twitter: @JohnGrantJr24
• Discuss this story on the Major League Lacrosse message board...


Major League Lacrosse Stories from September 24, 2020
The opinions expressed in this release are those of the organization issuing it, and do not necessarily reflect the thoughts or opinions of OurSports Central or its staff.