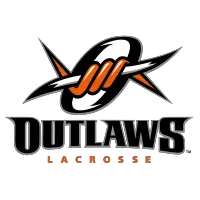 Ryan Powell Alumni Spotlight
October 29, 2020 - Major League Lacrosse (MLL) - Denver Outlaws News Release



Ryan Powell has been an influential figure in the Major League Lacrosse (MLL) world since the league's Summer Showcase in 2000. Since then, Powell has played for the Rochester Rattlers, the San Francisco Dragons, and the Denver Outlaws. He has been named league MVP twice (2001 and 2006), has won the Offensive Player of the Year Award (2006), was a six-time MLL All-Star, and won the MLL All Star Game MVP in 2008. Most recently, the decorated star has taken his knowledge of the sport to Powell Lacrosse, his brand.
Powell Lacrosse, founded by Powell himself, recently celebrated its five-year anniversary. Across the past few years, the company has seen great growth, expanding beyond lacrosse sticks to gloves, performance apparel and more.
"I'd say we're keeping up with the times through our authenticity," said Powell. "This is our life, and lacrosse is what we've done our entire life, so we're 100% lacrosse people and 100% a lacrosse company. Everybody that works with us has a lacrosse background, so it's been very exciting since the start."
The true start for Powell, began in 1987, when he and his older brother Casey discovered the game. Ever since, the names Ryan, Casey and Mikey Powell became synonymous with record-breaking and winning.
However, it was Powell's memories with his teammates that stand out most to him when looking back at his time playing in the league.
"I was playing against the best players in the world and to be given some of the accomplishments and awards I won was very special and cool to me," Powell said, "but it was really about the time spent around teammates. At the end of the day, that's what I look back on and reflect on often. Some of my best friends are past teammates from Major League Lacrosse and I still keep in contact with them today."
In fact, many of those friends reached out to Powell this summer after Powell Lacrosse partnered with the league for MLL's 20th Anniversary Season. Powell said this was the first time that the brand had seen their products on the field, aside from various endorsement deals over the years.
"Because of our relationship with Major League Lacrosse, this was the first time that we had players able to use our product in competition," said Powell. "That was really exciting. To get to see the players using our gear in Annapolis this summer and to see Bryce [Wasserman] win the MVP with a Powell stick and wearing Powell gloves was very exciting."
Aside from the brand's partnership with Wasserman and Scott Hooper of the Boston Cannons, both of whom are Powell athletes and had "a hell of a tournament", all players used Powell Lacrosse pinnies, performance apparel and socks.
"It was exciting to have our brand represented by some of the league's best players," Powell said. "They all performed extremely well and being associated with a professional league like Major League Lacrosse was a major step for us as a brand. It was a great opportunity and a great experience all around, and we hope that this is a long standing relationship that we continue to build. We want to see Major League Lacrosse continue to be impactful for lacrosse players across the country and to build friendships with the players like I've had the opportunity to do."
• Discuss this story on the Major League Lacrosse message board...


Major League Lacrosse Stories from October 29, 2020
The opinions expressed in this release are those of the organization issuing it, and do not necessarily reflect the thoughts or opinions of OurSports Central or its staff.