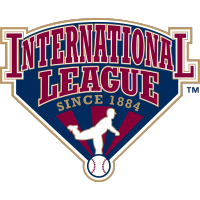 International League News And Notes
May 15, 2008 - International League (IL) News Release



BUFFALO BISONS
BACK WHERE HE BELONGS: LHP Jason Stanford began the 2008 season with the Clippers, but is back with the Bisons for his Buffalo Modern Era record eighth consecutive season with the team. Stanford was released by the Nationals on April 21 and signed by the Indians three days later. Since his return, the southpaw has been lights out with a 1-1 record and a 1.66 ERA in four games. Already the Bisons Modern Era Strikeout King (304 K), Stanford also ranks 3rd in innings pitched (402.2 IP), 4th in starts (66) and tied for 4th in wins (26) in his Bisons career.
JUST LIKE DAD: The Bisons have a couple of baseball sons performing well with the team. INF Josh Barfield, son of former A.L. All-Star OF Jesse Barfield, is currently on a 12-game hit streak where he has averaged .288 (15-52). It's the longest stretch for Buffalo this year and the second-longest active streak in the IL. Barfield leads the Bisons with 41 hits and is second with 18 runs scored. INF Aaron Herr, son of former N.L. All-Star INF Tommy Herr, leads the Bisons in all three triple-crown categories (.271, 5 HR, 22 RBI). He's also 1st on the team with 3 triples and 19 runs scored.
"ALL ABOARD": OF Shin-Soo Choo has begun his Major League rehab assignment with the Bisons. Choo has been out since having "Tommy John" surgery on his left arm on September 25, 2007 (Dr. Lewis Yocum, Los Angeles). Last season, Choo missed more than two months because of the injury. In 59 games with the Herd in '07, Choo hit .260 (54-208) with 3 HR, 26 RBI and 10 stolen bases.
CHARLOTTE KNIGHTS
ELDRED AND BROADWAY RECEIVE HONOR: INF Brad Eldred was named the International League's Batter of the Week. This is the second time in Eldred's career he has received this honor. Eldred was at or near the top of several offensive categories in the IL last week. Among the top spots, Eldred was 1st in extra-base hits with ten, doubles with six, and with a slugging percentage of 1.033. This season Eldred is 1st in the IL in RBI with 35. He is in 2nd in home runs with 12. Eldred has seen his batting average rise to .301. Teammate RHP Lance Broadway was named the International League's Pitcher of the Week. The Knights won three of their eight games last week and Broadway was credited with two of the wins. Both of those wins came to teams who are leading their division. So far this season Broadway has a 1.13 ERA in 48.0 innings pitched with a record of 5-1.
BACK-TO-BACK SUCCESS: On the day he was named the IL Batter of the Week, Brad Eldred hit a solo home run to lead off the 2nd inning off of rehabbing Toledo starter Dontrelle Willis. Eldred's home run was immediately followed by one from INF Royce Huffman. It was the first time this year that the Knights have hit back-to-back home runs.
ROSTER MOVES: The Knights added C Jared Price to their roster from Double-A Birmingham. Price replaced C Ryan Smith who retired. The Knights also placed RHP Rob Bell on the disabled list. The Knights received OF Thomas Collaro from Birmingham to fill Bell's roster spot. Collaro has been valuable so far, as he has hit home runs in his last two games.
COLUMBUS CLIPPERS
FOUR DAYS IN THE VALLEY: A trip to Lehigh Valley was all Yurendell de Caster needed to break out of his mini-slump to start the month. Through the first eight games of May, de Caster was hitting .192 (5-26) to drop his batting average to .250. In four games at Coca-Cola Park (May 9-12), his bat caught fire to the tune of a .750 (9-12) average with 2 HR. De Caster has since gone 2-6 in Rochester and seen his batting average rise 76 points to .326 since the start of the road trip.
EIGHT, FINALLY GREAT: Five times this season a Clipper has seen his hitting streak halted at seven games, with Larry Broadway (April 30-May 8), Ryan Langerhans (April 29-May 7), Ray Olmedo (April 22-May 1), Tommy Murphy (April 23-29) and Pete Orr (April 13-19) all making it to the cusp of an eight-game hitting streak. Collectively, those five Clippers went 0-16 with 2 RBI and 2 K when going for number eight. On Tuesday, Alex Escobar was finally able to break through when he singled at Rochester to record a hit in eight consecutive games. He notched another hit yesterday in Rochester and is currently riding a team-high nine game streak (.344, 11-32). Yurendell de Caster is nipping at Escobar's heels after hitting in his eighth straight game yesterday (.542, 13-24).
DUAL THREAT: Monday night Bobby Brownlie doubled twice at the plate and knocked in a run, becoming the second Columbus pitcher this season to have a multi-hit game (Jason Bergmann, two singles on May 4 vs. Lehigh Valley). Since the Clippers became affiliated with the Washington Nationals (2007), Bergmann and Brownlie are the only pitchers to record multi-hit games. Only two pitchers (Chris Michalak-3, Levale Speigner-2) had multiple hits last season.
DURHAM BULLS
HIT PARADE: Durham made it two straight wins over Toledo yesterday, with a resounding 14-4 come-from-behind victory. Durham scored six runs in the 7th and again in the 8th to erase a 4-2 deficit. Durham's 14 runs and 17 hits yesterday were a season-high. A total of eight of nine Bulls had a hit, all nine scored a run, and six drove in runs.
BANNON BASH: Jeff Bannon played his first game for the Bulls since April 26 yesterday and became the first Durham player this year to homer twice in a game. Bannon homered to start the six-run 7th and capped the six-run 8th with a three-run blast.
STRUGGLING TO SCORE NO MORE: Before the last three games, Durham hadn't scored more than four runs in a win since April 27, an 11-4 win at Charlotte. Now Durham has done it in three straight games, scoring 28 runs in those three contests. Durham still has scored three runs or less in 23 of 39 games.
CHANGES: It wouldn't seem to be a day for baseball without another transaction. Durham made two moves yesterday, bringing the total for the year to 57. Elliott Johnson was put on the temporarily inactive list, as he left the team because of a death in the family. Jeff Bannon was activated from the Hudson Valley roster. Durham had only 12 transactions at this time last year, and just 97 for the year (including the playoffs). The multiple changes began early, in part because Durham's parent team, Tampa Bay had nine players on the DL at one point. That number is down to three, as RHP Al Reyes came off the DL yesterday, leaving RHP Chad Orvella, INF Willie Aybar and OF Rocco Baldelli. RHP Juan Salas, who pitched two innings for Durham Monday on rehab, is on the restricted list.
INDIANAPOLIS INDIANS
WILSON JOINS TRIBE ON REHAB ASSIGNMENT: Jack Wilson, who was named to the 2004 National League All-Star team, has joined the Indians on a Major League rehabilitation assignment. The 30-year-old played in just three games for the Pittsburgh Pirates before suffering a strained left calf on April 3. Wilson, who owns over six years of Major League service time, has been Pittsburgh's starting shortstop each season since 2001. He has played in at least 135 big league contests in each of the past six campaigns. Wilson entered the season with a .269 batting average, 55 HR and 336 RBI in 997 Major League games. He has collected 264 multi-hit contests and 66 multi-RBI affairs in his seven-year big league career. Wilson hit .296 with 12 homers, 56 RBI and 67 runs in 135 contests a season ago. He committed a career-low 11 errors and ranked 2nd in the National League with 112 double plays turned. Wilson was acquired on July 30, 2000, in a trade that sent pitcher Jason Christiansen to the St. Louis Cardinals.
AMONG THE IL'S BEST: Indianapolis OFs Andrew McCutchen and Kevin Thompson rank among the International League leaders in several offensive categories. McCutchen places in the top 10 for stolen bases (T-3rd, 12), runs (T-6th, 25), walks (T-8th, 20), hits (T-9th, 42) and doubles (T-10th, 10). Thompson ranks in the top 10 for runs (T-6th, 25), batting average (10th, .319), on-base percentage (T-10th, .392) and doubles (T-10th, 10).
THOMPSON KEEPS ROLLING: Indians OF Kevin Thompson has reached base in 30 of his last 31 contests (.336 BA, 37-110, 25 R, 12 RBI). The 28-year-old posted a 25-game on-base streak (.367 BA, 33-90, 23 R, 12 RBI) from April 6 to May 8.
RUNNING IS WHAT WE DO: Indianapolis ranks 2nd in the International League with 44 stolen bases. The Indians have paced the IL in thefts in each of the past three seasons (163 in 2007, 180 in 2006 and 163 in 2005).
LEHIGH VALLEY IRONPIGS
OUT OF MILB'S CELLAR: With wins in their last two games, the IronPigs no longer own the worst record in Minor League Baseball. At 10-31 (.244) they have a full-game lead over the St. Lucie Mets (Florida State League, NYM) at 8-31 (.205).
WHY KNOTT?: The IronPigs acquired OF Jon Knott from Rochester on May 1. Knott has reached base safely in all 12 games as an IronPig and has tied the franchise record (Andy Tracy) with his current 11-game hitting streak (17-37, .459-2-6, 4 2B, .730 SLG). He also has two walk-off, game-winning hits (HR, 1B) on the current homestand.
FIRSTS: The IronPigs are 5-1 on their current eight-game homestand. During the span, they have had their first: extra-innings win (May 9 vs. Columbus), walk-off win (May 9 vs. Columbus), win in a one-run game (May 9 vs. Norfolk), three-game winning streak (May 9-11) and shutout (May 13 vs. Norfolk). The 'Pigs 7-0 win on May 13 was LHV's largest victory of the season and the first shutout for the Phillies' Triple-A affiliate since August 30, 2007-G1 vs. Rochester when RHP Gary Knotts tossed a 7-inning shutout (46 games ago). The last 9-inning shutout came August 3, 2007 vs. Syracuse, when LHP J.A. Happ went the first 6.1 IP of a 5-0 win (71 games ago).
NO MORE OFFENSIVE OFFENSE: The IronPigs are batting .274 (92-336, 8 HR) in the last 10 G, raising the team AVG from .214 to .229. They have averaged 5.1 R/G after averaging just 2.3 R/G in the first 31 games of 2008. They're also batting .322 (29-90) w/ RISP in the 10 G after starting .151 in those situations.
WHO'S HOT?: 1B Andy Tracy has reached base safely in 22 of his last 23 G. He would have reached in 23 straight but had his streak halted at 19 as a PH on 5/11... OF Brandon Watson has hit safely in 11 of his last 13 G (20-50, .400, 14 R). He has multi-hit G in 6 of his last 9 G and has scored at least 1 R in 8 of his last 9 G (12 R)... INF Mike Cervenak has at least 1 RBI in each of his last 7 GS (.387-1-12, 12-31)... OF Rich Thompson has hit in 8 of his last 9 starts (13-36, .361-1-3, 3 2B, 3B, 8 R)... 3B Brennan King has hit in 8 of his last 10 G (11-36, .306-0-5) and hasn't committed an error in his last 22 G... LHP Les Walrond has not allowed a R in his last 9.1 IP... LHP Stephen Randolph has not allowed a R in his first 2 G and 3.0 IP with LHV. He has a personal 6.1 scoreless IP streak.
LOUISVILLE BATS
LEAGUE LEADERS: OF Jay Bruce and INF Andy Phillips are both among the IL's top 10 batting leaders; Bruce is leading the League with a .366 average and Phillips is hitting .327, good for 7th. Bruce also leads the IL in hits (53), is tied for 5th in homers (8), and is tied for 2nd in RBI (33), slugging percentage (.6662) and triples (5). RHP Justin Lehr is tied for 8th in the League with a 2.41 ERA, RHP Tom Shearn is tied for 2nd in wins with six, RHP Jon Adkins is 4th in the League with seven saves and RHP Homer Bailey is tied for 5th in innings pitched (50.2) and strikeouts (40).
PHILLIPS 17-GAMER: INF Andy Phillips is currently on a 17-game hitting streak (April 27-present) which is the longest by a Bat this season and the longest in the IL. Phillips is batting .373 (25-67) with 12 runs, six doubles, 17 RBI and three home runs during this time and has raised his average from .277 to its current mark of .327. Phillips is 2nd on the team with 12 multi-hit games, four behind leader Jay Bruce's 16, and he hit home runs in three straight games (May 6-8). This is the longest hitting streak by a Bats player since INF Joey Votto's 17-gamer last season. INF Brandon Larson has the longest hitting streak in franchise history at 26 games (2003).
3-4 UNSTOPPABLE: Since Saturday, May 10, when Jay Bruce and Andy Phillips have been the 3-4 batters in the lineup, in five games the two are a combined 19-35 (.543) with 11 runs, 14 RBI and 11 extra-base hits.
JANISH TO THE BIGS: SS Paul Janish was recalled by the Reds yesterday and made his Major League debut last night. In his second at-bat, he hit a walk-off single to win the game for the Reds, 7-6, in the 10th inning versus Florida. In 35 games for the Bats this season, Janish batted .293 with four home runs and 20 RBI. He went 4-4 with four runs scored, two doubles, a grand slam and six RBI (career high), April 27 vs. Columbus; the four hits matched career high set five other times.
AS A TEAM: On offense, the Bats lead the IL in batting average (.270) and hits (372) and are 2nd in runs (194). Louisville pitching is tied for 7th in ERA (3.89), tied for 2nd in shutouts (4), 4th in saves (14) and is 2nd in fewest walks (114).
NORFOLK TIDES
DYNAMIC DUO: Luis Terrero and Oscar Salazar have combined for 63 RBI this season, a total that is 41% of Norfolk's overall RBI total. Terrero leads the O's system and is 4th in the IL with 33 RBI, while Salazar is 2nd in the organization and tied for 5th in the League with 31 runs batted in. The pair have also combined for 93 hits this season, a total that is 27% of Norfolk's total as a team. Salazar is 2nd in the O's system and 2nd in the League with 47 hits, while Terrero is 3rd in the organization and tied for 3rd in the IL with 46 base hits. No teammates in the IL have combined for more hits than Terrero and Salazar, and only two teammates in the League have driven in more runs, as Toledo's Mike Hessman and Jeff Larish have combined for
64 RBI.
ON BASE A LOT: Oscar Salazar has reached base safely via a hit or a walk in 16 consecutive road games, while Luis Terrero has reached base safely in 15 straight road contests. Salazar's 16-game road streak is tied for the 2nd-longest in the IL this season, and he has hit .387 (24-62) with five home runs and 19 RBI over that stretch. Terrero's 15-game stretch is tied for the 5th-longest in the IL this year, and he has hit .322 (19-59) with three homers and 15 runs batted in during that time. Buffalo's Andy Gonzalez has the longest stretch of reaching safely on the road, as he currently has a 19-game streak.
TOUGH STARTS: Norfolk has struggled to start the month of May, posting a 2-12 mark through Wednesday's action. Norfolk's starters have posted an 9.60 ERA (69 ER, 64.2 IP) this month, while Tides relievers have posted a 2.98 ERA (17 ER, 51.1 IP).
PAWTUCKET RED SOX
PAW PRINTS: The Boston Red Sox yesterday afternoon recalled OF Jonathan Van Every from Pawtucket. Van Every started for the Red Sox yesterday in Baltimore (CF) and had a single in his second AB (going 1-3) in his major league debut. He was hitting .287 in 40 games for the PawSox with 6 HR, 20 RBI, and 4 SB. He was the leading outfielder as far as fielding pct., making 0 errors in 100 total chances (98 PO and 2 A) in 40 games in CF...Earlier in the week the news was not as good for long time PawSox LHP Abe Alvarez who was released on Monday. Alvarez was 2-1 with a 6.46 ERA in 13 games (1 start) for the PawSox this season in his fourth year with Pawtucket...INF Jed Lowrie was optioned back to Pawtucket from Boston on Monday but he made an impact with both the Red Sox and PawSox in a matter of days. Lowrie was promoted to Boston on April 10 and made his major league debut with the Red Sox appearing in 17 games and hitting .310 with 1 HR (Saturday night in Minnesota) along with 7 RBI. He was told he was returning to Pawtucket on Sunday night and immediately jumped back into the PawSox line-up and homered in his first game back on Monday vs. Norfolk. It's probably a safe bet that not too many players homer in their last game for a big league club and then a day later homer in their first game back with a minor league club...OF Jeff Bailey has been blistering in his last three games going 6-13 with 4 HR and 11 RBI. He is having a fine month of May as well hitting .364 in 13 games with 6 HR & 17 RBI and is currently 9th in the League in batting (.320) and 4th in HR (9).
DROPKICKING THEIR WAY TO MCCOY: The Pawtucket Red Sox, in conjunction with MassConcerts, are pleased to announce that the Dropkick Murphys along with the Mighty Mighty Bosstones will come to McCoy Stadium in Pawtucket, RI on Saturday, July 12 at 6:00 p.m. The Dropkick Murphys, the Boston-based band that has become synonymous with the Boston Red Sox ("Tessie") and former PawSox reliever Jonathan Papelbon ("I'm Shipping Up To Boston" - the song that is played each time the Red Sox closer enters a game), will actually be making their way up through the Red Sox Minor League system as they play in Class-A Lowell on July 10 and in Double-A Portland on July 11 prior to their show in Pawtucket July 12.
RICHMOND BRAVES
SETTING THE TEMPO: The Braves have enjoyed sole possession of 1st place in the IL South every day since April 9. Richmond has held or shared the South lead for all but two days this season. The Braves have enjoyed a lead of at least 3.5 games every day since May 4 while compiling a 6-5 record over that span. Their largest lead this season was 5.5 games on May 9.
STARTING TO DEAL: Braves starting pitchers have allowed just one run in their last 14.1 innings. Francisley Bueno has not allowed a run over 12 innings in his last two starts. Charlie Morton has allowed just one run in his last 14.1 innings over two appearances. All five Braves current starters have made at least one relief appearance this season. Four pitchers who started a game with Richmond in 2008 are currently with Atlanta (Jorge Campillo, Chuck James, Jo-Jo Reyes, and currently disabled Buddy Carlyle).
GOING YARD: The Braves back-to-back-to back home runs in the 6th inning Tuesday vs. Indianapolis marked the first time this season the Braves hit more than one home run in a game. The last time the Braves hit back-to-back-to-back homers in a game was August 5 last season at The Diamond vs. Louisville when Martin Prado, Brandon Jones, and Brayan Pena smacked back-to-back-to back homers. It was the Braves first three home run game since hitting three at Durham last August 23. It was the Braves first three home run inning since they crushed three in the 10th inning (non-consecutively) at Charlotte last August 7. Richmond has not allowed back-to-back home runs this season.
ROCHESTER RED WINGS
CHICKS DIG THE LONG BALL: Outfielder Denard Span has hit a home run in three straight games. Span is the first Red Wings player to hit a home run in three consecutive games since Justin Morneau June 14-16, 2004 (Morneau also hit a home run in three straight April 30-May 2, 2004 as did Chris Heintz April 29-May 1, 2004). If Span could hit a home run in four consecutive games he would become the first Red Wings player to do so since Sam Horn June 23-25, 1990. Horn hit six home runs during that four-game stretch.
YOU'RE STILL THE ONE: Going into today's game outfielder Jason Pridie is the only Red Wings player that has played in all 41 games this season. Since 1988 only three players have played 135 or more games in a season (Danny Clyburn 137 games in 1997, Garrett Jones 140 games in 2006 and Denard Span 139 games in 2007).
MAC ATTACK: Outfielder Darnell McDonald has been on fire the last 18 games batting .366 (26-71) with nine doubles, three triples, three home runs and 22 RBI. McDonald has 10 multi-hit games and 16 runs scored in those 18 games. Darnell started the season on the DL with a strained back but since coming off on April 15 he's got 26 RBI in his first 29 games this season.
SCRANTON/WILKES-BARRE YANKEES
STOPPING THE STREAK: The Yankees will look to snap a two-game losing streak for only the third time this season and avoid matching the team's season long losing streak at three. In the previous two occasions the Yankees have tried to snap a two-game slide, the club is 1-1. Louisville beat SWB 11-0 on April 8 to extend the Yankees losing streak to a season long three games. SWB avoided matching the season long losing streak with a 10-6 win @ Buffalo on April 29th.
HOMERS EQUAL WINS
Scranton/Wilkes-Barre has hit 33 homeruns on the '08 season, including a pair of long balls on Wednesday at Louisville. Despite dropping the game to the Bats yesterday 11-6, normally when the Yankees homer it leads to a victory. In the 20 games in '08 that the Yankees have left the building the team has gone 16-4 for a winning percentage of .800
UNLUCKY vs. KENTUCKY
The Yankees still have the chance to even the four game series at Louisville at two game a side if the team can rebound from losses in the first two games and win the next two. Even with a four game split at Louisville Slugger Field, the Bats will still win the season series after taking five of the first six against Scranton/Wilkes-Barre. The Yankees have all ready won the season series over Charlotte and Durham.
TOLEDO MUD HENS
HENS DIG THE LONG BALL: The Mud Hens have hit 67 home runs on the season which is the most in professional baseball. They have 20 multiple-HR games and have hit home runs in 37 of their 41, despite being shutout twice. 1B Jeff Larish and 3B Mike Hessman account for 29 of the 67 home runs. In the IL, the Charlotte Knights are ranked 2nd in home runs with 42 and in the Pacific Coast League the Albuquerque Isotopes have 58, which is the closest to the Hens. Toledo is even out-hitting the Major League teams. The Florida Marlins are leading MLB with 58 home runs, but that is still nine behind the Mud Hens.
CENTURY CLUB: Toledo's all-time home run leader, 3B Mike Hessman, hit his 100th home run in a Mud Hens uniform on May 12 at Charlotte. Hessman also leads the International League with 18 home runs on the season.
FLASHING THE LEATHER: The Mud Hens are tied for the lead in all of Minor League Baseball with a .984 fielding percentage. They have committed just 25 errors in 1,543 total chances. The Louisville Bats are closest with a .983 fielding percentage (26-1568).
PERFECTING THE PITCH: Mud Hens closer RHP Blaine Neal leads all of Minor League Baseball in saves (13) and RHP Eddie Bonine is tied for 1st with the most wins in all of Minor League Baseball with seven. RHP Chris Lambert is ranked 6th in the IL with a 2.31 ERA.
• Discuss this story on the International League message board...


International League Stories from May 15, 2008
The opinions expressed in this release are those of the organization issuing it, and do not necessarily reflect the thoughts or opinions of OurSports Central or its staff.