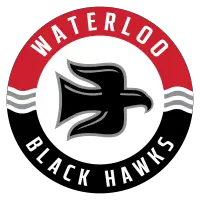 Hawks Fall in Back-And-Forth Tilt
November 28, 2021 - United States Hockey League (USHL) - Waterloo Black Hawks News Release



Two third period goals by Robert Flinton nudged the Cedar Rapids RoughRiders past the Waterloo Black Hawks Saturday in a 5-3 decision at Cedar Rapids Ice Arena.
With 7:10 remaining, Flinton broke a 3-3 tie, hitting the top corner on a slippery setup from Logan Morrell. Waterloo played much of the last 2:45 with an extra attacker, but to no avail, and with 7.1 seconds to go, the puck found Flinton again for an empty-netter.
Cedar Rapids had opened the scoring and started their teddy bear toss with a goal 4:31 into the game; the puck came across the slot to Grant Ahcan waiting at the doorstep, and he lifted it over Jack Williams' pad.
The lead was short-lived, as the Hawks answered less than two minutes later. Garrett Schifsky won a faceoff back to the right point; Tyler Procious returned it to Schifsky with Owen Baker in the middle. Schifsky was set up at the right circle hashmark and fired a low shot inside the opposite post.
Morrell put the RoughRiders back ahead 4:21 before intermission, capitalizing with a scramble just outside the crease.
Waterloo swung to the lead with a pair of goals early in the second. The teams were skating four-on-four when Adam Cardona hit Michael LaStarza with a breakaway pass; the veteran outwaited Connor Hasley, going to his backhand to produce a game-tying goal at 2:14.
Less than two minutes later, Waterloo was in front. Jake Rozzi blocked a shot in the defensive zone, sending the Hawks to the neutral zone with numbers. John Waldron gained the line, then stepped outside and around a defender in the left circle, getting to the edge of the crease before putting his chance past Hasley.
The RoughRiders brought the game back even at 14:02 of the second as Adam Flammang scored from the slot on Zaccharya Wisdom's drop pass.
Waterloo is home for their next three games, beginning Friday against the Sioux Falls Stampede. The game is part of the Hawks' Military Appreciation Weekend, with free tickets for all active-duty service members and veterans. For seats, call the Domino's Black Hawks Box Office or visit tickets.waterlooblackhawks.com.
Waterloo 1 2 0 - 3
Cedar Rapids 2 1 2 - 5
1st Period-1, Cedar Rapids, Ahcan 5 (Peters), 4:31. 2, Waterloo, Schifsky 7 (Baker, Procious), 6:24. 3, Cedar Rapids, Morrell 2 (Flinton, Peters), 15:39. Penalties-Hanley Cr (holding), 9:46; McCormick Wat (holding), 13:15; Reiners Wat (roughing dbl minor, misconduct-abuse of official), 16:05; Flammang Cr (misconduct-abuse of official), 16:05; Wisdom Cr (roughing, misconduct-abuse of official), 16:05.
2nd Period-4, Waterloo, LaStarza 5 (Cardona), 2:14. 5, Waterloo, Waldron 6 (LaStarza, Wylie), 4:08. 6, Cedar Rapids, Flammang 8 (Wisdom, Fleming), 14:02. Penalties-Wylie Wat (holding), 0:30; Morrell Cr (high sticking), 0:30; McCormick Wat (cross checking), 8:34; Geary Wat (major-fighting, misconduct-fighting), 11:36; Moore Cr (major-fighting, misconduct-fighting), 11:36.
3rd Period-7, Cedar Rapids, Flinton 2 (Morrell), 12:50. 8, Cedar Rapids, Flinton 3 (Flammang), 19:53 (EN). Penalties-LaStarza Wat (goalie interference), 3:31; Burtch Cr (hooking), 5:55.
Shots on Goal-Waterloo 7-11-8-26. Cedar Rapids 17-8-9-34.
Power Play Opportunities-Waterloo 0 / 2; Cedar Rapids 0 / 4.
Goalies-Waterloo, Williams 6-5-0-1 (33 shots-29 saves). Cedar Rapids, Hasley 6-5-0-0 (26 shots-23 saves).
• Discuss this story on the United States Hockey League message board...


United States Hockey League Stories from November 28, 2021
The opinions expressed in this release are those of the organization issuing it, and do not necessarily reflect the thoughts or opinions of OurSports Central or its staff.
Other Recent Waterloo Black Hawks Stories