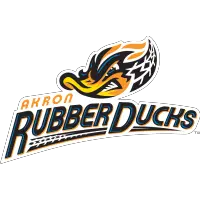 Guardians Announce Rouglas Odor Returns to 2023 RubberDucks Field Staff
February 7, 2023 - Eastern League (EL) - Akron RubberDucks News Release



(AKRON, OHIO) - The Cleveland Guardians announced their 2023 Player Development staff assignments, returning three members of the 2022 RubberDucks coaching staff to Akron. Rouglas Odor will return as the RubberDucks manager for his fourth season - a franchise managerial record. Joining Odor in 2023 will be Brad Goldberg as pitching coach, Mike Mergenthaler as hitting coach, Ian Forster as assistant hitting coach, Daniel Robertson as bench coach, Jake Legan as athletic trainer and Mo Cuevas as strength and conditioning coach.
"We are so excited to welcome Rougie back for a fourth season leading the RubberDucks," RubberDucks President and General Manager Jim Pfander said. "It truly feels like family is returning with Rougie, Mike Mergenthaler and Jake Legan all back for another season. I can't wait to see this staff and the players take the field at Canal Park in 58 days."
Manager Rouglas Odor enters his 36th season with the Guardians organization as a player, coach and manager. The 2023 season will be Odor's fourth as RubberDucks manager, making him the longest-tenured Akron manager. Odor led Akron to a 79-59 record in 2022. He guided Akron to the Double-A Northeast championship and a 73-46 record in 2021. Odor also led the RubberDucks to a 61-79 record in 2019. He is 213-184 as RubberDucks manager. Odor ranks fourth all-time in franchise managerial wins.
"I am excited to be in Akron again, working with great people," Odor said. "We will have a great group of players again and new faces on the coaching staff. I am looking forward to seeing the fans and everyone in Akron!"
Odor was the first member of the Guardians organization to be a member of the Canton-Akron Indians, Akron Aeros and RubberDucks. He was an infielder for Canton-Akron for parts of the 1991, 1993 and 1994 seasons. Odor served as the Aeros hitting coach in 2012 and served as the RubberDucks hitting coach in 2014.
A native of Maracaibo, Venezuela, Odor was a 32nd round selection by Cleveland in the 1988 draft out of the University of New Orleans.
Pitching Coach Brad Goldberg enters his second season with the Guardians and first with the RubberDucks. In 2022, Goldberg served as a pitching development coach on the Arizona Complex staff.
A native of Beachwood, Goldberg pitched at the Ohio State University before being a 10th round selection of the Chicago White Sox in the 2013 draft. He spent six years between the White Sox and Diamondbacks systems appearing in 200 games. Goldberg made his Major League debut with the White Sox in 2017 with 11 relief outings.
Hitting Coach Mike Mergenthaler enters his seventh year with the Guardians organization and third season with Akron. Mergenthaler spent 2022 as Akron's assistant hitting coach after serving as the bench coach for the RubberDucks in 2021. Prior to coming to Akron, Mergenthaler was the bench coach with Lynchburg in 2019.
Mergenthaler was a 32nd round pick of the San Francisco Giants in the 2011 draft out of the University of Richmond. In two professional seasons, he hit .252 in 102 games.
Assistant Hitting Coach Ian Forster enters his fourth season in the Guardians organization and first season with the RubberDucks. Prior to coming to Akron, Forster spent 2022 as the hitting development coach on the Arizona Complex staff.
A graduate of North Olmsted High School, Forster played four years at Baldwin Wallace University in Berea.
Bench Coach Daniel Robertson enters his second season in the Guardians organization and first season in Akron. Prior to joining the RubberDucks, Robertson spent 2022 as the bench coach for Low-A Lynchburg.
A native of West Covina, California, Robertson was a 33rd round pick in the 2008 draft by the San Diego Padres out of Oregon State University. Robertson played 12 professional seasons including 148 Major League games. He appeared in 32 games as an outfielder for Cleveland in 2017.
Athletic Trainer Jake Legan enters his 10th season in the Guardians organization and third season with the RubberDucks. Prior to coming to Akron, Legan served as the athletic trainer for Lynchburg in 2019. He earned his bachelor's degree in Athletic Training from East Carolina, his master's degree in Exercise Physiology from the University of Akron and his Doctor of Athletic Training from Temple University.
Strength and Conditioning Coach Mo Cuevas enters his eighth season with the Guardians organization and first season in Akron. Prior to joining the RubberDucks, Cuevas served as the rehab strength and conditioning coach in 2022.
The Akron RubberDucks are the Double-A affiliate of the Cleveland Guardians. The RubberDucks season at Canal Park begins on Thursday, April 6 against the Erie SeaWolves at 6:35 p.m. Fans can purchase tickets by calling 330-253-5151 from 9 a.m. to 5 p.m. on weekdays, or visit akronrubberducks.com/. For more information about the team, please call 330-253-5151, visit the website at akronrubberducks.com, Facebook page facebook.com/AkronRubberDucks, or on Twitter @AkronRubberDuck, and Instagram @akronrubberducks.
• Discuss this story on the Eastern League message board...


Eastern League Stories from February 7, 2023
The opinions expressed in this release are those of the organization issuing it, and do not necessarily reflect the thoughts or opinions of OurSports Central or its staff.