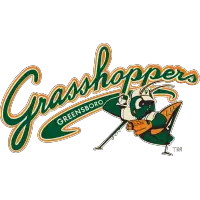 Grasshoppers Launch Endowment Campaign to Support
April 4, 2016 - South Atlantic League (SAL) - Greensboro Grasshoppers News Release



GREENSBORO, N.C. - The Greensboro Grasshoppers today announced it is kicking off a season-long fundraising campaign to help launch a new endowment in support of the Thanksgiving/Holiday Fund. The organization also pledged a $10,000 lead gift to get donations started.
The new Ken Conrad Legacy Endowment has been created at The Community Foundation of Greater Greensboro to help ensure the long-term stability of the Thanksgiving/Holiday Fund. The endowment also honors the late Ken Conrad, a prominent Greensboro businessman and longtime chairman of Libby Hill Seafood Restaurants, who passed away last December. Conrad, along with Mary Lacklen of Greensboro, founded the Thanksgiving Fund 30 years ago to provide holiday meals to area residents in need, people who otherwise would not get one.
"While so many of us have much to be thankful for and enjoy terrific feasts at Thanksgiving, there are many around us who would not get this same opportunity if it weren't for the Thanksgiving/Holiday Fund," said Donald Moore, president and general manager of the Greensboro Grasshoppers. "We feel that people can give thanks all year long - not just at Thanksgiving."
To this end, the Grasshoppers will promote giving to the Conrad endowment and collect donations at their baseball games in Greensboro. People in the stands will learn about the program and be encouraged to support the drive either online through a new GoFundMe site (www.gofundme.com/thanksgivingGSO) or at The Community Foundation's website (CFGG.org) or at cash donation boxes strategically placed throughout the Grasshoppers stadium.
"I'm from Greensboro, and I deeply believe in giving back to our community," Moore said. "I also knew Ken Conrad and understand how important someone's legacy is. The Thanksgiving Fund has been an integral part of this community's holiday season for three decades. It's critically important that we do all we can to ensure its long-term future and to preserve everything Ken and Mary have achieved with it over the years and going forward."
On Monday, Moore was joined by Lacklen, Conrad family members and representatives of The Community Foundation for a "meal on the mound" news conference - a gathering on the Grasshoppers pitcher's mound, decked out with a table set for an actual Thanksgiving-style meal. Food from this photo opportunity was then donated to the nonprofit organization Delancey Street.
Since its creation in 1986, the Thanksgiving/Holiday Fund has served nearly 100,000 holiday meals with the manpower of an estimated 10,000 volunteers - the majority of whom gave their time on Thanksgiving Day each year, Lacklen said.
"When this project started, Ken and I had no idea that it would quickly develop a life of its own. This has always been a truly a grassroots effort," Lacklen said. "Projects like this are not built alone. They take a community to build and sustain. It was through the mentorship of Ken Conrad that this wonderful idea became a reality. When Ken passed away a few months ago, I wanted very much to find a way to honor his important legacy."
On average, the Thanksgiving/Holiday Fund raises roughly $20,000 to support program operations each holiday season. But, Lacklen pointed out, as the problem of hunger has increased in Guilford County, so has turnout - and, in turn, the operational expenses for serving the need. The new endowment, when fully funded, is expected to supplement operations, and longtime, separate annual fall fundraising drives will continue.
"Successful and robust endowments can help ensure the stability of a program," said Walker Sanders, president of The Community Foundation. "And that is exactly what the Thanksgiving/Holiday Fund needs. That said, we also appreciate that for so many folks, giving annually to the fund's operations campaign has become an important part of their holiday experience. So there are two ways to support this program - by giving to the endowment and through the annual operations drive."
On Saturday at the Grasshoppers home game, The Community Foundation will honor both Conrad and Lacklen with its Community Game Changer Award. "What Ken and Mary together accomplished with this program epitomizes what our award is designed to honor - unsung folks who have, in a unique way, shown leadership and dedication to something that makes our community an even better place," Sanders said.
Guilford County Commissioner Justin Conrad, Ken Conrad's son, said the family's business, Libby Hill Seafood Restaurants, is joining the Grasshoppers in the summer fundraising campaign and will help promote giving to it at its stores.
"On behalf of our entire family, I want to thank the Grasshoppers for their generous support of a program that played a huge role in my dad's life," Justin Conrad said. "I know Dad is smiling down on this - a Thanksgiving 'meal on the mound' - and would be so pleased to know how much the program he helped start continues to mean to this community."
Images from this story
• Discuss this story on the South Atlantic League message board...


South Atlantic League Stories from April 4, 2016
The opinions expressed in this release are those of the organization issuing it, and do not necessarily reflect the thoughts or opinions of OurSports Central or its staff.
Other Recent Greensboro Grasshoppers Stories