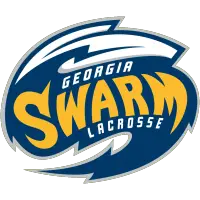 Georgia Swarm Pour It on Late for First Win of Doubleheader
March 7, 2020 - National Lacrosse League (NLL) - Georgia Swarm News Release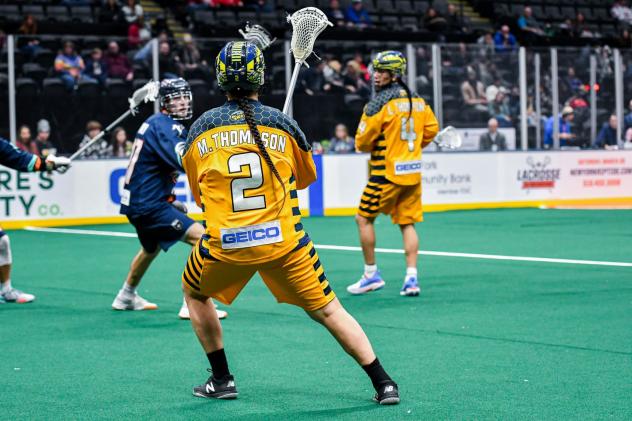 Miles Thompson of the Georgia Swarm awaits a pass against the New York Riptide
(Georgia Swarm, Credit: Alex McIntyre)
UNIONDALE, N.Y. - A slow start put the Georgia Swarm (7-4) behind the New York Riptide (1-12) for most of Saturday night's game, but a seven-goal fourth quarter helped secure the Swarm's 11-7 win at Nassau Veterans Memorial Coliseum.
After only one goal for the Swarm in the first half, they outscored the home team 10-5 the rest of the way, mirroring the narrative from nearly two months earlier where the Riptide had a comeback home victory courtesy of a seven-goal final frame.
"We ran into a hot goalie (Riptide netminder Gowah Abrams) and a pretty solid defense there to start," Swarm forward Bryan Cole said. "It shows the character of our team to just stick with it and be relentless in our principles. We had a better second half, and we came together, moving the ball a lot more and getting good cuts and obviously finishing. It was a great win, great team win, good job battling back, but time to flush it and move onto the Wings tomorrow."
An uncharacteristically slow first half from the offense saw the Swarm only net one goal, a diving effort courtesy of Lyle Thompson. Mike Poulin and the Swarm defense were stellar, only allowing two goals against. The goals came off of a broken play, which allowed Pat Saunders to net his first goal as a member of the Riptide, and a transition goal from captain Dan MacRae.
"I thought we played really well in the first half," Swarm head coach Ed Comeau said. "Defensively, we held a team to two goals. Offensively, we had tons of great chances. I thought we had excellent chances; the balls just didn't drop. It was frustrating. Their goalie played really well, made some really good saves ... Obviously, a 2-1 score doesn't look like you're playing great, but I thought we played pretty well. Some nights, the ball doesn't drop for you."
As the second half began with the Swarm down 2-1, Comeau preached staying the course to his team while in the locker room.
"We said at halftime, 'We don't need to change anything, just got to keep going at (Abrams),'" Comeau said. "We felt we could eventually get to him and get some balls behind him."
The shots started to drop; however, it was for both teams. Dan Lomas kicked off the scoring with a pick and roll, and the Swarm and Riptide traded the next six goals. Cole, Shayne Jackson, and Brendan Bomberry's first of the season were the Swarm's tallies in the third quarter, and the Swarm were down 6-4 heading into the fourth.
Zed Williams began the rally for the Swarm with a low, mid-range rip, and Cole followed up with a falling quick stick goal to even things at six apiece. Miles Thompson drew a five-min. major penalty as Tyson Bomberry hit him in the chin with a high stick, and Jackson's power play goal gave the Swarm their first lead of the night.
Lyle's second goal of the game ended the Riptide's major penalty and widened the Swarm's lead to two goals. Saunders netted himself a power play goal to close the gap slightly, but a Swarm run of three goals were to be the final ones scored Saturday night. The Swarm took the season series against the Riptide with an 11-7 win.
Lyle's seven points (2G, 5A) led the Swarm in scoring, followed by Randy Staats with six points (1G, 5A). Both Jackson and Williams recorded three points (2G, 1A) the same way.
For the fifth time this season, the Swarm defense held an opponent to single digits in goals. Mike Poulin made 39 saves for a 7.00 GAA and .849 SV%.
The Riptide had four players finish with three points. Abrams earned the loss after allowing 10 goals against, the final Swarm goal an empty netter. He posted an .815 SV%.
The Swarm quickly return home to welcome the Philadelphia Wings (7-6) to Harrah's Cherokee Casino Field at Infinite Energy Arena on Sunday, March 8. Face-off is set for 4:00 p.m. ET. The Wings fell to the New England Black Wolves (8-3) earlier on Saturday at Wells Fargo Center.
"Guys love playing lacrosse," Comeau said. "This is a chance to play another game in less than 24 hours. We'll be ready, but we know (the Wings) are going to come playing with a sense of urgency, having lost and wanting to keep up in the division. ?For us, we said we'll try to sleep fast, get some good rest and get some good recovery, and be ready to go tomorrow."
The Swarm are celebrating Heroes Night, recognizing those who enrich our lives and keep us safe - active military and veterans from all branches of service, EMS, fire and police first responders, and others who work selflessly to ensure our freedom and peace of mind. Tickets are available at GeorgiaSwarm.com/Hero or by calling 844-4-GASWARM.
Sunday's afternoon contest will air in the Metro Atlanta area on Atlanta's CW69 and over the radio on Atlanta Sports X 1230AM/106.3FM.
World War II U.S. Army veteran Luciano "Louis" Graziano will be honored during Heroes Night. Believed to be the last surviving witness of the signing of Germany's formal surrender at the "Little Red Schoolhouse" in Reims, France, Graziano will be selling and signing copies of his memoir, "A Patriot's Memoirs of World War II - Through My eyes, Heart and Soul," before the game, and he will be available for postgame autographs alongside Swarm players outside the West Suite Entrance of the Main Concourse of Infinite Energy Arena.
Images from this story
• Discuss this story on the National Lacrosse League message board...


National Lacrosse League Stories from March 7, 2020
The opinions expressed in this release are those of the organization issuing it, and do not necessarily reflect the thoughts or opinions of OurSports Central or its staff.