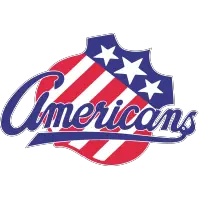 Game 6 Shifts Back To Rochester Tonight
April 25, 2010 - American Hockey League (AHL) - Rochester Americans News Release



Tonight, the Rochester Americans take their 3-2 series lead into Game 6 of their first-round best-of-seven North Division semifinals with the Abbotsford Heat. The 5:05 p.m. matchup will be broadcast live on SportsRadio 1280 WHTK and FM 107.3, Rochester's Sports Talk. The contest will also be televised live on Time Warner Cable SportsNet Channel 26. With a win this evening, Rochester can clinch the series and advance to the second round (North Division Finals) of the 2010 Calder Cup Playoffs for the first time since the 2004-05 postseason.
Welcome Back: The playoff series marks the Amerks' return to the postseason for the first time in three years and the 40th playoff appearance overall in the 54-year history of the franchise. Rochester has been a part of 77 playoff series over the years, in which it compiled a 205-182 record in 387 games during that time.
Head-to-Head: Rochester finished its regular season series with Abbotsford with a 1-3-0-0 record, including back-to-back losses at home against the Heat. In the postseason, however, the Amerks have won three of their last four, including two on the road, after falling in the first game of the seven-game series.
Series Notes: The Amerks come into Game 6 with one of the most potent offenses in the AHL this postseason, one that has scored a second-best 21 goals through just five games. In just the past three games alone, Rochester has accounted for 15 goals, outscoring Abbotsford 15-8 in that time and 21-12 throughout the series. Veteran forward Mike York scored Rochester's lone goal in its Game 6 loss and forwards Jeff Taffe and Shawn Matthias each assisted to extend their current point streaks to four games each. Tyler Plante, who has started the last four games for the Amerks, saw his three-game winning streak come to a halt following his 31-save losing effort.
Currently in the midst of the AHL's second longest point streak this postseason, York boasts a team-high 11 points (2+9) and has been on the scoresheet in each of the first five games of the series. Averaging exactly 2.20 points per game, York is currently tied for the AHL lead in playoff scoring with Hershey's Alexandre Giroux. A veteran of 579 NHL games, York also leads the league with nine assists, five of which have come on the power-play, also a league best. Defenseman Jordan Henry, who has four goals in his last five games, paces the team in that category and also leads the league in power-play goals with three. His four tallies are also the third most among the AHL's top scorers. Fellow defenseman Jason Garrison, who is fresh off a four-game point streak, leads all league blueliners in scoring with eight points (2+6). Further, the second-year pro ranks fifth and sixth overall in postseason assists and points, respectively. Tough-guy forward Steve MacIntyre is first on the team and third in the AHL with 23 penalty minutes. Plante, who shows a 3-1 record this postseason, presently ranks third and fifth among AHL netminders with a 1.95 goals-against average and a .946 save percentage, respectively. His three wins are sixth best. As a team, Rochester owns an AHL-best 34.6 power-play percentage, having converted on 9 of its 26 man-up opportunities.
Similar to as it did in the regular season, Abbotsford owns a league-high 176 penalty minutes in the postseason. Heat forward Garth Murray and defenseman Keith Seabrook are first and second on the team with 26 and 24 penalty minutes, respectively. The duo also holds the first and second league rankings in the same category. First-year forward Mikael Backlund paces Abbotsford with a team-high three assists, while his four points are equal to that of Brett Sutter for the team lead. Backlund also ranks tied for ninth in scoring among league rookies. Seabrook, Sutter and Jon Rheault all share the team lead with two goals apiece. Ex-Amerk goaltender David Shantz has started every game this series between the pipes in the playoffs, sporting a 2-2-0 record with a 3.78 goals-against average and a .846 save percentage.
Regular Season Notes
Amerks Notes: The 2009-10 regular season saw four different Amerks players reach the 20-goal plateau, a feat that was last accomplished by the 1996-97 team. Veteran forward Jeff Taffe finished with a team and career-high 28 goals, while team MVP Jamie Johnson came in a close second with 27. Second-year forward Michal Repik potted 22 goals for his first 20-goal campaign and two-time Calder Cup champ Graham Mink netted his 20th in the last game of the season
Rochester saw several of its team members officially make their American Hockey League playoff debuts in Game 1 last week, including Head Coach Benoit Groulx, while others entered the postseason for the first time in an Amerk uniform. Groulx led his team to a 44-33-2-1 record (91 points), a 25-point spike from last season, and his offense was the second best in the North Division, scoring a total of 253 goals. In fact, no current member of the Amerks active roster was on the 2006-07 team that played in the 2007 Calder Cup Playoffs.
Johnson led the way offensively with a team-high 71 points and was one of just two skaters to play in all 80 games throughout the regular season. A three-time Amerks player of the month, Johnson performed at under a point-per-game pace, en route to earning team MVP honors and the Amerks scoring champion award. The seventh-year pro finished 12th among the AHL's top scorers, while his 44 assists were 14th best in the league. Following his 71-point season, Johnson became the first player to reach the 70-point plateau since Chris Taylor last accomplished the feat during the 2004-05 campaign.
Taffe paced Rochester's offense with a team-high 28 goals, good enough for 14th in the AHL, and captured personal bests in that category. He also finished second among Rochester's active roster with seven power-play goals.
Veteran defenseman Clay Wilson, who made his Panthers debut this season, had the best offensive performance of his five-year professional career this season with the Amerks, one that earned him a spot on the 2009-10 AHL Second All-Star Team. Wilson captured career-highs in all offensive categories in goals (14), assists (46), points (60), penalty minutes (58) and games played (75), finishing second on the team and second among league blueliners in scoring. His 46 helpers were also a team-best. Further, he led the Amerks with 191 shots on goal and was fourth in the league with 24 power-play assists.
Alexander Salak completed his first professional season with a 29-14-0 record with a 2.89 goals-against average and a .910 save percentage in 48 games. The 2009-10 AHL All-Star finished his rookie campaign with 29 wins to finish fourth among league netminders. Salak also posted a career-best nine-game winning streak earlier in the season and was the recipient of three league awards. For his efforts, he was named the Amerks' 2009-10 Rookie of the Year. Plante also had a banner year between the pipes for the Amerks, collecting a career-best in all goaltending categories in wins (12), saves (701), shutouts (3), goals-against average (2.66), save percentage (.914) and games played (27). He also finished 13th among league goaltenders with three shutouts and was named the AHL Goaltender of the Month for March.
Abbotsford Notes: Abbotsford, who finished the regular season as the third-seeded team in the North Division with a 39-29-5-7 (90 points) record, earns its first trip to the postseason after only its first season as a member in the American Hockey League. Fifth-year pro Jason Jaffray led the Heat in every offensive category in goals (25), assists (29) and points (54), in addition to owning the team's best on-ice rating with a plus-24 through 72 games. The 2010 AHL All-Star also finished the campaign first on the team and fourth in the league with four shorthanded goals. As a team, the Heat racked up a league-high 1,796 penalty minutes, including 267 from J.D. Watt, who finished the season first on the team and fourth in the league in that category.
Shantz finished the season with a 15-10-4 record with a 2.75 goals-against average and a .908 save percentage in 32 games. His 15 wins were the most among Abbotsford's goaltending depth chart. Second-year netminder Leland Irving saw the most time between the pipes, however, posting a 14-17-2 record with a 2.76 goals-against average and a .905 save percentage.
North Division Semifinal - Series "F" (best-of-7):
N2-Rochester Americans vs. N3-Abbotsford Heat
Game 1: Thursday, April 15th at 7:05 p.m. at The Blue Cross Arena (ABB Leads 1-0)
Game 2: Saturday, April 17th at 7:05 p.m. at The Blue Cross Arena (Series Tied 1-1)
Game 3: Monday, April 19th at 10:00 p.m. (EST) at Abbotsford Sports and Entertainment Centre (RCH Leads 2-1)
Game 4: Wednesday, April 21st at 10:00 p.m. (EST) at Abbotsford Sports and Entertainment Centre (RCH Leads 3-1)
Game 5: Friday, April 23rd at 10:00 p.m. (EST) at Abbotsford Sports and Entertainment Centre (RCH Leads tied 3-2)
Game 6: Sunday, April 25th at 5:05 p.m. at The Blue Cross Arena
*Game 7: Tuesday, April 27th at 7:05 p.m. at The Blue Cross Arena
* if necessary
• Discuss this story on the American Hockey League message board...


American Hockey League Stories from April 25, 2010
The opinions expressed in this release are those of the organization issuing it, and do not necessarily reflect the thoughts or opinions of OurSports Central or its staff.