Fever Fall to Las Vegas in Front of Large Kids Day Crowd, 74-71
July 10, 2019 - Women's National Basketball Association (WNBA) - Indiana Fever News Release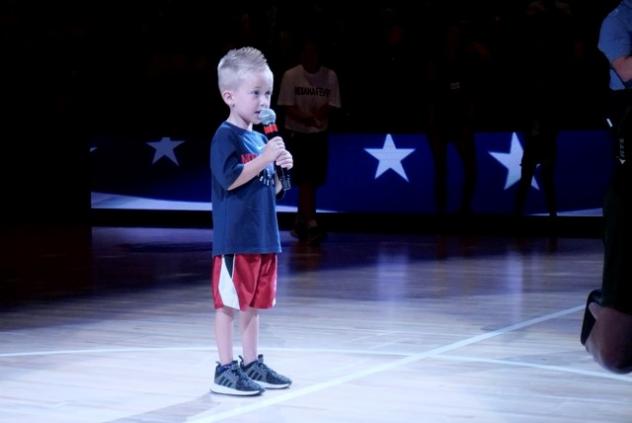 4-year-old Jake Schuman sings the National Anthem at an Indiana Fever Game
(Indiana Fever, Credit: Indiana Fever/Ron Hoskins)
KEY STAT:
A'ja Wilson's layup with 15 seconds left gave Las Vegas a 72-70 lead and ended up being the game-winner. Candice Dupree split a pair of free throws on the following possession and Wilson sealed the victory with two free throws of her own.
The Aces won the fourth quarter 18-10 and held the Fever to 4-of-17 shooting (23.5 percent). Las Vegas made seven of its 14 shots in the period.
Eight of Indiana's 11 turnovers came in the first quarter. The Fever did not commit another turnover until three turnovers emerged in the game's last five minutes.
KEY RUN:
Trailing 51-46 midway through the third quarter, Indiana closed the segment on a 15-5 run. The spurt gave the Fever a 61-56 advantage heading into the final 10 minutes.
After Shenise Johnson's first 3-pointer of the season put Indiana up 29-25, Las Vegas scored 11 straight points to take a 36-29 lead with 1:19 left in the second quarter. The Fever then scored six of the final eight points before halftime to trim the deficit to 38-35 at the break.
Indiana scored the first eight points of the game. Las Vegas started 0-for-7 from the floor and didn't register a point until the 6:00 mark of the first quarter.
INDIANA NOTES:
Erica Wheeler finished with a team-high seven assists. With her final assist of the game, Wheeler (468) passed Tully Bevilaqua (467) for No. 4 in Fever history.
Teaira McCowan (11 points, 12 rebounds) posted her third double-double of the season. McCowan has scored in double figures five of her last eight games and pulled down at least 10 rebounds in six of her last eight contests. She is the only player in the WNBA averaging a double-double since June 19.
Kelsey Mitchell connected on two 3-pointers and finished with 11 points. Mitchell has scored at least 11 points in 12 of her last 14 games.
Shenise Johnson set a new season high with nine points and hit two 3-pointers. Is was Johnson's highest total since 2017, when she was averaging 11 points per game before tearing her ACL.
The Fever won the rebounding battle 38-37. When these teams met in Las Vegas back on June 29, the Aces outrebounded Indiana 50-32.
Seven of Indiana's 10 losses this season, including both meetings with Las Vegas, have been two-possession games in the final minute.
With their next win, the Fever (6-10) will surpass their total from last season. Their next victory at home will also put them past the team's 2018 total.
LAS VEGAS NOTES:
Liz Cambage led the team with a game-high 19 points and tied for the team lead with six rebounds. Cambage has scored in double figure in 14 of the Aces' 15 games this season.
Kayla McBride (14 points), Kelsey Plum (14 points) and A'ja Wilson (12 points) also reached double figures. McBride, Plum and Jackie Young each recorded a team-high three assists. Wilson and Liz Cambage were the team's joint-leading rebounders.
The Aces turned 11 Indiana turnovers into 15 points while only allowing their 11 turnovers to result in three points. Las Vegas held a 7-2 edge in fastbreak points.
The Las Vegas franchise won its eighth straight game against Indiana. The Aces are 5-0 all-time against the Fever.
The victory was the Aces' fourth in a row. They have not lost since June 27 are the first WNBA team to win 10 games this season.
INDIANA QUOTES:
Head Coach Pokey Chatman
"I thought our D was solid enough to put us in position to win a basketball game - but evidently it wasn't. We had eight turnovers [in the first quarter] and then we had zero [until the last five minutes of the game]. What changed? We know we are good enough to win games, but we can't make errors at crunch time."
"We are disappointed because we let an awesome opportunity get away. Those crunch time possessions matter. I give credit to the opposition and Las Vegas is a great team with great players who made great plays. We've had two great games against one of the best teams in the league. If we have turnovers, I want it to be because they turn us over, not because we turn it over."
Candice Dupree
(On the missed free throw that would've tied the game at 72)
"It just went long, the second one. I knew it when it left my hand. Gotta make it. They're free throws, they're easy. Get back in the gym, work on those. Just try to eliminate mistakes, keep us from being in a position where we have to rely on free throws. But that was on me."
Teaira McCowan
(On the last few minutes of the game)
"They just made a few more shots than us. We turned it over in the last five minutes, so, you know, it was on us."
(On the team playing with more intensity when McCowan is in the game)
"They just know that when I'm in there that I'll have their help. If they need anything that would be off the bounce, I'm the second line of defense behind them, so they know I'm behind."
LAS VEGAS QUOTES:
Head Coach Bill Laimbeer
"Grinding out wins is what we're trying to do right now. Today was a hard-fought game. We didn't play well, but we got the win. That's the sign of a good team."
(On what allowed the team to rally in the fourth quarter)
"I thought we finally made some plays. We made some good defensive stops, made a couple mistakes, didn't get the rebound on a big shot and gave them a three-ball, but overall we made some good offensive plays to win the game."
Liz Cambage
"Every team's a good team this season, so you've just got to stay with it and stay tough, focus on getting the little things done."
"Every game's important. Every game means something. Every win you can get, you've just got to take it."
Kelsey Plum
"I think that we did a really good job with ball pressure, just playing tough. When that happens, we're able to kinda run and get what we want. I mean, they're a tough team to play so it's good that we got the win."
(On being able to win multiple ways)
"That's what you have to do in this league. You have to adapt. Every team is different, every game is different. It's a noon game, it's Kids Day, it's loud. We're on the West Coast coming to the East Coast, it's 9 a.m. for us. You just have to figure out how to win."
Images from this story
• Discuss this story on the Women's National Basketball Association message board...


Women's National Basketball Association Stories from July 10, 2019
The opinions expressed in this release are those of the organization issuing it, and do not necessarily reflect the thoughts or opinions of OurSports Central or its staff.