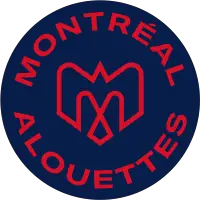 Camp Report-Day 18
May 31, 2023 - Canadian Football League (CFL) - Montreal Alouettes News Release



Trois-Rivières - Wednesday's practice was the final full session of training camp. The players will go through a final walkthrough tomorrow before they return to Montreal to take on the Hamilton Tiger-Cats on Friday night. Returner James Letcher Jr. made a great first impression in last week's preseason win over the Ottawa REDBLACKS. He was able to break a couple of long punt returns to put the offence in great spots on the field.
The 23-year-old attended rookie mini-camp with the NFL's Kansas City Chiefs at the beginning of May. He didn't land a contract with the Chiefs, so he decided to join the Alouettes on May 17, which was a few days after the start of training camp in Trois-Rivieres.
The fact that he got to camp late and performed as well as he did in the first exhibition game is an impressive accomplishment.
"I didn't really do too much research before coming into the CFL," Letcher Jr. admitted. "All the running around before the ball is snapped was throwing me off before I got here. As far as punt return, there are a lot of different rules. I didn't know there were 12 players on the field, and that threw me off a little bit. I was counting and asking myself why there were 12 people on the field. I was thinking there was a guy that needed to come off (laughs). I got used to that too. There is no fair catch. I have gotten used to that. I have also gotten used to the five-yard radius you get."
Even though Chandler Worthy is expected to be the main kick-returner for the Alouettes this year, Letcher Jr. can still potentially earn himself a roster spot with another strong showing against the Ticats.
"I want to get as many first downs for the offence as I can," the Washburn University alum said. "I want to hold it down just like I did in the first preseason game on punt returns."
A great opportunity for Davis Alexander
Head coach Jason Maas has made it clear that Cody Fajardo is the starting quarterback, but the number two spot on the depth chart is very much up for grabs.
Davis Alexander, Caleb Evans and Mike Glass are the other three quarterbacks on the roster, and each of them played during last week's game in Ottawa.
Alexander is the only quarterback on the roster this year that was also in the organization last year. He made a name for himself with his performance in the 2022 preseason, when he led the Alouettes on late fourth-quarter touchdown drives in Hamilton and at home against Ottawa.
Last week, he did the same thing, as he threw a touchdown pass to receiver Quartney Davis with the Alouettes trailing by nine points with under two minutes remaining in the game.
The Alouettes eventually won the game on a Jose Maltos field goal with no time remaining.
"I think if you were to monitor my heartbeat, it never really fluctuates," Alexander explained. "There is never a moment too big. It's our job to come back in situations like that and that's why quarterbacks get paid the big bucks. You have to stay true to yourself and true to your preparation. There should be less thinking out there."
The 24-year-old hasn't had it easy since turning pro last season. He's worked with three different offensive play-callers in the last year (Khari Jones, Anthony Calvillo and Jason Maas), which isn't ideal for any player, let alone a young quarterback.
"It's just like finding a rhythm with your receivers," the Portland State alum said. "You hope to get to the point where you're kind of expecting what Jason Maas' next call in going to be. Last year with (Calvillo), I felt like it got to a point where there were a handful of plays we were going to get to in the next situation. You want to get to a point where you can expect to understand what he's thinking on the sideline."
• Discuss this story on the Canadian Football League message board...


Canadian Football League Stories from May 31, 2023
The opinions expressed in this release are those of the organization issuing it, and do not necessarily reflect the thoughts or opinions of OurSports Central or its staff.