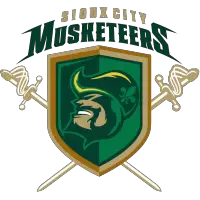 Bobby Brink Named USHL Forward of the Year
April 25, 2019 - United States Hockey League (USHL) - Sioux City Musketeers News Release



SIOUX CITY, IA | What a year it has been for Bobby Brink. A little over a year ago he was leading the Minnetonka Skippers to their first Minnesota State title in school history as a sophomore. After making the tough decision to leave home and join the Musketeers in the USHL Brink never looked back. What happened next will live on in the memory of Sioux City fans and USHL defenders who faced him for a long time. Brink put together one of the most dominant and impressive seasons in USHL and capped it off by being named the 2019 USHL Forward of the Year.
The season totals for the Denver commit look like this. In 43 games played this season Brink scored 35 goals with 33 assists for 68 points and a +23 rating.
Brink's 1.29 points per game rank 14th overall in USHL history ahead of players such as Jack Eichel (1.23) Casey Mittelstadt (1.23), Andrei Svechnikov (1.21) and Johnny Gaudreau (1.17).
To put that in perspective for Musketeer fans, Nashville Predators prospect Eeli Tolvanen finished his draft season in 2017 with 54 points (30 G, 24 A) in 52 games. Stanley Cup Champion Jake Guentzel finished the 2012-13 season with 73 points (29 G, 44 A) but needed 60 games to do it. When it comes to Musketeer history, few come close to Brink.
His 35 goals also tied the Musketeer franchise record for most goals in a single season (USHL Tier I) set by Bobo Carpenter during the 2014-15 season.
Head Coach Luke Strand, who coached many of the players named above, sees Brink in the NHL someday. Strand is proud of what Brink has accomplished and takes pride in helping his development " It's a great accomplishment for Bobby to win the Forward of the Year award. He has set a standard for himself and those around him to improve daily at their game, their routine and their execution. This is a very earned award by Bobby and his teammates, and we are proud to be a part of his development ladder."
Brink also recorded three hat-tricks and scored two goals in a game four different times. He also held the title of the longest point streak in the USHL this season, going 17 straight games with at least one point (10/27/18-2/19/19).
That streak is made more impressive by the fact Brink missed 19 games during that span. Five of those missed games were due to his participation for Team USA at the World Junior A challenge where Brink won a gold medal and was named tournament MVP. Musketeer Associate Head Coach Mark Abalan, who was one of Brink's coaches at the Junior A Challenge, believes Brink's ability to rise to the occasion will be what separates him from the pack going forward, "Bobby is a big-time player who truly loves the challenge of big moments. His passion and dedication to the game are at an elite level and are what helps separate him from other players."
After he returned for the tournament Brink missed 12 more games due to injury but never lost a step.
For his efforts during the regular season Brink was named the USHL Forward of the Week 5 times, tying a USHL record for the most in a career and set a new league record by winning the award three weeks in a row (3/25/19-4/8/19).
Brink's NHL potential has also skyrocketed throughout the season. He started the year listed as C-rated player on NHL Central Scoutings' players to watch list, highlighting him as a potential fourth to sixth-round pick. That put him behind teammate Marcus Kallionkieli who started the season as one of only seven USHL players to be given a B rating. Since then Brink has rocketed up every team's draft board and was recently ranked the 19th overall North American skater by NHL Central Scouting on their final draft watch list before the NHL Entry Draft in June where Brink will now surely be picked in round 1 or 2.
When asked to reflect on his season in the USHL and his achievements, Brink indicated a big reason for his success might have been because of how much he enjoyed his time in Sioux City "It's been super fun. The whole experience of coming here and playing with these guys has been some of the most fun hockey of my life. I'm really glad I decided to play here, and it's an experience I'm never going to forget."
While the focus was never on his success Brink is happy to be recognized for his efforts and credits the USHL with helping every aspect of his game "It's an honor to win this award in a league full of great players like the USHL. The USHL made me better in all aspects of my game by allowing me to play and practice against some of the best competition every day."
Musketeer Assistant Coach Ryan Durocher was on the ice for all of those practices and on the bench for every game saw Brink challenge that competition daily, but few if any could match his level. "Bobby is a unique talent that we were fortunate to coach this season, his competitiveness and ability to score goals is unmatched at this level. He plays in the hard areas not many players are willing to go. When you couple that while his skill and ability to think the game at such a high level, he is a very difficult player to stop."
Brink's and the Musketeer's season came to a close last week in a quadruple overtime loss to the Sioux Falls Stampede. Brink was held goalless in the two-game series but had little time to dwell and reflect on his USHL season coming to an end. He now finds himself in Sweden playing for Team USA at the U18 World Championships alongside notable draft prospects like Jack Hughes, Cole Caufield, and Spencer Knight.
Brink barely had time to rest before playing his first game in the tournament. Just two days after the end of the Musketeer season he was on a plane battling a flu bug and arrived just an hour before puck drop in a preliminary round game against Russia. None of that mattered to Brink, as Musketeer Assistant GM and Director of Scouting said: "Bobby Brink is a hockey player, he's going to make an NHL team look very smart someday" and that day looks to be coming very soon.
Be sure to stay up to date with USHL social media as the NHL Entry Draft approaches in June. The Musketeers will have their own USHL drafts coming up at the beginning of May as they start to plan for next season so be sure to stay updated with everything Musketeers by following us on Facebook, Twitter, and Instagram.
• Discuss this story on the United States Hockey League message board...


United States Hockey League Stories from April 25, 2019
The opinions expressed in this release are those of the organization issuing it, and do not necessarily reflect the thoughts or opinions of OurSports Central or its staff.