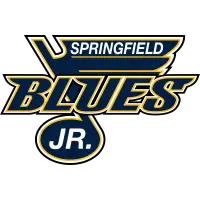 Alumni Report: November 17th, 2021
November 17, 2021 - North American Hockey League (NAHL) - Springfield Jr. Blues News Release



Springfield, Illinois - The Springfield Jr. Blues are proudly represented by nearly 140 alumni stretching across numerous junior leagues, NCAA, ACHA, and professional leagues. With almost everyone underway with their 2021-22 seasons, we have quite a bit to get through this afternoon. Here is this week's Alumni Report!
We begin today in beautiful Pensacola, FL as the reigning SPHL Champion Ice Flyers recently named a new captain - forward Brennan Blaszczak, who is entering his 3rd season with the club. The Las Vegas, NV native currently has 5 goals and 4 assists in 8 games as his Ice Flyers are currently 4-4-1 and in 6th place in the league. Blaszczak tallied two goals over the weekend as the Ice Flyers were unable to do much against the undefeated Huntsville Havoc. In 45 career SPHL appearances he has tallied 11 goals and 10 assists and in 4 playoff appearances he has 3 goals and 1 assist. Blaszczak played for the Jr. Blues for two seasons in 2015-16 and 2016-17 and appeared in 114 games, tallying 41 goals and 29 assists. (Pictured Above)
Our next stop takes us to the College of the Holy Cross as Senior forward Ryan Leibold is continuing to have success this season. The Ashburn, VA native tallied 2 goals and 1 assist over the weekend as the Crusaders split a weekend series with Mercyhurst. In 11 appearances this season Leibold has 4 goals and 7 assists for 11 points as he leads his teammates in goals and assists. In 95 NCAA games he has recorded 13 goals and 30 assists. He played for the Jr. Blues during the 2016-17 season where he had 13 goals and 19 assists in 60 games.
Looking West, we move on to Colorado Springs, CO to check in on Air Force Academy Sophomore forward Will Gavin who is having an unbelievable start to his 2021-22 campaign. Gavin, a native of Durham, CT, registered 2 goals and an assist in the Falcons weekend split against Bentley to improve his stat totals to 6 goals and 1 assist in 10 games played on the season. Gavin was named the Atlantic Hockey Player of the Week in late October after he recorded a Hat Trick over Colorado College, including the game-winner in OT. He finished 3rd in scoring on the Falcons last season and through 24 NCAA games he now has 9 goals and 6 assists to go along with 40 penalty minutes. Gavin played with the Jr. Blues to begin the 2018-19 season before finishing his junior career out East.
As we transition from the highs of NCAA Division I hockey to the spotlights on Division III, we begin in Buffalo, NY as Junior forward Nikita Kozyrev reminded the SUNYAC why he earned Freshman of the Year honors in 2019-20. Kozyrev, a native of Tallinn, Estonia, tallied a hat trick in a midweek victory for the Bengals over Morrisville before adding an assist in Friday's loss to Hobart and another assist on Saturday against Elmira. He has now scored in 4 of the Bengals 5 games to start the season and has 3 goals and 4 assists for 7 points to lead his team in scoring. Kozyrev has played in 30 NCAA games in his career and has compiled 12 goals and 26 assists as the Bengals sat out the 20-21 season due to COVID-19. Nikita played in Springfield for two seasons in 2017-18 and 2018-19 and appeared in 108 games while scoring 35 goals and adding 52 assists to compliment an overall +28 rating.
Our final spotlight this week stays in Division III and the Northeast as we look at how Sophomore forward Gino Carabelli has been doing at UMass-Boston. The Shelby Township, MI native is playing in his first season in the NCAA and scored his first two collegiate goals this past Friday in a 9-3 win against Southern Maine. Gino followed up this performance by recording an assist in Saturday's 4-3 victory over Babson as the gritty, hard working forward is one of seven alumni who have already scored their first NCAA goals this season (Bradley Marek, Caydon Meyer, Josh Norman, Andrew Erwin, Max Osborne and Kaiden Scott). Carabelli played three seasons for the Jr. Blues and a season for Shreveport and finished his junior career with 200 NAHL games played, 21 goals, 36 assists, and 116 penalty minutes. Gino, a fan favorite still in Springfield, played in 144 games for the Jr. Blues between 2017-18 and 2019-20 and tallied 16 goals and 29 assists.
Here are the rest of our alumni who excelled on the ice this past week!
Tommy Nappier 1-1-0 Wilkes-Barre/Scranton Penguins AHL
Tyler Parks 2-0-0 Atlanta Gladiators ECHL
Brady Tomlak 1 A Toledo Walleye ECHL
Ross Olsson 1 G, 1 A Worcester Railers ECHL
Christian Simeone Utah Grizzlies ECHL (Made Pro Debut)
Russell Jordan 1 G, 2 A Birmingham Bulls SPHL
Ricards Bernhards 1 G, 1 A Kiruna AIF HockeyEttan
Martin Liljekvist 1 G, 1 A Tegs HockeyEttan
Ruslan Pedan 1 A Amur Khabarovsk KHL
Sandro Aeschlimann 1-0-0, 1 SO HC Davos NL
Dryden McKay 2-0-0 Minnesota State-Mankato NCAA
Sam Craggs 1 G Bowling Green NCAA
Coale Norris 1 G Bowling Green NCAA
Bradley Marek 1 G Ferris State NCAA
TJ Friedmann 1 A Quinnipiac NCAA
Brian Rigali 1 A AIC NCAA
Caydon Meyer 1 G, 1 A Bethel NCAA DIII
Ethan Heidepriem 1 A Skidmore NCAA DIII
Zach Tyson 1 A Hobart NCAA DIII
Jeffrey Skinner 1 G, 1 A UMass-Boston NCAA DIII
Brendan Aird 2 A St. Norbert NCAA DIII
Riley Doyon 1 G Aurora NCAA DIII
Nigel Nelson 1 G MSOE NCAA DIII
Jack Nickels 1 G, 1 A MSOE NCAA DIII
Trent DeNuccio 3 A Geneseo NCAA DIII (First Collegiate Points)
Andrew McGlynn 1 G UW-Eau Claire NCAA DIII
Andrew Erwin 1 A Hamline NCAA DIII
Ryan Murray 1 A Hamline NCAA DIII
Reed Stark 1 A UW-Superior NCAA DIII
Braden Stewart 3 G, 3 A Illinois ACHA
Thomas Kolaz 1 G Illinois ACHA
Joey Boccardi 2 A Missouri State ACHA
Cole Walter 1-0-0 Bradley ACHA
• Discuss this story on the North American Hockey League message board...


North American Hockey League Stories from November 17, 2021
The opinions expressed in this release are those of the organization issuing it, and do not necessarily reflect the thoughts or opinions of OurSports Central or its staff.