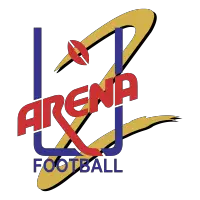 af2 week 17 Friday night matchups
July 19, 2007 - arenafootball2 (af2) News Release



LOUISVILLE FIRE (8-6) AT GREEN BAY BLIZZARD (8-6)
FRIDAY, JULY 20, 2007 - Resch Center (7,695) 8:30 P.M. ET
* Broadcast via B2 Network
The Louisville Fire travel to Green Bay to take on the Blizzard in an effort to break the three-way tie stifling the Midwest Division. Green Bay, Louisville and Quad City all rest at 8-6 for the season, but the 10th meeting between Louisville and the Blizzard will change that, both teams hopeful for an advantageous outcome. Louisville (No. 12 in Coaches Poll) won the last time the team faced Green Bay, 39-33, at home in overtime earlier in the season. The Fire lead the series, 5-4. Louisville is coming off a big win last week against division equal Quad City. The Fire bested the Steamwheelers, 54-42. The Fire win was largely secured by big stops made by the Louisville defense, which forced four turnovers and a safety on the night. NICK ZECK and FB/LB DEMETRIUS FORNEY came up with a sack apiece for the Fire. DB RUSTY MIDLAM stayed true to form, as the team's leading tackler (67.5) recorded a team-high 8.5 on the night. QB JOEL STEELE, who had no interceptions for the second straight game, credited the defense for the win. Steele also managed to record 18 rushing yards on four attempts, as well as capitalizing on 25 completions (37 attempts) for 282 yards and five TDs. Forney was also a factor on offense with a one-yard rushing score, his 15th of the season (Fire single-season record). TIGER JONES led the team in receiving yards with 134 (11 receptions), leading to four touchdown catches. The Blizzard (No. 14 in Coaches Poll) return home after a strong road win as well. Green Bay defeated Cincinnati, 77-40. The Blizzard outscored the Kats 35-16 in the second half, with all but seven points coming in the fourth quarter. Former University of Cincinnati Bearcat QB Gino Guidugli completed 14-of-22 passes for 228 yards and six TDs. In the opening quarter, the Guidugli completing 5-of-8 passes for 120 yards and three scores, leading his Blizzard to a 21-7 lead. The Blizzard carried that lead throughout the second half. DB STEPHEN CASON, whose 13.5 tackles on the night only enlarged his team-high 95.5 for the season, led the Green Bay defense. Cason also managed to break up two passes, while teammates OL/DL KORY LOTHE and OL/DL JASON HARDEE each recorded a sack. FB/LB GUSTAVUS TYSON and DL TYRE YOUNG also split a sack for the night. Green Bay's road win was their first of the season (1-6). At home, however, the Blizzard have been unbeatable (7-0). With playoff positioning and a potential division title at stake, this contest should be an intense battle from start to finish.
LOUISVILLE GREEN BAY SERIES LEADER Louisville leads 5-4
LAST MEETING Louisville won 39-33 on 6/2/07
LAST FIVE GAMES 3-2 3-2
LAST GAME Won 54-42 vs. Quad City on 7/14 Won 77-40 at Cincinnati on 7/14
2007 LEADERS LOUISVILLE GREEN BAY PASSING Steele: 300-192-9; 2025; 33 TDs Dixon: 212-116-8; 1479; 23 TDs
RECEIVING Jones: 119-1597; 31 TDs Hardwick: 53-649; 11 TDs
RUSHING Forney: 72-258; 15 TDs Ficklin: 57-154; 6 TD
TACKLES Midlam: 67.5 Cason: 95.5
SACKS Yauch: 8.0 Hardee: 8.0
INTERCEPTIONS Green: 6 Amadi, R.: 7
KICKING Hendrix: 70-88 PAT; 9-24 FG; 97 PTs Forstrom: 58-71 PAT; 4-21 FG; 70 PTs
TEAM OFFENSE 50.2 PPG; 275.9 YPG 41.3 PPG; 237.9 YPG
TEAM DEFENSE 47.6 PPG; 250.4 YPG 37.5 PPG; 226.1 YPG
CINCINNATI JUNGLE KATS (1-13) AT QUAD CITY STEAMWHEELERS (8-6)
FRIDAY, JULY 20, 2007 - i wireless Center (9,437) 8:30 P.M. ET
* Broadcast via B2 Network
The Cincinnati Jungle Kats hit the road to battle Quad City in a Midwest Division affair at the newly-named i wireless Center in Moline, Ill. The Steamwheelers dominated their last contest against Cincinnati, winning 81-21 in the first week of the season. With both teams coming off a loss in Week 16, the rematch should be an interesting affair. The Jungle Kats fell victim to the Blizzard last week, succumbing 77-40. The defeat was the ninth straight for Cincinnati. The Jungle Kats lone score in the first frame came when WR/DB HASSAN BROCKMAN hauled in a 45-yard pass from QB SCOTT JEFFERIES, providing the Cutters Catch of the Game. The Blizzard outscored the Kats 35-16 in the second half, with all but seven points coming in the fourth quarter, on their way to victory. Jefferies, Brockman and WR/DB DESMOND WASHINGTON earned touchdowns for the Kats. In addition to throwing four TD passes (22 completions, 261 yards), Jefferies also scored on a three-yard run. Washington earned three receptions for 45 yards and two touchdowns on the night, while Brockman recorded seven receptions for 128 yards. DB GEORGE WILLIAMS, who recorded 5.0 tackles on the night, led the Jungle Kats defense. Teammate OL/DL JAMAR NEELY recorded three tackles and also managed to sack Guidugli once as well. The Steamwheelers (No. 11 in Coaches Poll) fell into the three-way tie in the Midwest Division after a 54-42 loss to Louisville in Week 16. Quad City was unable to devise a route around the Fire defense, which forced four turnovers and a safety on the night. QB J.J. RATERINK completed just 28-of-41 passes, and threw three interceptions. FB/LB NIKOLAS KERR was able to find the end zone twice, running the ball for a total of 10 yards and two scores. WR KRIS PETERS also managed to record 12 receptions and 175 receiving yards, culminating in two touchdown receptions. DB LAVAR STEPTER's 7.0 tackles and FB/LB JERMAINE PETTY's one sack led the Quad City defense for the evening. JACK WALKER, JR. is another Steamwheeler to watch out for. Walker has been one of the league's best two-way players in 2007, assisting the Quad City offense (112 catches, 1,121 yards, 26 TDs) and defense (23.5 tackles, 3 INTs, 5 FRs). The Steamwheelers also get a boost this week as Head Coach SEAN PONDER returns from a three-game suspension. Quad City, currently 5-1 at home, has a lot to play for with playoff positioning and a division title still at stake. Despite an always game Cincinnati squad on the opposite side, expect the Steamwheelers to find their way to victory.
CINICINNATI QUAD CITY SERIES LEADER Quad City leads 1-0
LAST MEETING Quad City won 81-21 on 3/31/07
LAST FIVE GAMES 0-5 2-3
LAST GAME Lost 40-77 vs. Green Bay on 7/14 Lost 42-54 at Louisville on 7/14
2007 LEADERS CINCINNATI QUAD CITY PASSING Marshall: 210-96-8; 1134; 16 TDs Raterink: 466-312-14; 3398; 68 TDs
RECEIVING Lewis: 81-822; 8 TDs Walker Jr.: 112-1121; 26 TDs
RUSHING Josten: 9-46; 0 TDs Macrea: 41-133; 8 TDs
TACKLES Mainor: 57.5 Adams: 84.0
SACKS Neely: 6.0 Petty: 9.0
INTERCEPTIONS Williams & Brockman: 3 Adams: 7
KICKING Obert: 40-49 PAT; 5-43 FG; 55 PTs Naehu: 43-57 PAT; 0-4 FG; 43 PTs
TEAM OFFENSE 31.1 PPG; 229.7 YPG 52.4 PPG; 272.8 YPG
TEAM DEFENSE 60.6 PPG; 280.0 YPG 46.4 PPG; 283.6 YPG
• Discuss this story on the arenafootball2 message board...


arenafootball2 Stories from July 19, 2007
The opinions expressed in this release are those of the organization issuing it, and do not necessarily reflect the thoughts or opinions of OurSports Central or its staff.