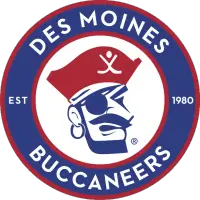 2021 NHL Draft Preview
July 24, 2021 - United States Hockey League (USHL) - Des Moines Buccaneers News Release



Des Moines, Iowa - By Erick Zamora - The 2021 NHL Draft takes place this weekend with round one on Friday and rounds two through seven concluding the draft on Saturday. Eleven current and former Des Moines Buccaneers are hopeful that they may hear their name called during the prestigious event, which is being held virtually from Secaucus, New Jersey, home of the NHL Network studios, instead of the typical setting of an NHL arena.
The Buccaneers could have one or several goaltenders selected with Cameron Rowe ranked #13 in the final North American goalies rankings, while Remington Keopple also is in the top 20, checking in at #19. Rowe, who played for Des Moines in the 2019-20 season, put up a 9-2-1 record with a 2.05 goals against average and a .933 save percentage as a freshman at the University of Wisconsin. Keopple, a Hudson, WI native, was on last season's Buccaneers roster (2.76 gaa/.900 sv%). Tommy Aitken is the youngest draft eligible Buccaneers goalie, selected by Des Moines in this year's USHL entry draft after an impressive season (2.54 gaa/.910 sv%) with the Bismarck Bobcats of the NAHL.
Paul Davey is the highest ranked Buccaneer skater this year, finishing #185 in this year's NHL North American skater rankings. The 6'2" left wing from Greenwich, CT began his USHL career as just a 17-year old but still produced nine goals and 18 points in 41 games. Scout Truman also played in Des Moines last season, and they're both in their first year of NHL Draft eligibility. Truman tallied five goals and 21 points in 42 games. Zach Urdahl played alongside Keopple, Davey and Truman for the Buccaneers last year and finished the season second on the team with 22 goals while tying for third with 36 points.
Timothy Lovell is one of two Buccaneer alumni with NCAA experience looking to be drafted this weekend along with Cameron Rowe Lovell, a defenseman, played his freshman year at Boston College but will skate for Arizona State University this fall.
"This is an exciting time for many players with Des Moines ties," says Buccaneers Senior Advisor and General Manager Scott Owens. "It's a tribute to the Buccaneer organization, with its strong tradition for developing players and helping them move on to the next level. We wish them all the best of luck this weekend."
The other four Buccaneers looking to be selected this weekend have yet to don the iconic Des Moines jersey. Like Tommy Aitken they were drafted by the Bucs in the 2021 USHL entry draft and that group includes center Joshua Barnes, the first player taken by Des Moines in this year's Phase II Draft. Defensemen Jack Pascucci and Nicholas O'Hanisain were both selected by the Buccaneers in the 6th round of the USHL entry draft while Cameron Roche was taken in the 9th round. Roche scored 27 goals and 58 points as an alternate captain for his Lakeville South High School Cougars, playing against some of the toughest competition in the Minneapolis/St. Paul, MN area.
We'll have NHL Draft updates on the Des Moines Buccaneers' social media accounts as well as right here on www.bucshockey.com.
• Discuss this story on the United States Hockey League message board...


United States Hockey League Stories from July 24, 2021
The opinions expressed in this release are those of the organization issuing it, and do not necessarily reflect the thoughts or opinions of OurSports Central or its staff.