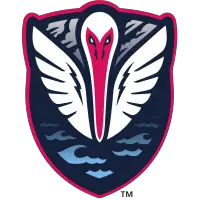 Tormenta FC Drops to Chattanooga Red Wolves
July 14, 2021 - United Soccer League One (USL1) - South Georgia Tormenta FC News Release



STATESBORO, Ga. - South Georgia Tormenta FC was taken down on the road tonight 2-1 by the Chattanooga Red Wolves, with Marco Micaletto stealing the home side's clean sheet off a penalty kick goal. This win puts the Red Wolves even at the top of the table with Union Omaha and Greenville Triumph.
Tormenta had two key scoring chances in the first half. First, Kobe Perez made a smart through pass, and Micaletto laid it off to Stefan Mueller who notched the away side's first shot of the night. Soon after, Luca Mayr-Fälten took a free kick from distance which flew to the center of the box where Chattanooga's keeper saved it.
In the 27th minute, the Red Wolves caught the Tormenta back line off guard, and Chattanooga's Juan Galindrez scored tonight's first goal with a shot fired just past goalkeeper Pablo Jara.
After the halftime break, Rodney brought a spark for Tormenta by finding opportunities to get inside the box and recorded two offside opportunities. Azaad Liadi also attempted a goal from close range, but it was saved by the keeper.
After 70 minutes without a breakthrough, Lars Eckenrode earned a foul inside the box which Micaletto converted perfectly to tie up the match 1-1. Chattanooga then doubled its lead with a late-match goal by Rafael Mentzingen. Despite several more bursts of chances, Tormenta was unable to even out the score.
Tonight's Man of the Match, presented by Galactic Comics and Games, is the Italian Micaletto who scored Tormenta's lone goal tonight while creating a scoring chance. He also assisted defensively with one interception and tackle.
Tormenta FC continues its road trip to battle Greenville Triumph on Saturday, July 17. The pro side will then return home to Erk Russell Park to host the Richmond Kickers for Family Night with free student tickets, presented by Your Pie of Statesboro.
Post-Game Match Report:
Starting Lineup: Jara ( C ), Eckenrode, Phelps, Thorn, Mueller, Obinwa, Gomez, Mayr-Fälten, Micaletto, Perez, Michael
Scoring Summary: 1-2
26': CHT - Juan Galindrez
71': TRM - Marco Micaletto (PK)
87': CHT - Rafael Mentzingen
Substitutions:
64': TRM - Vincenzo Candela for Ricardo Gomez
64': TRM - Raheem Somersall for Abuchi Obinwa
64': TRM - Azaad Liadi for Kobe Perez
83': TRM - Sergi Nus for Lars Eckenrode
85': TRM - Clayton Adams for Rodney Michael
Caution Summary:
50': CHT - Capozucchi
63': CHT - Esparza
71': TRM - Micaletto
75': TRM - Eckenrode
95': CHT - Trilk
• Discuss this story on the United Soccer League One message board...


United Soccer League One Stories from July 14, 2021
The opinions expressed in this release are those of the organization issuing it, and do not necessarily reflect the thoughts or opinions of OurSports Central or its staff.